The lights flood the field, illuminating Rafael Bastos as he lines up a free kick, his sweat sparkling. Thousands of fans lift their scarves, forming a solid wall of blue. They wait, hoping that Bastos will deliver the perfect cross for a teammate to head in. But the Brazilian has other plans.
Instead, he whips in a vicious shot from a ludicrous angle that beats the goalkeeper. Fifteen thousand Buriram United fans jump in shock and euphoria as it hits the net. The team's most hardcore supporters, known as the GU12, unfurl a gigantic orange flag, draping it over hundreds of others sitting in their section.
"Buriram! Buriram! Buriram will reach the finish line! Buriram will sweep the championship, every cup!" bellow the supporters in well-rehearsed unison, like a choir gone feral.
It is a scene that might have been lifted from the footballing hotbeds of Europe or South America. But this is Thailand.
While Southeast Asia's traditional footballing heavyweights, Malaysia and Singapore, can struggle to draw just a few hundred spectators to domestic league matches, stadia across Thailand attract hundreds of thousands of supporters every month, most of them dressed in their club's colours.
In some ways, it is a success more than 100 years in the making.
Despite having missed out on a degree after spending two years studying at Oxford University, Crown Prince Vajiravudh of Thailand returned home in 1902 with a passion for football and eager to establish the Kingdom's first organised league. Fourteen years later he founded the country's Football Association, but its first official cup competitions would not follow for more than four decades. It has been a slow evolution ever since, but in recent years what has become the Toyota Thai Premier League has set an example for the rest of Southeast Asia, showing how financial will, effective marketing and strategic fan engagement can propel local football in terms of quality, passion and profit.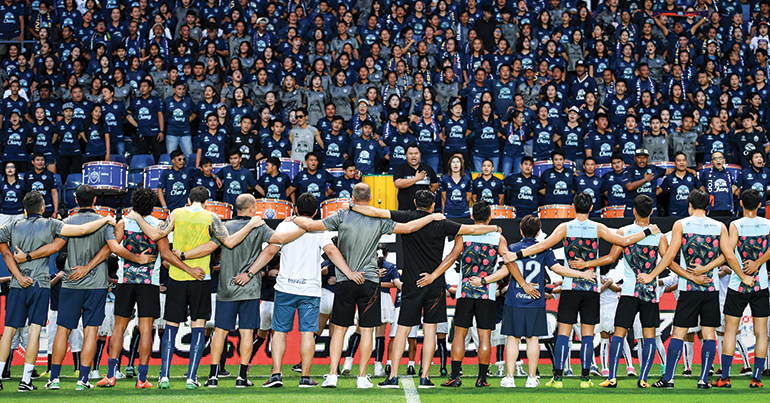 Buriram United is a case in point. The current leaders of the Thai Premier League (TPL) are not based in glamorous Bangkok; they reside approximately 400km away in the agricultural region of Isaan. The ride there is punctuated by jungle, rice paddies and two recurring posters: King Vajiralongkorn and Buriram United.
Nuttavut Sarochwikasit, 26, lives in Bangkok but regularly drives for five or six hours to watch Buriram play. "We go because it's more amazing than watching through the TV – the light, the sounds, the atmosphere," he said.
His friend and travel companion, Pawanai Pubpanon, 27, also from Bangkok, soon chimed in. "I feel like this club is my family. Every time I come to Buriram, I feel like I come to my second home," he said. The two even owe their friendship to the club; they met three years ago through a fan page on Facebook.
Here in rural Buriram province, love for the club is palpable. A huge number of locals wear replica jerseys; others declare their allegiance through tattoos, flags, posters, bumper stickers.
"I have lived here for so long. Before, nobody knew this province. Now fans come from everywhere in Thailand to see the stadium and the real sport. Newin has brought so much development to the city," said Buriram native Bumpen Saloyrum, 64, referencing the club's larger-than-life owner.
Newin Chidchob has proclaimed himself 'head of the head coach' and can usually be found swarmed by fans after pulling up outside the stadium on his Ducati motorcycle on matchdays.
A controversial former "political wheeler-dealer", according to the Nation newspaper, with ties to ousted Prime Minister Thaksin Shinawatra and a massive fortune of uncertain origins, Chidchob left politics around the same time as the TPL privatised in 2009. He soon purchased the marvellously named Provincial Electricity Authority FC, moved the club to his home province of Buriram and rebranded. He also oversaw an official world record for the construction of a Fifa-standard stadium, with the club's 32,600-seat home built in just 256 days.
"You have to be crazy about football, one. And you have to take things very seriously, dedicate everything to it, like we do. I never miss any of the games," Chidchob told Southeast Asia Globe sternly, while outside the stadium dressed head-to-toe in the club's kit.
"In fact, we don't only do football; it's sports entertainment… Even if the game is already won, we still keep it entertaining so that [the fans] can be happy."
Indeed, Chidchob didn't stop with Thunder Castle, as the club's stadium is affectionately known. He surrounded the ground with attractions such as Thailand's first Formula One racing track, the city's only Western-style shopping mall, a Buriram United shooting range and many more facilities.
Such developments might be at odds with the bucolic nature of Buriram province as a whole, but it is this kind of geographic spread that is at the heart of the TPL's success. When the league was founded in 1996, and as is the case in many Southeast Asian nations, all of the league's 18 clubs were based in the capital, with every match also taking place there. Most clubs were run by government agencies, resulting in names such as Thailand Tobacco Monopoly FC.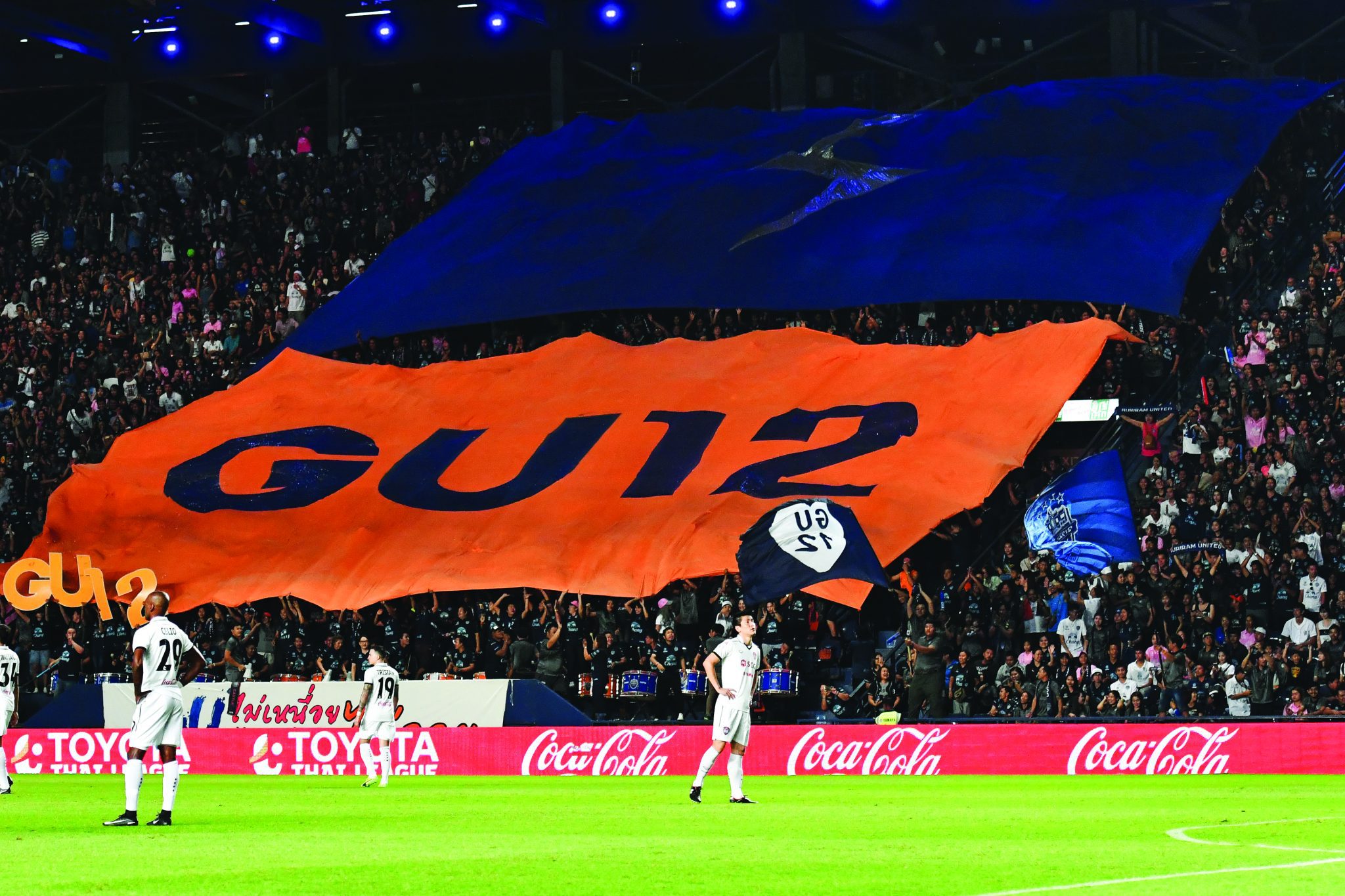 It was a decade before TPL teams finally took to the provinces, expanding the league's fan base with the pivotal 2006 'roadshow' initiative, in which the capital's clubs played a handful of league matches at provincial stadiums throughout the country. A year later, the TPL merged with the provincial leagues, bringing into the fold clubs from across the Kingdom with their own grounds and burgeoning fanbases. When the league went private in 2009, becoming TPL Ltd, massive Asian companies such as Chang and Toyota came on board as sponsorship partners, opening up new financial opportunities for clubs, owners and players.
"For me as an individual, my team is certainly my hometown team. It's the team that I was brought up with and my father and grandfather took me to as a youngster. I think there is something to building a culture like that," said Simon Chadwick, professor of sports enterprise at Salford University in the UK. "There has to be a point of engagement, and for most people and teams the point of engagement is what the team says about their origins and their locality… Not everyone in Thailand, obviously, is from Bangkok, so if you're moving teams into the provinces they then become emblematic of who [the fans] are and where they're from. They develop an affinity… This can create a powerful culture."
Today, Thai football is split into four tiers, with teams promoted and relegated each season. "We took the example from Europe, Korea and Japan… I think this was just the first important step to make sure that… fans are always at the centre," said Benjamin Tan, deputy CEO of the TPL. "We are convincing stakeholders that [we] can bring Thai football forward."
Current backers of the TPL include the government, banks and media companies, though the majority of the money flowing into Thai football comes from True TV, which has purchased exclusive broadcasting rights for the league since 2011, with the price rising exponentially. The most recent TV deal runs from this year to 2020 and is worth $126m, more than double the previous contract.
"The Thai league actually broadcasts all of the matches in the top divisions, so you are looking at about 18 matches in one weekend. We stagger the timings to make sure the matches are broadcast, which is very important," said Tan, adding that such an arrangement is actually reversed in most of Southeast Asia, where less popular leagues have to pay broadcasters to show matches in an attempt to drum up enthusiasm.
The most important thing, though, is not just bringing in big TV revenue, but how it's controlled, according to Tan. In Thailand, the TPL distributes the funds equally among its 18 clubs. "The competition structure actually benefits all of the league, not just the big clubs," Tan said.
When it comes to capitalising on this lucrative airtime, another success for the TPL has been establishing ways to keep fans talking about the league well after the matches end. While other regional leagues struggle just to get their games aired, TV screens in Thailand are constantly abuzz with chatter about the latest goings-on in the TPL.
"We have football channels and talk shows about the drama [of the league]; that's content to actually get the fans excited, to create the talking points for the league," said Tan, adding that such products help create a "football culture" and that the TPL is tapping into the fact that being a football fan means more than just watching a match – it's about the pride, excitement and fanaticism of immersing oneself into following a club.
Such fan engagement remains a cornerstone of the TPL, where every club has its own strategy to shape their fan culture, according to Surachai Jaturapattarapong, a former Thai footballing superstar who played briefly in Singapore and is now head coach of the TPL team Bangkok Glass.
"Thai people are not there to only watch football; if you don't advertise and do activities with them, they won't watch," he said. "We try to organise a lot of activities, like club clinics, and try to report on our football team – what's going well, what's going bad, what's our style… We try to take the club and create a community… in Singapore they don't have this," he added.
An engaged fanbase and healthy bank balance is also helping attract overseas talent to Thai football – a crucial factor in improving quality on the pitch. In recent years, a number of international players have made their way to the Kingdom; some in search of the stardom they couldn't quite achieve in Europe or South America, others seeking a generous contract and comfortable life in the so-called 'Land of Smiles'.
"Buriram is good for me; it has everything I need," said Buriram United centre-back and fan favourite Andrés Túñez who plays for Venezuela's national team and previously appeared in Spain's top division, which is arguably the best in the world. "I live in a little house down the road. It's two rooms, not big, but it's enough for me, my wife and now my coming baby."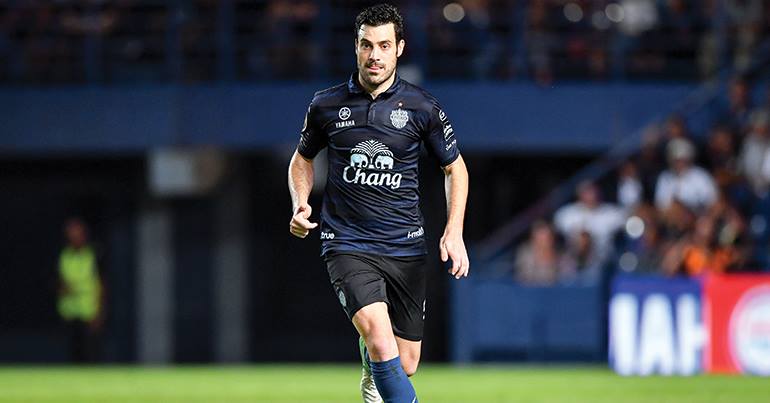 Every league with designs on commercial success is in the business of creating and marketing superstars. "Heroes and icons are very important in terms of the psychological or behavioural process that fans go through when deciding whether or not to go to a game, whether to buy merchandise or whatever," said Chadwick.
In Thailand, things go a touch further, with those stars far more accessible to supporters than they are in Europe or South America. According to Túñez, even the top players in Thailand interact with fans at casual post-match dinners and through holiday celebrations at the stadium.
"They try to take up big players for fans to enjoy. In front of the stadium, [the club] throws big parties. For New Year, all the players need to dance in front of 30,000 people," he said, emphasising that every player is expected to attend.
"This is why many people love Buriram. It's not: OK, Buriram. They really, really love Buriram," he added, before heading off to pose for photos with a family of four who had waited 20 minutes for their opportunity.
Thailand, it appears, has finally learned the golden rule of building a football culture: it's all about the fans.