Equal opportunities? It's not generally a problem, so long as they are offered to smart people," says Busaba Chirathivat, skewering the male-dominated structure of Thailand's society and subtly affirming the merit of the individual.
Busaba is one of the most influential members of the Chirathivat family, owners of the Central Group of Companies, a holding firm with stakes in the retail, real estate, hotel and catering sectors. It is such a monolithic group – more than 200-strong – that on Forbes' list of Thailand's richest, the surname Chirathivat, which came in at number two with capital of $6.9 billion, is not tied to just one person, but to the family as a whole. It is a group and a family that has become part of the fabric of contemporary Thai history, as evidenced in Chris Baker and Pasuk Phongpaichit's book, A History of Thailand, which cites them as social, economic and cultural kingpins.
According to some, the family is now so large that it has given rise to internal conflicts. Not so, says Busaba: "There aren't enough of us – there should be more. We were brought up to be united."
Busaba, the first-born daughter of the former Chirathivat head Tiang and one of his three wives, Vipa, is senior vice-president of corporate communications for Central Retail Corporation. She oversees the market strategies of the company that, among other things, acquired La Rinascente, a luxury department store chain from Milan, in 2011 for a reported $291m. She also works on a national level as president of the Thai Retailers Association.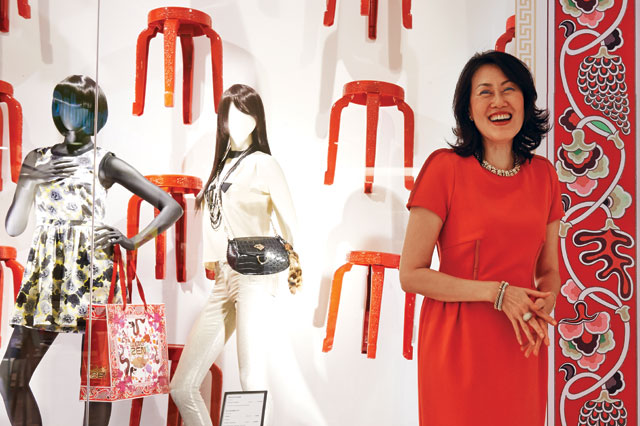 It is interesting to note the way she interacts with her employees: speaking Thai in a way typical of the upper classes, but with a certain sweetness, albeit one that clearly does not expect any objections.
Her family ties run deep and have been the foundation upon which she has built her success. "You have to work hard and be patient," says Busaba, who began learning the business even before she realised. "My mother taught me the value of things; the idea that everything comes at a cost."
Busaba has always kept that notion in the back of her mind. She studied in the US, earning a degree in marketing and a master's in business administration. Her CV begins with "apprentice", which bred a business philosophy that is based on the significance of value.
"Branding is important, but it isn't the be all and end all," she says. "A lot depends on consumer perception, and that comes from the quality. If the brand loses quality, it also loses value. The salesman must be aware of the value of things. He has to develop his personal sense of taste, especially when working in the luxury market, which is targeting customers who know what they want, but want to be helped to make a choice. It isn't a question of price; it's a question of service. What we are selling is first and foremost a service."
Busaba is focusing on the 'new luxury market' – a strategy shared by the whole family – which in Asia can count on a crisis-proof clientele. "The wealthy are indifferent to economic trends," she says.
This may sound simplistic, but it is a cultural, more than a financial, fact. One must never forget that in Asia, "crisis" can mean "opportunity", says Busaba. "I believe it's fundamental to always be on the lookout for new opportunities," she explains. "But this doesn't mean losing sight of one's past, because everything comes from that.
The greatest symbol of this philosophy is the Central Embassy, the Chirathivat family's 'masterpiece'. Opened last month, it is arguably the first contemporary architectural icon in the Thai capital and includes a shopping mall and a six-star hotel, the Park Hyatt Bangkok, all built in the shape of an immense wave flowing and receding to form the symbol for infinity.
According to feng shui, it reflects the "infinite nature of possibilities".
"The shopping mall [in general] has to change. It has to become an entertainment centre, an urban hub," points out Busaba, a guru of mall culture.
"This way the market can always be offset: If shopping spending goes down, and that happens mostly following tax rises, the target market of mall users broadens, and new consumers come forward."
According to the ajarn, masters who analyse names in Thailand, the meaning of Busaba is complex. It represents a person with strong leadership skills who takes a creative approach to problem solving.
"I am a conservative, but an open-minded one. I know what I want and how to get it. You have to be soft and firm at the same time.
The most important thing is to focus on results. Take fashion: I prefer a classic style, but as a buyer I cannot overlook the demands of teenagers," says Busaba, who wears sweet-smelling Chanel perfume and a printed dress covered in orange, red and pink lilies.
"Fashion is an expression of perceptions… Thais sometimes avoid change. But you have to adapt and do it more quickly than consumers do. You have to be fast and seize the moment."
Her attitude towards not resting on one's laurels is yet another characteristic of her name. The ajarn say it is found in people who are on the lookout for the unexpected and who are independent but have a strong desire to belong. Accordingly, Busaba, determinedly single, maintains a strong attachment to her family. "Family will always look after you, whatever choices you make," she says.
Freedom of choice is one of the secrets of the family's success – it encourages the assumption of individual responsibility and enables stable relationships to be established – a chain with no weak links. This explains the group's commitment to corporate social responsibility, which states that the company must invest in the greater good. Individual responsibility is the first rule of the Chirathivat family code, says Busaba.
"It isn't a secret code. It's just about being a good citizen and projecting the right image. We want the Chirathivat name to be a name of respect. Central Retail has grown thanks to the Thai people and it must acknowledge that debt to them. People trust us because we are united. We represent strong values in Thai society."
At this point in our conversation the issue of equal opportunities rears its head once more. It's a heated debate in the West and one that risks influencing Asian values too. To Busaba, though, it's a problem that does not affect Thailand. "I think it comes from a different mindset. American businesswomen, for example, are more aggressive; they feel they are competing with men. Thai women don't have this feeling of male domination, perhaps because they have not been oppressed."
It is a debatable point of view, but one that can be justified by framing the relationship between men and women within the wider and deeply rooted Thai culture of major-minor relationships, which is overcome only with a sort of karmic evolution. Busaba seems to think so. When it is pointed out that there are no women on Central Retail Corporation's board of administrators, she smiles. "Things change. You just have to be decisive, with grace."