The Global Wildlife Travel Index scored Thailand in fourth place in the world, the highest in all of Asia. Only the US, Venezuela, and Brazil scored higher in the index created by True Luxury Travel.
Thailand scored a seven – the highest possible score – in the categories analysing its conservation of megafauna (or large animals), its number of national parks, and its number of natural history museums. The country also scored five in the other categories assessing its biodiversity, the number of protected natural areas, and its "national park pioneers" placement (which ranks countries based on their oldest national park).
Thailand has the third highest number of national parks in the world (138 parks) as well as boasting 35 natural history museums, according to Katie Kennard, head of the Asia Team at True Luxury Travel.
Kennard said: "It is clear that Thailand has responded to the consequential global pressures to increase sustainability and worked hard on increasing conservation and wildlife preservation within the country."
Yet despite Thailand's apparent conservation successes, the country still faces difficulties in maintaining the health of its ecosystems.
"Although tourism levels within Thailand are on the rise, families in rural areas of Thailand are predominantly dependent upon primary methods of employment for financial income, such as farming, mining and fishing, all of which can have devastating effects on conservation attempts through deforestation and habitat destruction," added Kennard.
"Teaching citizens the economic and cultural advantages of preserving Thailand in all its natural beauty for industries such as tourism will enable conservation to be seen in a more positive light, instead of as a hindrance to current methods of economic income through primary means.
"NGOs can provide the international platform to generate sponsorship and donations to conservation schemes, and highlight improvements that have already been made, tempting tourists back into regions."
Before the early 20th century, Thailand was home to a rich habitat that included large animals like Asian elephants, clouded leopards, koupreys, tigers, wild water buffalos, and Sumatran rhinoceroses. As the country developed after World War II, natural habitats were cleared for their lumber and to make way for agricultural land. The market also grew for hunting exotic wildlife, according to a report from Thailand's Royal Forest Department.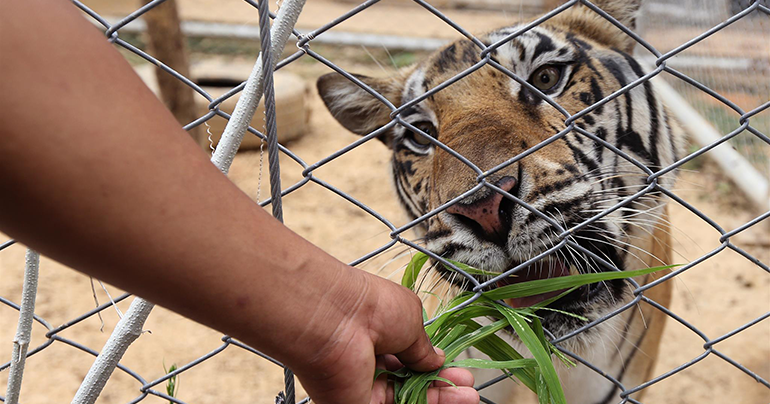 The first legislation passed in Thailand to protect wildlife was the 1960 Wild Animals Reservation and Protection Act, which established lists of reserved and protected species. This limits their hunting and controls trade in products from wildlife. It also led to the creation of the Wildlife Conservation Division, which is involved with research into conservation and projects such as reintroducing species into the wild.
Thailand has seen some wildlife successes in recent years, such as at Huai Kha Khaeng Wildlife Sanctuary, where the tiger population has tripled over the last ten years. Nevertheless, many species in Thailand are trafficked and endangered. Park rangers face a dangerous job and are sometimes killed by poachers. Along with tigers, the country's Asian elephants are still sometimes poached and illegally traded, despite the government's protection efforts, according to a 2017 assessment from the United Nations Office on Drugs and Crime (UNODC).
To combat ivory smuggling, the Thai government passed the 2015 National Ivory Act, which includes measures like registering all domesticated elephants. It also initiated an awareness and education targeted at foreigners who purchase ivory at local markets.
The UNODC assessment noted that the effort has been mostly successful: "These new measures appear to have significantly reduced the legal trade of ivory in Thailand. Research undertaken by TRAFFIC in 2016 showed a 96% reduction in ivory on sale in the domestic market compared with 2012.
"This is a dramatic turnaround and is testament to the effectiveness of the Thai response. However, the longevity of this programme will depend heavily upon continued law enforcement monitoring of the situation," the report stated.
Within Southeast Asia, the next highest scorer was Indonesia ranking at 24th; then Malaysia, the Philippines, Vietnam, Brunei, Myanmar, Laos, and Cambodia, which ranked 97th globally.
---
Read the full report by True Luxury Travel here