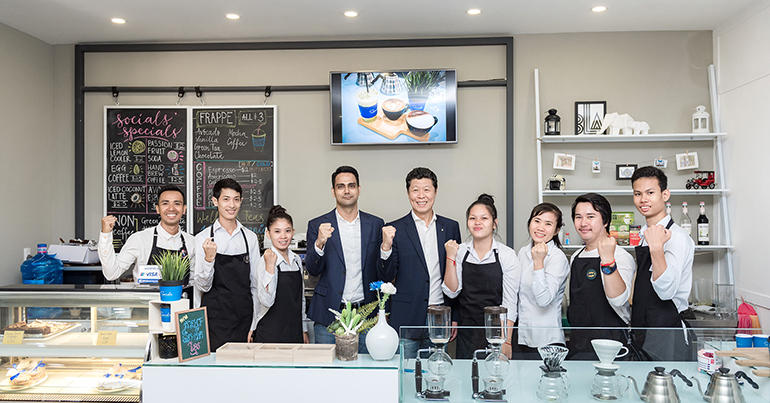 In Kampot, a riverside town in western Cambodia, 18-year old Kim Tin used to dream about one day being employed and independent.
Born deaf, he had never been able to fully communicate with his family or friends. Though he learned as a child to make gestures and mime actions with his hands, he did not begin learning formal sign language until the age of 16. He did not go to school while growing up, didn't know any other deaf people, and worried he would always have to rely on others for support, with few job opportunities available to him.
On Friday, with an apron wrapped around his waist, Kim Tin celebrated his recent employment at Socials Coffee and Humanity, a new socially responsible enterprise focussed on hiring and supporting Cambodia's deaf population.
"I used to think maybe no one would hire me… I was happy when I moved to Phnom Penh, because I have a job now," he said, signing as an interpreter translated. "I work with other deaf people, who can really understand me, and with some hearing people too. I like that we can work together."
Socials, located inside PPCBank along a main thoroughfare in Phnom Penh, is one of the only businesses in Cambodia specifically dedicated to hiring members of the deaf community; of its seven employees, three are deaf. The cafe's founder, Swapnil Deshmukh, wants to continue this trend as new Socials coffee shops open around the city and country.
"The main objective here is social impact. There are about 50,000 registered deaf people in Cambodia, and that's a good chunk of the job market," he said at the cafe's launch. "If they don't have job prospects, it has a negative impact on this society. And we need to work together – deaf people and hearing people – to chip away at the stigma that exists here."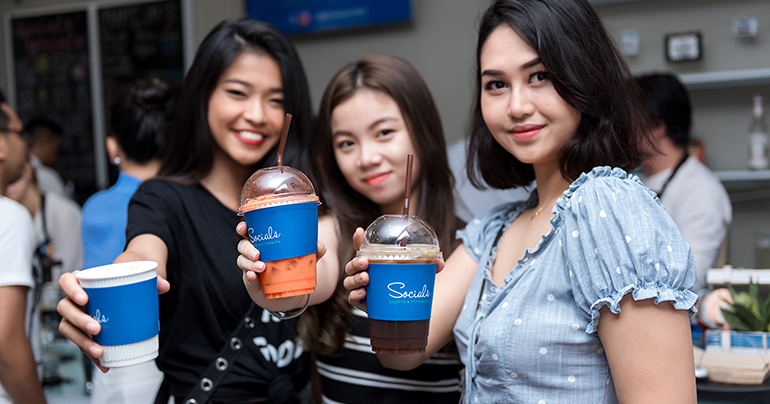 The partnership forged between the coffee shop and PPCBank – the first of its kind – will allow Socials to expand to those bank branches where it is likely to attract customers. Deshmukh added that the chain is also looking to partner with other businesses in Cambodia, including coworking spaces, to develop the brand.
"I don't want people to come out of pity," Deshmukh said. "Our employees don't need pity. What they need is a business opportunity."
Andrew Shin, President of PPCBank, expressed the same sentiment. Speaking at the launch of the cafe, he explained that the bank was drawn in by the cafe's commitment to bettering the community, but added that the business had to prove it could be profitable before expanding.
"A Socials Coffee pop-up has been running for months, because we needed proof it would work. We needed to prove this project would be sustainable," he said.
Sustainability is of paramount importance for the next stage of the Socials chain, which should see deaf employees eventually opening their own profitable franchises.
"First, we're going to teach our workers how to handle every aspect of the business: how to deal with suppliers, manage inventory, and handle cash," Deshmukh explained. "Then, once they've mastered the skills that they'll need to be business owners themselves, we'll help them start up their own businesses."
If a Socials employee wants to open a Socials coffee cart, for example, Deshmukh said that the company would be willing to offer the cart without charging franchise fees. He also added that, if employees seek help in establishing businesses outside of the coffee industry, PPCBank would be willing to hear their proposals and offer funding – as long as the employee shows promise and has a solid business plan.
"We really do want to help make a difference," he said. "That means offering future opportunities for our employees – not just one job, but the chance for sustainable independence and entrepreneurship."
Most of the employees hired by Socials Coffee and Humanity are graduates from the Deaf Development Programme (DDP), a two-year training programme and nonprofit that teaches deaf people aged 15 and older how to sign before placing them in jobs provided by their partners in the private sector.
"Many of the workers who graduate from our programme stay in their positions for a couple of years, learning new skills," explained Prak Soeun, programme manager at DDP. "They don't stay in the same place forever. Instead, most of them develop aspirations to open their own businesses."
Tin, a DDP graduate, already has such aspirations. With a smile he explained his plans, in fluent sign language, to one day open up his own coffee business.
"I just love coffee so much," he said. "It is my dream to be an entrepreneur in the coffee business, and I think for me this is possible."