As Cambodia's foremost insurer, Forte Insurance understands the need for adequate personal cover
More Cambodians are waking up to the fact that insurance plays a significant role in their lives. And if you're the nation's leading insurer, it's safe to say that your company plays a key role in highlighting just how crucial insurance is.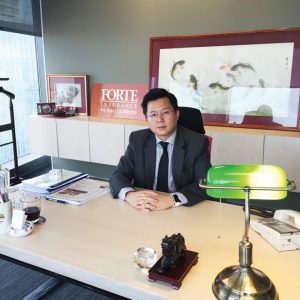 Last year, Forte Insurance was acknowledged as the local industry leader with a 45.3% market share. This year, the company received three country-based awards from international magazine Global Banking & Finance Review – Best Non-Life Insurance, Most Innovative Insurance Product, and Best Insurance Customer Service Company.
To add icing to the cake, Forte is the largest and among the oldest insurers in Cambodia. Since setting up in Phnom Penh in 1998, the firm has opened four other branches nationwide.
To CEO Charles Cheo, however, accolades and awards come in second to Forte's mission of highlighting the benefits of insurance.
"We've come a long way, but there's more to be done if we want everyone to realise how insurance can enrich lives and provide peace of mind," he said.
In leading the call for all Cambodians to better protect themselves, Cheo relies on Forte's staff members and forward-thinking strategy.
"We have an experienced team that continuously improves themselves and provides quality service to help us achieve our mission," he said. The company's strategy of launching innovative solutions and growing existing product lines also plays a key role in developing Cambodia's industry.
"Forte constantly researches market needs and reviews product suitability to make a difference in value, innovation and overall customer experience," Cheo said.
The company's premiums have increased in line with the market's growth. Over the last five years, the local insurance industry grew from $24.8 to $61.6 million. For Cheo, this translates to more people securing coverage, and not necessarily always from Forte.
"We are thankful that an increasing number of Cambodians are realising that insurance provides them security and safety," he said. "It's not only about savings, however, but about taking care of loved ones and being prepared more or less for when the inevitable occurs."