In late September university students across the Indonesian archipelago took to the streets in protest against a series of controversial bills before the country's parliament amid concerns that one of Southeast Asia's few remaining democracies could be stripped of many of its hard-won rights and freedoms with the stroke of a pen.
This latest outcry, in a country of frequent and sometimes volatile political protests, was prompted by the parliament revising the Law of Corruption Eradication Commission, the governing code for a body known by the Indonesian acronym KPK. The protests grew louder with the subsequent drive by lawmakers to amend the Criminal Code by adding what many view as restrictive and illiberal clauses.
The newly passed anti-corruption commission law was seen as weakening one of Indonesia's most forceful and popular public bodies by limiting its authority to search and investigate as well as confiscate evidence. In a darkly ironic poacher-turned-gamekeeper outcome, these powers were made subject to a president-appointed Supervisory Council – reducing the commission's independence and potentially ceding control to the very politicians it was set up to investigate
Students also took to the streets to protest against the latest gambit in the decades-old attempts to revise the Criminal Code, a Dutch colonial legacy, with debate stirred over a wide range of issues such as abortion, homelessness, cohabitation, promotion of contraception, lower sentences for corruption convicts and punishments for blasphemy – among others.
Moreover, most of the new laws, which were supported by both the governing and opposition parties, were seen as not only benefiting the political elites by making it more difficult to prosecute corruption, but potentially punitive for wider society – especially those who don't have access to legal protection.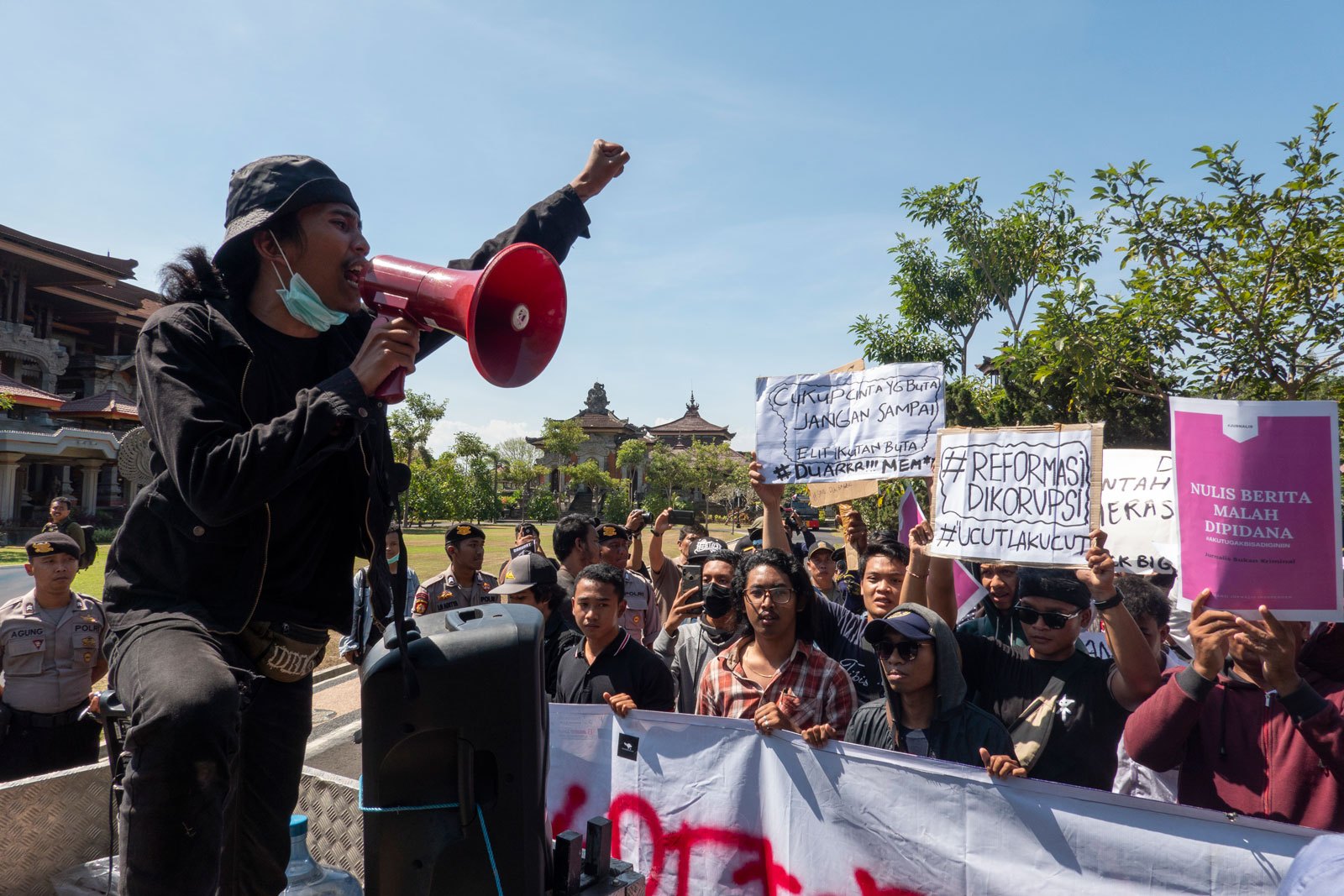 The perceived urgency of the government's attempted reversal of some of Indonesia's democratic gains drove tens of thousands of students to march in eight cities – in Yogyakarta, Makassar, Samarinda, Cirebon, Jember, Malang, Balikpapan, Purwokerto, Bandung and in front of the parliament building in Jakarta – with the anger sharpened due the changes being announced just as President Joko Widodo, first elected in 2014 as a reformist, was about to start his second and final term in office.
The first batch of student protests ran over September 23-24 and were a response, the protesters said, not only to the parliament's series of controversial bills, but due to the measures being passed quickly and without consultation, as seen in the lawmakers' ambushing of the KPK.
"The street can also be a classroom"

Ismail Fahmi, social media analyst
The level of anger was such that some demonstrations descended into riots, with deadly consequences in places such as Kendari, where two students from Halu Oleo University were shot dead and where the regional government building was damaged and a traffic control post torched, prompting President Widodo to tell his Chief of Police, General Tito Karnavian, to investigate.
The leaders of the Alliance of Indonesian Students, the main protest group, stated their main demands during the first day of protests, speaking to the media in front of Reform Monument in West Jakarta's Trisakti University, where students were ambushed in 1998 during a series of bloody demonstrations against the Suharto regime . The students called for the restoration of the anti-corruption drive and for a more accountable democratic process, as well as demanding more sustainable development and the elimination of social discrimination.
The students sought a delay to the criminal code revision and demanded that the president order a Government Regulation in lieu of the Law – a measure known as a Perpu in Indonesian – to reverse the new restrictions imposed on the anti-corruption commission.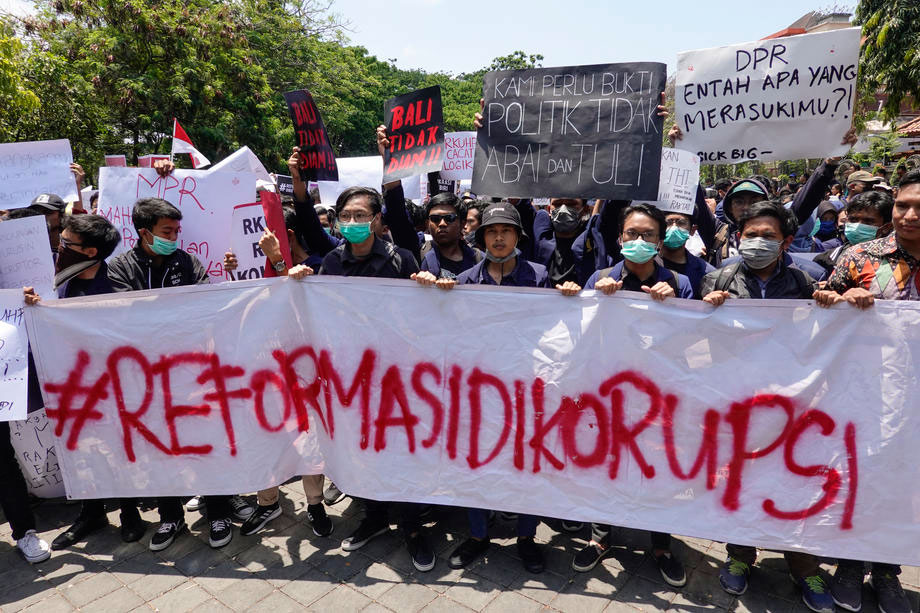 Interest in the protests was fuelled on social media, which was peppered with headline-grabbing posters, banners and placards carried by student protestors.
"State does not facilitate yearning, it only interfere when we finally meeting," one wrote. "State look over your bed and your womb – Fight!" said another poster, protesting against a proposed sanctioning of extramarital sex.
Alongside the images spreading across social media, interest in the protests was driven by hashtags such as #ReformasiDikorupsi (Reform Corrupted), #SurabayaMenggugat (Surabaya accuses) in the capital of East Java province and #GejayanMemanggil (Gejayan Calling) – in reference to a location in the central Java city of Yogyakarta where students protested in 1998 against the long-ruling Suharto government.
The banners exhorted students to take to the streets as their forebears had two decades ago, with student councils of several universities posting concerns about the bills online.
"As long as a democratic channel is open for public scrutiny and participation, the checks and balances process will result in better democracy"

Adinda Tenriangke Muchtar, The Indonesian Institute
The protestors were welcomed and lauded by Jakarta residents who felt that their aspirations were voiced by these students, with a viral video showing people in a South Jakarta rail station cheering students who had arrived to demonstrate.
On September 20, President Widodo requested parliament to delay the proposed Criminal Code revision. But the president then cancelled a scheduled meeting with the students, opting to meet instead with some of the long-standing supporters who backed both his first election win in 2014 and recent re-election in April, a snub that arguably prompted protestors to return to the streets.
The first two-day demonstration was followed by protests by other groups, heightening the tensions on the streets of Jakarta. Islamist groups marched over the weekend, asking the government not to repress the student protesters, but rather to focus on the haze problems in Sumatra and riots in Papua.
Mujahid 212, which aspires to transform Indonesia into a caliphate, made predictable demands that the newly re-elected president step down – a reminder of the dangers of a return to the deadly street clashes seen in Jakarta shortly after Widodo's opponents violently disputed his re-election in April.
The presence of opposition-aligned Islamists also evoked late 2016's mass protests against the former governor of Jakarta, Basuki Tjahaja Purnama, a Protestant of Chinese descent and a former ally of Widodo, who was jailed after losing the 2017 gubernatorial election, on charges of blasphemy against Islam.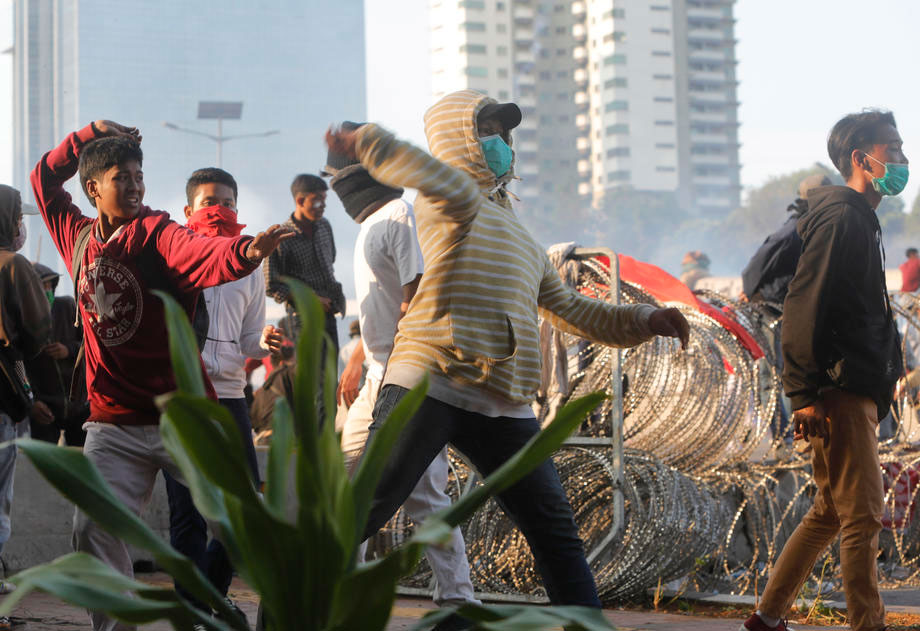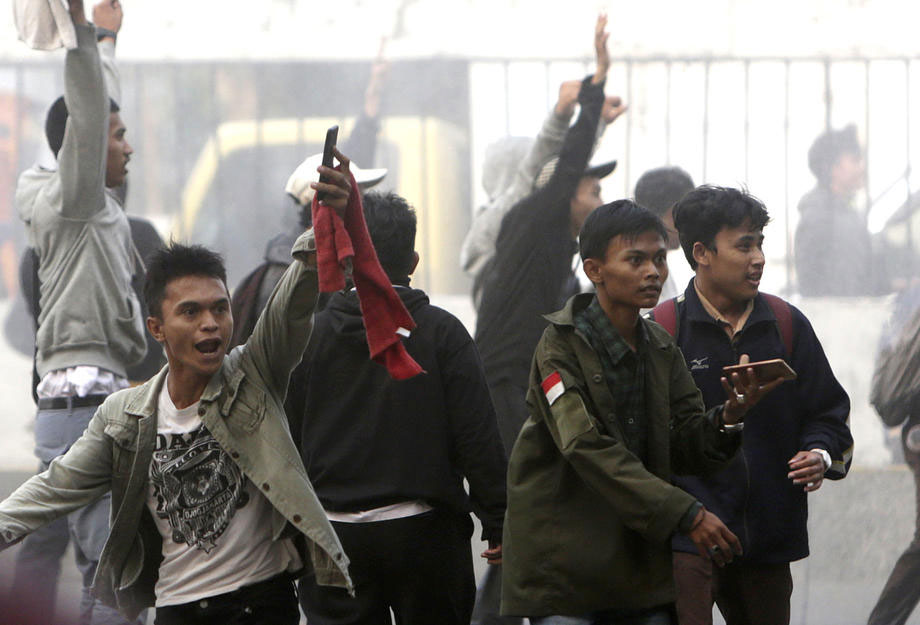 The biggest of the ongoing demonstrations was held on the final day of the outgoing parliamentary term on September 30, with over 20,000 security personnel on duty as thousands of protestors again assembled around the parliament in Jakarta, a gathering that this time comprised not only students but other civil society groups, including academics and mass organisations.
By afternoon tensions were running high, with rocks and stones thrown at police, who retaliated with tear gas and water-cannon. The demonstrations descended into rioting by evening, with streets and shopping malls closed and traffic rerouted. Later, as midnight loomed and the riots rolled on unabated, demonstrators set piles of tyres alight near the malls, as journalists scrambled to report on the conflagration, the streets echoing to the yells of police and protestors and the bursting pop of tear gas cannisters finding their mark.
After this September 30 round of protests, a revised set of demands were issued by protestors, adding a call to end the practice of allocating civilian government jobs to members of the security forces, as well as issuing calls to address the situations in restive Papua and the areas affected by forest fires and haze. Groups such as Jakarta Legal Aid and Commission for the Disappeared and Victims of Violence called for an investigation of attempts to repress the recent demonstrations, with Ecosisters, a group of women environmentalist activists, assisting student protestors who had been arrested.
Students of history
Student movements have played key roles in many of Indonesia's milestones, even before independence, arguably at least since the establishment of the country's first modern youth organisation in 1908 by medical students. The founding of the group, which was pivotal to Indonesia's growing nationalism, is commemorated every May 20 as Indonesia's National Awakening Day.
Indonesia's eventual independence after World War II was driven in part by a new generation of student activists, such as Chairul Saleh and Soekarni, who exhorted the founding fathers of the modern Indonesian state, Sukarno and Muhammad Hatta, to break with the ruling Dutch.
In 1998, as Asia and Indonesia reeled from a devastating international financial crisis, it was student protestors who took to the streets and demanded the end of the three decades of dictatorial rule under Soeharto, who, faced with the prospect of economic ruin, eventually resigned amid bloody street clashes in Jakarta.
Arguably this latest bout of student protests features a greater diversity of messages and a wider variety of groups than the 1998 activists. Adinda Tenriangke Muchtar, executive director of The Indonesian Institute, a Jakarta-based think tank, said this time around the protestors are chiefly concerned that the civil liberties won during the post-Soeharto democratic era are about to be curtailed.
Adinda told Southeast Asia Globe that the timing of the demonstrations – coming during a series of fires that have sent a haze over parts of Indonesia and neighbouring countries, and during deadly political violence in Papua – prompted government supporters to allege the protests have been hijacked by other interests who want to unseat President Widodo.
Outgoing parliament chairman Bambang Soesatyo released a written statement urging students "to reject outside political agenda set by political adventurers to hijack their efforts," while Interior Minister Tjahyo Kumolo similarly warned students against outside influences, while welcoming their wider aspirations.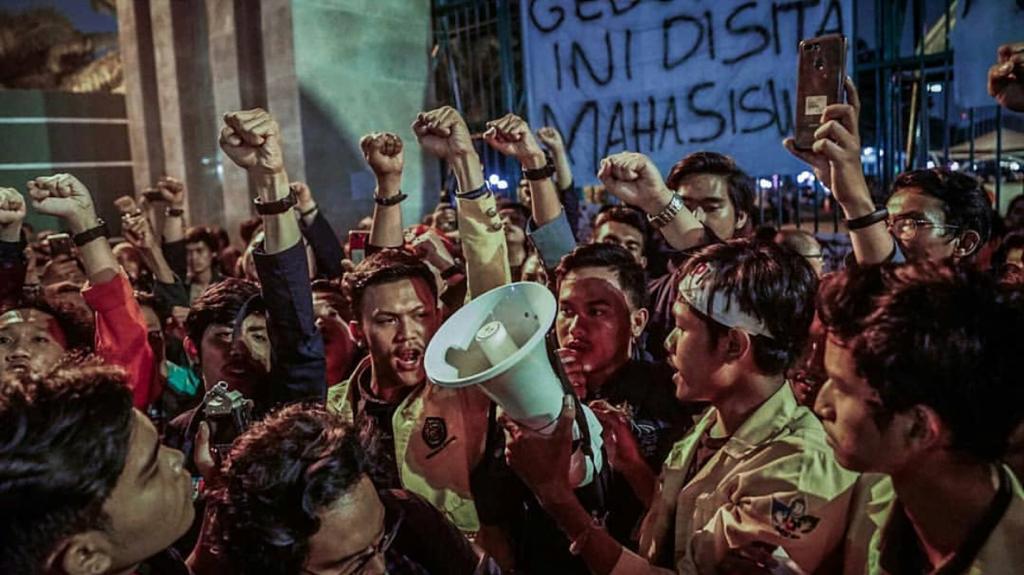 According to Ismail Fahmi, a social media analyst, the groups that want to overthrow the president used the hashtag #TurunkanJokowi (Bring down Jokowi) on Twitter during the demonstrations.
Ismail told local media that student social media accounts don't tweet the #TurunkanJokowi hashtag, but tag posts with #GejayanMemanggil, as a call to assemble on the streets and remind lawmakers of their commitments to reform.
Ismail's analysis of the two trending hashtag shows that students' call to #GejayanMemanggil was mostly started, responded to and retweeted by real Twitter accounts. In contrast, the hashtag #TurunkanJokowi was boosted by a seemingly distinct group of Twitter accounts, with the two cohorts having little interaction with each other on the social media platform.
To Ismail, it is surprising that K-Pop fans and those of Generation Z, which usually refers to people born after 1995 – groups typically dismissed by their elders as disinterested in politics – both featured among the protestors alongside more seasoned colleagues from university, as well as activists and opposition elements.
"From the recent demonstration, GenZ and K-Poppers learn a bit about their country challenges: law, justice and corruption," Ismail said, noting another difference between these protests and the 1998 version.
"The streets can also be a classroom, " Ismail said.
Adinda agreed that such political activism shows younger Indonesians to be far from apathetic. "On this era of digitalism, where people just post their thoughts online in social media platforms, it is glad to know that these young people still go down to the street to care for their country," she said.
"We don't want to have democracy merely – we want good quality of democracy, good quality of legislative process"

Adinda Tenriangke Muchtar, The Indonesian Institute
Adinda's experience marching against Soeharto in 1998 is a reminder, to her, that today's student movement needs to collaborate with wider civil society if it is to achieve its goals and help Indonesia mature as a democracy.
"It is understood that rapidly changing laws is also unhealthy for legal certainty in this country. That's why as long as a democratic channel is open for public scrutiny and participation, the checks and balances process will result in better democracy," Adinda said.
A more transparent legislative process would ensure that protests are unnecessary, Adinda believes, citing the incongruous speed with which the revisions to the anti-corruption commission were passed by a parliament notorious for dawdling.
"Some of the laws, including the Revision of KPK Law, are not part of the prioritised National Legislation Program – but it suddenly went directly to the parliament," she said.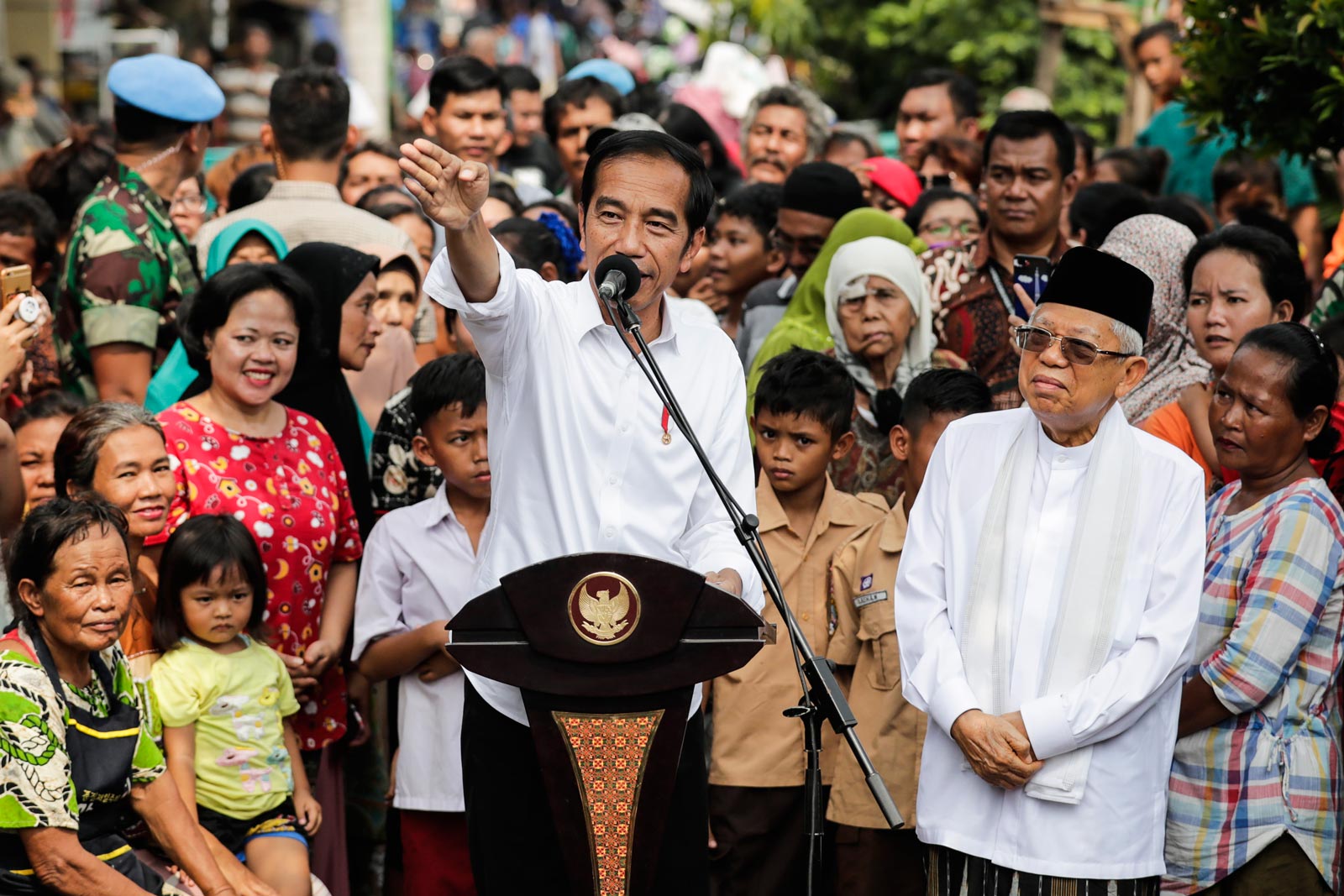 Full circle
Throughout Indonesian history, student movements have been pivotal, reminders to those in power of their responsibility to their people. But the irony now is that some of the same students who protested in 1998 against Soeharto's dictatorship are now parliamentarians pushing laws that have prompted today's students to take to the streets to fight for some of the rights that the 1998 students sought.
This full-circle outcome is a product of what academics Abdhil Mughis Mudhofir and Andi Rahman Alamsyah regard as some of the inbuilt weaknesses of Indonesia's political system.
"Many former activists who hold positions as special staff have weak bargaining powers to negotiate with their patrons and the broader political system," the authors wrote in their research. "Indonesia's predatory politics neuter former activists' attempts at reform from within the system."
It is, to many, a situation that has paved the way for the institutionalisation of political transactionalism and corruption, leaving idealistic politicians vulnerable to being submerged in a corrupt, opaque and elite-driven political system that is resistant to reform and likely to spark public anger.
But Adinda said that the most difficult obstacles are thrown up when those in power put elite self-interest over the greater good.
"We don't want to have democracy merely – we want good quality of democracy, good quality of legislative process," she said.
Stania Puspa is Jakarta-based writer and freelance journalist.