In the bustling waiting room of a hospital ward, a man dressed in khaki with skin burnt dark from the sun holds a thick, braided rope. His face is still, but tense, as if something – anger, or perhaps frustration – is just about to break through.
He looks at the other end of the rope, tied around the wrists of a woman in a floral blouse. The woman, about 40 years old with rumpled hair, sinks to her knees and folds her hands as if in prayer, pleading with the man to release her.
The 100 or so faces in the waiting room stare at her, but none of them ask the man to take the rope off her wrists. A nurse arrives and asks the man a few questions, interrupted by the woman's cries. It's not an everyday picture at the mental health department of Phnom Penh's Khmer-Soviet Friendship Hospital, but it's not an unfamiliar one, either.
"In rural areas, when a family member has psychological problems and they want to hurt themselves or others, or they want to run away, the first reaction is to tie them up," explains Tep Vanny, chief of staff at the hospital's mental health department – the only one in the country.
Helpless family members often arrive with bound wives, husbands, daughters or sons. "In a way, we do the same, it's just that our physical restraint is done through medication," Vanny says.
However, with just ten psychiatrists working in the state sector – most of them working for this hospital – there is only so much that can be done to alleviate the burden of mental health issues that are mostly ignored.
In 2012, the Royal University of Phnom Penh conducted the first large-scale study of mental health in Cambodia. The results were alarming. The findings revealed that 27% of the 2,600 respondents experienced symptoms of acute anxiety, 16.7% suffered from depression and 2.7% exhibited symptoms of post-traumatic stress disorder (PTSD) – prevalence of the latter being seven times higher than the worldwide average.
"They go to traditional healers who mix roots with water and then try to drive out the bad spirits, or they burn [the patient] so the spirit leaves,"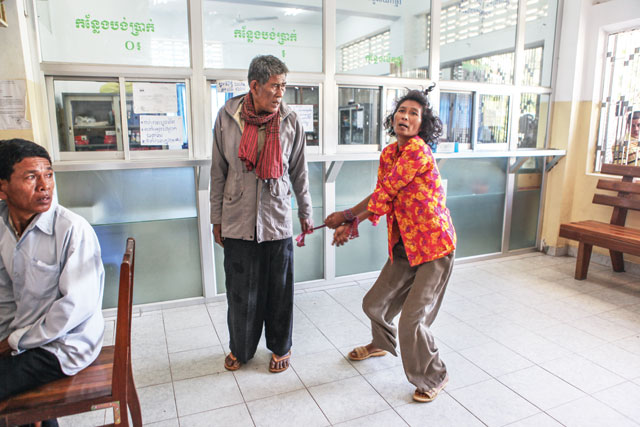 Up to 300 patients suffering from such psychiatric disorders pass through the waiting room at the Khmer-Soviet Friendship Hospital each day to receive monthly follow-up treatments. About 30 new patients are registered daily, most of them middle aged. For the most severe cases, ten beds are available for in-house treatment, according to Chok Thida, head of the mental health department.
"Sometimes it's genetic, but usually it's due to their environment – social problems, a traumatic event or economic hardships, but there is no study to look at this in-depth and no funding to do so," Thida says, adding that most patients are over the age of 40, meaning they are people who lived through the Khmer Rouge years.
According to a 2010 study of about 2,000 Khmer Rouge survivors by the Berlin Centre for the Treatment of Torture Victims, the prevalence of PTSD is 11.4%, while 30% suffer from depression and 36.8% from anxiety.
"When the participants were asked whether they seek help from professional mental health providers, 85.4% answered no," the study found.
Despite these alarming figures and the millions of dollars that foreign donors pour into Cambodia's health system every year, government spokesperson Phay Siphan says mental health is not a priority.
"The government prioritises maternal health and malaria. For mental health, I know that other governments have the money to subsidise that, but we are poor," he says, adding that families or monks could help treat the mentally ill. "We have a very strong culture where, even when you turn 18, you still have a strong connection to your family here, and that connection always stays… You can also get rid of your problems with religion, with the help of a pagoda."
Due to a lack of trained mental health staff and few public facilities, the public's awareness of mental health issues is low.
In turn, most cases of mental disorders are never properly diagnosed, according to Thida, and the patients at the Khmer-Soviet Friendship Hospital usually arrive after years of suffering.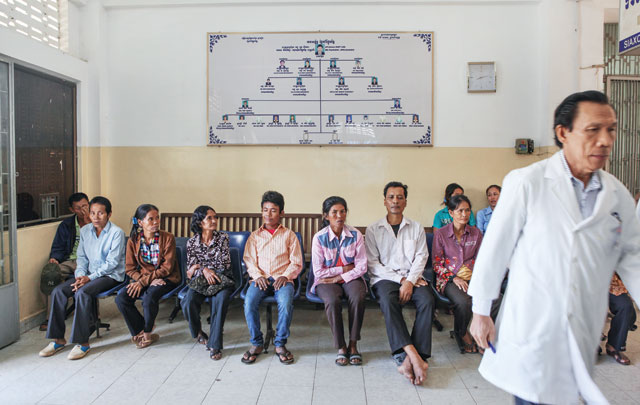 Among the country's large rural population in particular, the mentally ill are still treated by traditional healers, who aim to drive out bad spirits by burning the skin, or by the untrained staff of one-room health clinics who prescribe everything from pain-relief tablets to cough syrup.
"They go to traditional healers who mix roots with water and then try to drive out the bad spirits, or they burn [the patient] so the spirit leaves," Thida says.
If these treatments don't work, many seek the help of local health clinics, who – ideally – refer the patients to the Khmer-Soviet Friendship Hospital. But not everybody knows that treatment is available in the capital, and in rural areas the belief that the mentally ill are being punished for the sins of a previous life – rendering them beyond help – remains common. If their illness causes violent behaviour, patients are frequently tied to beds or locked in rooms, often for years.
But in some cases, outbursts happen unexpectedly.
Late last year, a 29-year-old mentally ill man from northwestern Banteay Meanchey province attacked his aunt with a cleaver and smashed his one-year-old cousin against a pillar. The impact was so great that the baby's skull cracked. The man's family later said he had a history of severe mental problems – apparent since he returned from migrant work in Thailand – but they were unable to describe the nature of his disease or the treatment he had received.
Despite such cases and the large number of people in need, the ten beds at the Khmer-Soviet Friendship Hospital remain the only ones for the mentally ill and, after two weeks, every patient will be sent back to their families.
"There are no centres or facilities that can take care of them, so referring them back to their families is the only thing we can do," Thida says, adding that members of patients' families are trained to take care of them.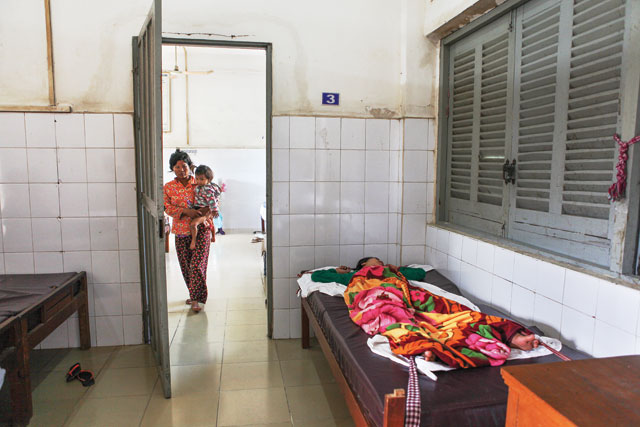 Inside the ward, Chun Rany, a young woman with a gentle face, sits on one of the ten beds, next to her mother, and speaks of the treatment she has received in recent days. In 2012, she started hallucinating. She describes giants with long fangs and clawed paws that became part of her daily life.
"I saw giants, three of them, and they came to take me away. They tried to scoop my eyes out, and they wanted to rape and kill me," says the 26-year-old.
Following the episodes, when the giants temporarily left, Rany realised that they had been a product of her own imagination.
The frustration she felt led to her self-harming.
"When I didn't see the giants, I was angry with myself. I cut myself and my mother had to watch me all the time," she says, adding that she also attempted to run away from her family, hoping to find some kind of peace elsewhere.
But now, after three days of treatment, the giants have receded, and Rany hopes that she can return to her family's home to live a normal life.
"I got injections and medication, and I'm feeling better now," she says.
"There are still some problems, but now I don't feel like running away, and I am less scared."