After outsider Republican candidate Donald Trump stunned the world by clinching the US presidency, several regional leaders offered their support for the president-elect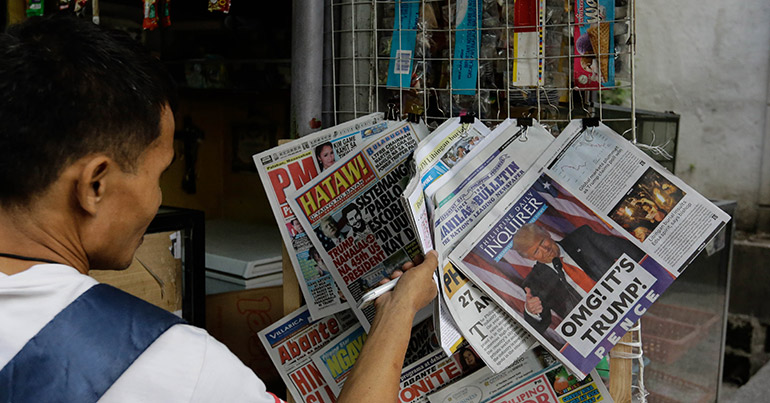 In a stunning upset, businessman and reality television star Donald Trump has been elected 45th president of the United States, collecting 279 votes in the US electoral college compared to his opponent, Democratic candidate Hillary Clinton, who received 228 votes.
Trump's victory was met with celebration by the nearly 60 million people that voted for him. But many around the world, frightened by Trump's populist and isolationist rhetoric, decried the election as a blow to democracy, human rights and the international order that has for decades relied on the US as a stable world leader.
In Southeast Asia, several heads of state congratulated the new US president on his victory.
Thailand's prime minister, Prayuth Chan-ocha, offered his congratulations and said his nation would continue to value the US as an ally.
"We have to adhere to a balanced foreign policy," the Bangkok Post reported him as saying. "We are in the middle. We have to think about what we can do for the best interests of our country. No matter who is the next US president, we will continue to cherish the US-Thai relationship of more than 180 years."
Cambodian Prime Minister Hun Sen, who in recent days had publicly endorsed Trump, took the opportunity praise the new US president and congratulate himself on predicting his victory.
"Congratulations to His Excellency Donald Trump, who has achieved victory in the American presidential election," Hun Sun wrote on his Facebook page.
"A few days ago, when I showed my support for your candidacy, there were some who came out to attack me and accuse you of being a dictator, so that was why someone like me supports you.
"At this moment, what is clear is that the American people need your excellency to lead them, and so my support was not wrong."
Even Philippine President Rodrigo Duterte, who has led a public war of words with the US in recent months, extended an olive branch to President-elect Trump.
"I would like to congratulate Mr. Donald Trump. Long live," Duterte said in a speech to the Filipino community in Kuala Lumpur during a visit to Malaysia, according to Reuters.
"We are both making curses. Even with trivial matters we curse. I was supposed to stop because Trump is there. I don't want to quarrel anymore, because Trump has won."
Cassey Lee Hong Kim, senior fellow and co-coordinator of the Institute of Southeast Asian Studies' regional economic studies programme, said the leaders were being calculated in their approach to the new president.
"The leaders from Southeast Asia are, first and foremost, very pragmatic," he said. "The US remains very important for trade and investment.  Some may be disappointed that the TPP [Trans-Pacific Partnership] is not likely to be ratified, but I expect the political leaders in this region will seek new ways to reach out to the Trump administration to facilitate such activities."
Regional stock markets plunged yesterday after Trump's election, with Philippine stocks falling to their lowest levels since 10 May, when Duterte was elected as the country's president.