Phnom Penh's Sofitel luxury hotel has a long history of celebrating the arts, which it will do this holiday season at Musica Felice. The resort's first open-air concert for the whole family will feature 1930s jazz standards and festive classics like "Feliz Navidad" played by the Phnom Penh Choral Ensemble, 9th Harmonics, Alex Scarpati and other musical guests. The festivities kick off Sunday 2 December at 3pm and wrap up at 5pm. Southeast Asia Globe caught up with Sofitel Phnom Penh Phokeethra's general manager, Charles-Henri Chevet, a longtime fan of the arts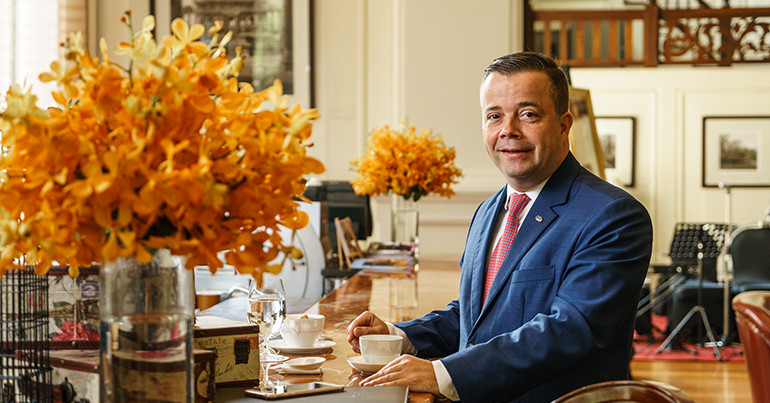 How long has Sofitel been hosting Musica Felice, and what are its origins?
We have partnered with Miwako Fujiwara, conductor of Musica Felice, for just over a year, and have co-hosted three concerts. Miwako has been an active member of the music community in Phnom Penh for over eight years and has done so much for the community, like purchasing traditional instruments for music schools from the funds she has raised.
Sofitel Phnom Penh's photography collection showing Phnom Penh and Cambodia in the 1920s is fascinating. Does Sofitel have a long history of supporting the arts, cultures and heritage of the places it does business?
We have four key pillars at Sofitel: gastronomy, wellness, design and culture. No matter which Sofitel you visit around the world, you will always observe a strong focus on these four elements. We are very much involved in cultural initiatives in Cambodia, whether it be through music events or art projects. Indeed, the photography collection by Georges Portal at Sofitel Phnom Penh is one of a kind. A box of film rolls was discovered in a storage unit in France, and, upon further investigation, the family discovered a series of images taken in Phnom Penh and Siem Reap in 1929. Since many of the photographic archives were destroyed during the Khmer Rouge, we jumped at the opportunity to help extract the photos from the film to display a truly unique set of cold-pressed prints for our community and visitors to enjoy.
Can you talk about some of the music that will be played at this event? Which holiday songs and jazz standards should guests expect?
The concert will be in the festive theme, so expect a few classics, such as "Feliz Navidad" and "Have Yourself a Merry Little Christmas." Jazz classics will include "Blue Skies", "Caravan" and "Lonesome Road." It will be a very family-friendly concert, with room for kids to run around outside. It's a perfect way to end the year and put something on for the wider community – both expats and local people.
What is your own personal connection to music and the other arts?
Since arriving in Asia in 2002, I have been very much interested in the stunning art collections that can be found here, and the talented musicians and artists who are making an impact on the development of the region.
What are your favourite artistic and cultural activities in Phnom Penh?
I am pleased that there are companies sponsoring concerts and bringing international artists to Cambodia. It is important for people to be able to enjoy music. I enjoy orchestral concerts in particular. The Royal Ballet of Cambodia is a true highlight on the calendar, and I am very excited that we are supporting Xavier de Lauzanne's feature documentary film The Perfect Motion, which documents the journey of the Royal Ballet since 1906. I enjoy many exhibitions throughout the Kingdom by talented artists, including our current showcase of Nou Sary at Sofitel Phnom Penh Phokeethra. I am very proud that our hotel has supported events such as the Cambodia Opera Project and Musica Felice, which bring the community together to enjoy music.