There's another world under the turquoise waters around Koh Samui that locals wish to preserve – not only because it's beautiful, but because it's what brings the tourists. Visitors wearing snorkels and fins pay a reasonable price for a 45-minute speedboat ride from the popular Thai island to be suspended in blue liquid space over a thriving coral reef and the thousands of small fish that feed on it.
But without government intervention – and caretaking of these protected habitats by those who stake their living on the continuing presence of these visitors – the tourism industry could go the way of some of the dead or dying coral beds crushed underfoot by "sea walking" treks, one trend recently outlawed by the government. And those who depend on tourist dollars aren't interested in losing any of the more than one million visitors Koh Samui attracts each year.
Thailand implemented its Marine and Coastal Resources Management Act in 2015 to alleviate some of the damage done by the influx of leisure visitors. In July this year, for the second time, the legislation was used to enforce some protection measures around the island trio of Koh Samui, Koh Phangan and Koh Tao. These measures, which last two years but can be extended, outlawed "unfriendly activities" that include anchoring on coral reefs, feeding or catching marine animals, discharging wastewater, ecologically harmful construction and sea walking – a once-popular recreation whereby tourists donned oxygen-fed helmets and stomped along the sea floor like visitors to another planet.
Everything in the world goes to the sea
Since February, smoking has been outlawed on beaches around the country to keep cigarette butts out of the ecosystem. The new regulations also came on the heels of temporary closures of several popular Thai beaches to give them a rest from the crowds, including Maya Beach on Koh Phi Phi island, made famous in the 2000 Leonardo DiCaprio movie The Beach.
"The amount of garbage and wastewater on these islands is so huge that it will become unbearable in the near future," said Jatuporn Burutphat of Thailand's Department of Marine and Coastal Resources, which enforces the bans. "We have to think of the future."
Environmental scofflaws face up to a year in prison and a $1,000 fine. It's unclear how education and enforcement are being undertaken by authorities. A sea walking outfit on Koh Samui contacted by Southeast Asia Globe in July, after the regulations had kicked in, offered to book a sea walking trek.
Despite the government's efforts, these islands still struggle to figure out what to do with their wastewater and garbage. As of March, Koh Samui was sitting on 250,000 tonnes of rubbish that kept accumulating because the island's incinerator had been busted for nearly a decade. The Thai government gave $9m to Koh Samui this year to help deal with the garbage, which locals say is being shipped to the Thai mainland for incineration or simply buried. But a lot of that garbage makes its way into those otherwise perfect sapphire waters, which is where the local caretakers come in.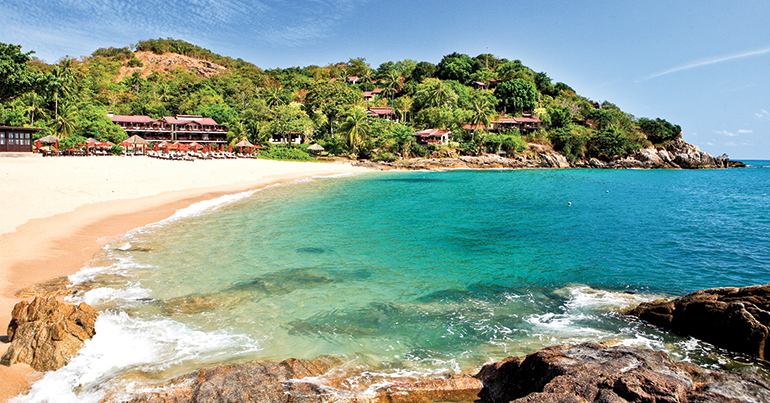 One of those caretakers is Koh Samui-based tour operator Wasanpet Pugdeechon, a cheerful younger man who goes by the nickname Audy. When he's not organising and leading tours of Koh Samui and its surrounding islands, Audy can be found taking advantage of the area's perfect scuba-diving sites. And throughout the year, he employs his passion to clean up the water by hauling tonnes of garbage and old fishing nets out of the ocean with the help of a network of scuba clubs.
His own club does trash and net dives every three to four months. On one recent haul off the neighbouring island of Koh Phangan, he said his club liberated 900kg of nets and refuse from the waters.
"Everything in the world goes to the sea," explained Audy, listing off a litany of the debris they dredge up – the plastic bags and drinking straws and Chang beer bottles and other human-made wastes cast off by Koh Samui's massive tourism machine. "The [fishing] net is very dangerous, more than rubbish, because if the old net is thrown in the reef, the coral cannot grow. Everything under the sea will not grow up, it will drop and die, so we have to cut the net and take it up."
The 10km plastic island
Signs of Southeast Asia's plastic problem make for the occasional disturbing headline from a nation that is the sixth largest plastic polluter on earth.
In June, a pilot whale died five days after washing ashore in the southern province of Songkhla. Veterinarians found 80 plastic bags weighing 8kg in its stomach. "We will use the whale case and invite all sectors to show their intentions on how to reduce the use of plastic in Thailand," said the Department of Marine and Coastal Resources' Jatuporn.
Thailand travel forums are filled with bemused observations of the country's unrivalled plastic-bag culture, where 7-Eleven sells individual bananas in a plastic bag and salespeople put bags inside of bags inside of bags. Nearly 200 billion plastic bags are used in the Kingdom every year, according to estimates based on a government survey.
Last year, snorkelers and a fisherman reported seeing a floating plastic island off Koh Talu in the Gulf of Thailand. The 10km-long, 2km-wide mass contained hundreds of tonnes of plastic bottles, cans and other debris.
"Before we found some small trash islands, but we never found anything like 10 kilometres before," local marine biologist Thon Thamrongnawasawat was quoted as saying at the time. "It's huge, so now it's a shock to all Thai people, and the government is asking why are there so many plastic bags in the sea. It's a good time to do something."
Thailand is one of four other Asian nations – China, Indonesia, the Philippines and Vietnam – that together are responsible for producing 60% of the world's plastic waste, according to a report by Ocean Conservancy. As incomes rise in these countries, so does the disposable money in people's pockets, which could explain the rise in discarded single-use plastic packaging from soda, cigarettes and snacks now filling the oceans.
On Koh Samui, green efforts are led by businesses like resorts, restaurants and travel outfits. The design and building philosophy is largely about blending into the natural environment. The five-star resort Banyan Tree has a marine biologist on staff to head up its CSR (corporate social responsibility) programme.
Loyjiw "Pueng" Thepsuda talked with Southeast Asia Globe about how the hotel cuts down on plastic waste, recycles water, and cleans and replants broken coral. She explained how the reproduction of coral is disrupted by rising ocean temperatures that prevent algae from growing in the tissue of coral, which leads to a condition called coral bleaching; only 20 to 30% of coral survives bleaching.
"Every ecosystem is connected. The coral is the nursery for the sea animals," said Thepsuda. "It's important to the food supply and tourism because underwater is very beautiful. But we have to encourage and educate [tourists] to not step on coral. Water level and temperature change affects the coral. Global warming now is a hot topic – literally. But it's no good if only one or two resorts on the island maintain strict environmental practices. We all have to work together to keep this paradise intact."
Thepsuda also explained why human recreation can be so bad for the ocean: "When snorkelers or seabed walkers tread on coral, they damage the corals' polyps, which prevents them from reproducing. Such is the deadly footprint tourists can unintentionally leave behind."
The eco-warriors of Koh Samui
Retired Californian Brent Jones, who has lived on Koh Samui for four years, sat down with Southeast Asia Globe after spending a few hours organising locals and tourists to pick up trash on a local beach. He enlists volunteers through his own initiative he founded four years ago, Samui Clean, and Trash Hero, an international environmental coalition founded by Roman Peter of Switzerland when he was working as a bartender on Koh Phi Phi. Every Sunday at 3pm, Jones and the volunteers he attracts via social media gather on a beach and get to work. Some days, he says, he'll get as few as just two volunteers, but once had 300 people show up to collect as many as 130 garbage bags full of plastic bags, toothbrushes, cans, diapers, bottles, broken plastics, fishing wire and nets – and the number-one piece of refuse they find is plastic straws, he said. An estimated 8.3 billion plastic straws litter the world's beaches, according to Science Advances.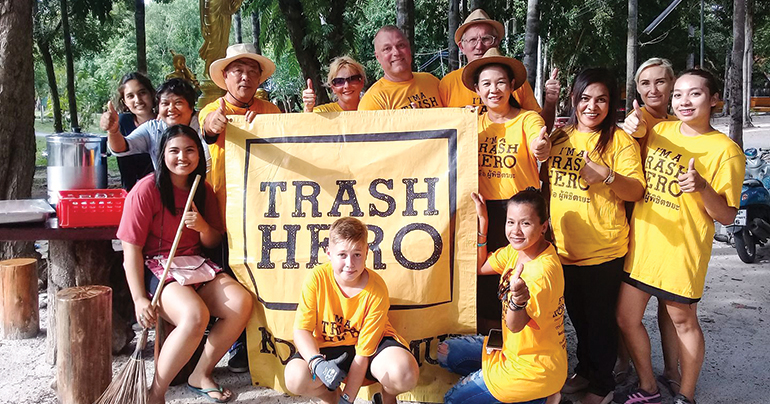 Jones, who notes the irony of the single-use bottle of Singha beer he's holding, hopes to educate younger people about the importance of conservation and being proactive in keeping the world pretty. The yellow Trash Hero shirts have become a powerful reminder of these issues: "Today we had kids fighting over garbage. That's the whole goal of it, to get the kids involved. It's a matter of being vigilant. You come back to a place you cleaned up before, and the kids see you and say, they're back!"
Jones' Samui Clean also places garbage bins painted by local artists around Koh Samui, whose government does not put out bins; instead, garbage is put out on the street, where it slowly grows into larger and larger piles of waste that gets scattered by the wind and street dogs. Since there's no more incinerator, Koh Samui's rubbish nightmare continues to fester.
"It's a major problem, and the new idea is to get all the garbage that's been accumulating for years and years and put it on a barge and send it over to the mainland to have it processed," said Jones. "Each and every year, they push it ahead another year. So we just cross our fingers. Our goal is to get it out of the ocean, off the beach, to make it nicer to look at."
But making beaches beautiful is one thing; finding a place for the garbage they pick is quite another. One way the government is dealing with the garbage is to bury it and put giant tarps over it on the southern part of the island, said Jones.
"But when it comes off the beach, it has to go somewhere, and that would be the dump," he said. "People ask me why I'm doing this and tell me I'm just making the dump problem worse. OK, but we're getting it off the beach, getting it out of the water, and that's all we can really say about it because there's no incinerator to deal with it. Another incinerator would be insane because it just creates a lot of pollution itself."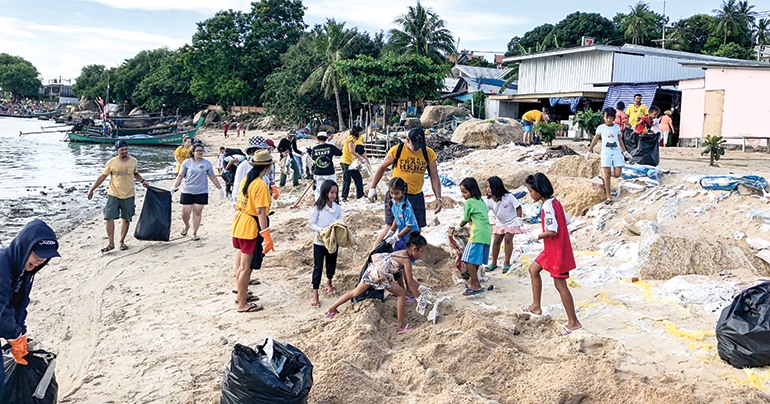 Jones is fiercely dedicated to his mission, but keeps his emotions in check.
"You can get involved with the government, you can scream your head off and you can be a real asshole – it's not going to get you anywhere," said Jones. "You just have to go and clean and be the organiser and get people out there to get involved and try to educate people that it's not in your best interest for tourists, for the island, for the environment to let this problem continue with littering."
Planting for the future
This June, tour guide Audy and his scuba club participated for the first time in a Thai government coral replanting program. The government grows coral in aquariums and gives it to these volunteer scuba clubs to transplant into the ocean floor. For the three-day June dive, 35 to 40 divers planted 3,000 pieces of coral over 19 dives, said Audy.
Koh Samui and its sister islands of Phangan and Tao have a total of 10,000 acres of coral reefs that are home to diverse marine species that include Irrawaddy dolphins, seven species of whales, turtles, moray eels, seahorses, reef sharks and the manatee-like dugongs. For Audy and other concerned locals, the battle to preserve sea life is a never-ending one.
"We make more, more, more reef for the next generation and the next generation's tourists," Audy explained. "If we plant one piece of coral, a hundred lives under the water will grow. The point is not the coral. It's like when we plant a tree. When we plant one tree, a hundred birds will come and eat."
Coral stewardship requires partnerships and communication between all the players, especially those on the frontlines who have to take ultimate responsibility for these delicate systems.
"If you park the boat on top of coral reef, when you go down, bang, you step on sea urchins, you step on coral, coral broken," said Audy. "We protect and care for the environment. Local people and companies have to understand about the environment and why they should care.
"If the environment is broken, we cannot work."