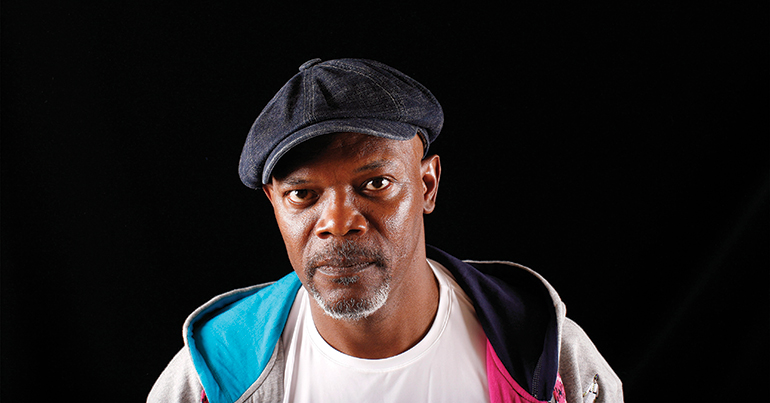 It all starts with that voice. From delivering his legendary "Ezekiel 25:17" speech in Pulp Fiction – based loosely on a passage from the bible – to questioning "What's in your wallet?" in a series of credit card adverts, Samuel L. Jackson's inimitable delivery has helped make him one of Hollywood's most bankable stars. To date, his films' takings total $4.6 billion, second only to Harrison Ford with $4.9 billion, according to the tracking site boxofficemojo.com.
Such figures are certainly boosted by parts in major franchises such as The Avengers and Star Wars, as well as successful Hollywood fare including Coach Carter and The Incredibles, but it is Jackson's work alongside director Quentin Tarantino that has most captured the movie-going public's imagination. His role in The Hateful Eight, which was nominated for three Oscars, was the sixth time the pair has worked together, in what has become one of modern Hollywood's more enduring creative partnerships.
Born in Washington, DC, but raised in Tennessee, Jackson's work has taken him all over the globe, whether shooting or promoting his projects. He is renowned for carrying out the latter with dignity and a sense of humour, and during a recent roundtable interview he told Southeast Asia Globe that of all the fantastical locations he has worked in over his 40-year career, Vietnam is his favourite.
"It's a very interesting place, a very cool place, a very mysterious place. It's beautiful. Wow. It's a fascinating place to be – very spiritual. Even if you don't believe in certain things, you feel things when you're there. You kind of see them, and you watch the people," he said.
Having come of age around the time of the Vietnam War, Jackson recalls watching news accounts of the ill-conceived US intervention and taking in the juxtaposition of the devastation and the beauty of the tropical terrain. Like many young American men of the time, he feared being drafted and shipped off, and possibly dying on foreign soil in a conflict he didn't understand.
"I know what it is and what the history is with us, in terms of me being a child of the '60s and not wanting to go there, and then getting there and going: 'This might not have been so bad,'" he said.
Jackson found himself in Vietnam while shooting Kong: Skull Island, an origins story-cum-reboot of the King Kong films, which also stars Oscar winner Brie Larson, Tom Hiddleston and John Goodman and will be released next month. Jackson plays Packard, a lieutenant colonel in the US army hired to lead a group of explorers on an expedition through an uncharted island in the Pacific. Upon their arrival, however, a very large and highly inhospitable creature greets them.
The shoot took Jackson and the rest of the crew to Hawaii in the US and Queensland, Australia, before they reached the north of Vietnam, where they travelled from Hanoi to Trang An, Tam Coc, Ha Long Bay and the entrance to the Tu Lan caves system. He fondly recalls his time in the mountainous north, where he watched the locals go about their daily routines as he made his way to set each morning.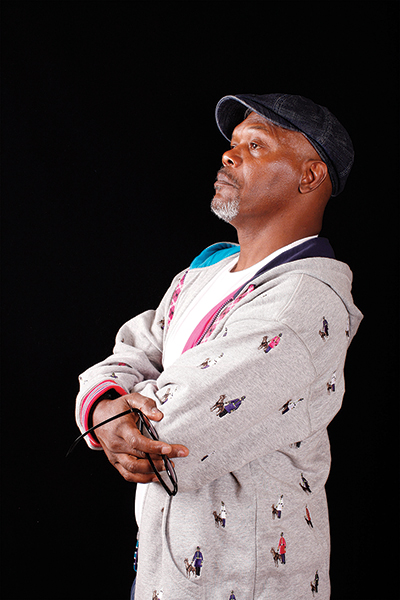 "It's a country that's supposed to be backwards, but it's not," he said. "It's really awesome. In the morning, when I was going to work at, like, 5am, I'd see 600 kids on bicycles going to school in their uniforms or walking on the road and going to school, and getting it done. You pass by them, or you get out there and you look at the adults in the rice paddies, people bent over in the rice paddies doing what they do. You get to the villages or the homes or just big open spaces with 15-20 people living in them, but they're all communal and they're all working together and they're all taking care of each other. The old people are respected, so it's kind of great."
It is, perhaps, unsurprising to hear Jackson attach importance to the notion of respect from one human being to another. Raised in segregated Chattanooga, Tennessee, Jackson's family was not wealthy, but they had high expectations for him. "I was educated in a segregated school, and I had black teachers that had taught my mother and her brothers and sisters, so they knew what the expectations were in my house," he said in a 2005 interview. "They knew I was expected to go to college."
While attending Morehouse College, a private, all-male, primarily African-American school in Georgia, where he studied marine biology and architectural design, Jackson was active in the civil rights movement. He served as an usher at Martin Luther King's funeral, and his activism led to an arrest for unlawful assembly. He was suspended for two years but eventually returned and graduated.
After switching to acting, he appeared in school plays before heading to New York, paying his dues in theatre and small-budget films, working his way up from minor roles, often as a heavy or a drug addict. Such unfortunate typecasting aside, Jackson admitted he has always preferred playing villains.
"Bad guys are a little more interesting than good guys," he told Southeast Asia Globe at the roundtable interview. "Good guys, they have to have some specific qualities. They have to be specifically this, that or the other, straight ahead. Bad guys can have all kinds of unique things about them, and they can even have good things about them. All bad guys don't sit around polishing bullets and sharpening knives to go out and kill people. They have jobs. They have kids. They go to grocery stores, cook, sleep and make beds. They garden. They do all kinds of things. Bad guys can have really, really diverse and interesting kinds of lives that should surprise an audience. They have this other thing that they do. You shouldn't be able to just look at a guy and go: 'Oh my God. He's a killer,' or 'I could see how he could do that.' I'd rather people figure out something else about me."
Despite this penchant for bad guys, over the years Jackson has prepared for his roles by training with various law enforcement agencies, including the Los Angeles Police Department's elite Swat team, the Secret Service, FBI, CIA and various branches of the military. He has played a slavery-enabling black butler, a Jedi master, a terrorist with brittle bone syndrome and a corporate executive investigating genetically engineered sharks, among many others, and his star shows no sign of waning. He is also a man who can talk all day on almost any subject. In fact, the only time he seems even slightly uncomfortable is when he's asked to talk about himself.
"I like to think of myself as banal or as uninteresting as anybody else, in a certain kind of way," he said. "I walk around; I watch the same TV shows as everyone else. I read strange murder novels. I watch a lot of Asian film. And I have an interesting job."