For anyone thinking of running a destination race or marathon, you can minimise travel stress and pre-race nerves with these top tips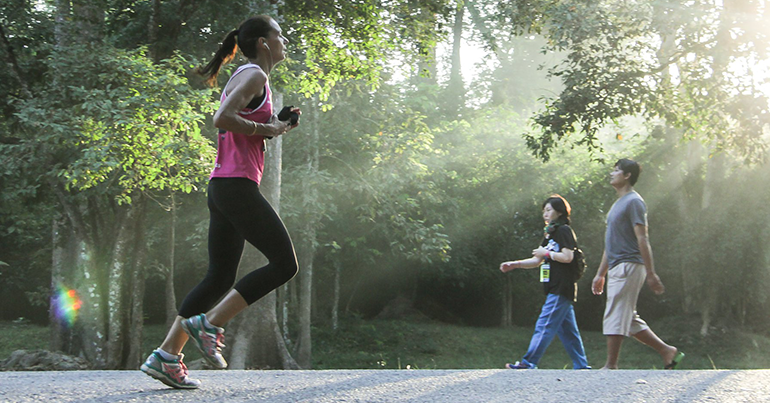 With Southeast Asia being one of the easiest regions in the world to travel around, with relatively inexpensive flights, short jaunts between capitals, and visa-free entry or visa-on-arrival availability in many countries, an excuse to travel isn't generally needed.
But for those looking for a more exhilarating holiday, a destination race can provide a unique and rewarding experience beyond just a weekend away.
With a host of marathons, half-marathons and even ten kilometres road runs from Singapore to Cambodia, there's no shortage of marathons and race opportunities around the region.
So how can you maximise the rewarding aspects of a race while minimising the anxiety or stress that may come from the travel, planning and packing? By thinking ahead and being prepared. Get the most out of your destination marathon with these prep, pack and travel tips.
Prep
Build in time for rest
When planning a trip, a day or two to buffer a long weekend might seem like all the time you need for a destination race. But keep in mind the swelling you might encounter during longer flights, and the sore muscles and cramping you might experience after a race – along with any potential jetlag – and build in at least a day on the front and back end of your trip to rest and recuperate.
…And prioritise it
While you can't guarantee how well you'll sleep in a hotel in a different country over a destination race weekend, you do have more control over the quality of your sleep while you're home. Aim to get eight regular hours of sleep the week prior to your trip to ensure you're well-rested before you head out.
Find a cause
If you're having second thoughts about running a destination marathon, find a cause to run for and fundraise for the organisation to make your miles count. Once you announce you're running and fundraising amongst family and friends, you'll be held more accountable for following through on your goal.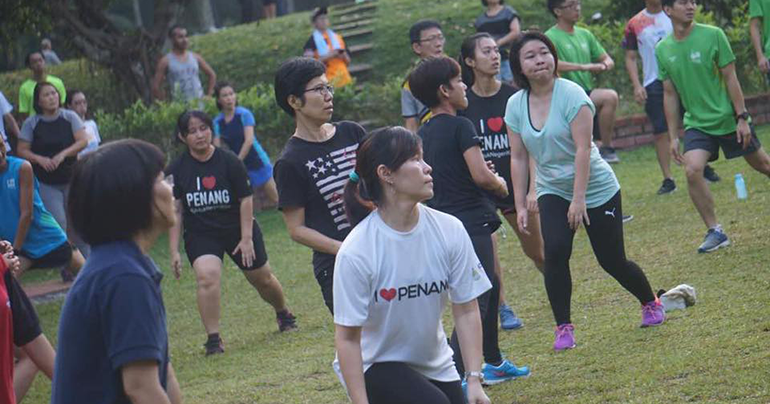 Pack
Rehearse race weekend
Days out from departure write a destination marathon-packing list and do a quick rehearsal of your race-day routine and requirements, making sure you don't forget anything. Lay out your runner's outfit, and take stock of the energy gels or hydration packets you'd rely on throughout the day. Run through your list and ensure you've sorted all of your needs for the weekend so you're not scrambling the day of departure.
Bring the nutrition and energy you need
If your morning routine looks the same every day, and your breakfast staples seldom change, pack them along (if they're sundries and allowable). The likelihood of finding Vegemite, chia seeds, or your favourite power bar is better than you might think, but why risk it? Consider what your race-day diet might look like and plan accordingly so you guarantee you'll get the marathon nutrition you need. If you're on long flights, pack the snacks you'll need to give you energy so you're not reliant on airline food.
Think twice about what you check vs. carry-on
If you've worn the same pair of socks to every race you've ever competed in, throw them in your carry-on. If you're travelling just for the weekend, make sure that your trainers and race-day essentials are on your person or in your carry-on, in the event your luggage doesn't make it past a layover.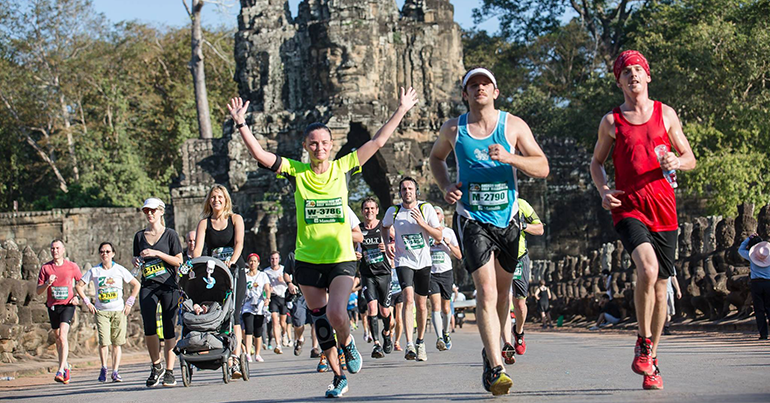 Travel
Hydrate
What you likely don't need to be reminded about is the importance of hydration. When traveling, whether it's the dry air circulated on aircrafts or the busyness of shuffling through an airport, your body is more prone to dehydration. Drink more water than you think you should and skip the caffeine.
Get acquainted with surroundings
As soon as you arrive, get a feel for what shops are in the vicinity and what they stock. Knowing where you can find everything from bottled water to basic first aid essentials will save time if you find yourself in need later. Don't forget to see what restaurants and cafés are nearby for pre- and post-race meals that meet you marathon nutrition needs.
Enjoy yourself!
If you've spent the past 12 weeks training for a destination race, don't forget to relax and enjoy the experience. If you run the Angkor Wat half marathon, for example, schedule time to see the temples at a more relaxed pace. A well-planned outing can be filled with experiences and excursions, from pampering spas to guided arts and culture tours. It's about the destination, after all!