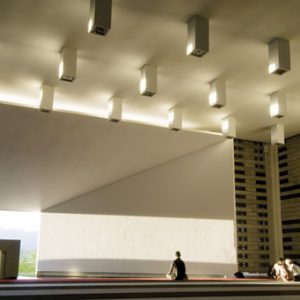 As the clock ticks past 10pm, it's with weary eyes that I finally come face to face with Ridwan Kamil, the mayor of Bandung, in front of Pendopo, his official residence. I've been on his tail all day, trailing him from event to event before ending up here, in the glow of the electrified town square, jostling for position among a fervent cluster of journalists.
The city plunges into darkness for a few minutes as the latest of the day's power cuts serves to again illustrate Kamil's collected and fundamentally happy demeanour. Earlier this evening a blackout struck just as 'Emil', as he is nicknamed, was hosting a banquet for local military commanders. Unfazed, the bespectacled leader carried on answering questions and playing the perfect host. He spoke of his work as an award-winning architect and how this serves as the basis for his ambition to develop Bandung, the capital of West Java province, into a smart city.
"The smart city [concept] changes the way we manage the city. We use time more efficiently with the use of technology. For instance, we install CCTV everywhere for monitoring or to conduct impromptu supervision online. So technology takes over the role of humans," he explains.
Bandung born and bred, 43-year-old Kamil holds a bachelor's degree in architecture from the Bandung Institute of Technology (ITB) and a master's from the University of California, Berkeley. The prestigious US school awarded him a scholarship, clinching his decision to study there, rather than at one of the four other institutions that had also accepted him.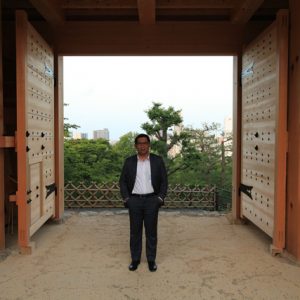 During his studies at Berkeley, Kamil worked part-time in the city's urban planning division, before going on to practice in New York City, San Francisco and Hong Kong for the next seven years. All the while, however, the urge to return to his birthplace and put his skills to good use grew ever stronger.
"It came from being agitated," says Kamil of his move back to Indonesia in 2002. "My profession at that time was to fix a city as an urban planner [working] abroad. But every time I came back to Bandung, it had become more chaotic and more disordered. So I braced myself, though with nothing to lose, and set out to become mayor."
Two years after moving back home, Kamil and three fellow architects established their own firm, Urbane Indonesia, which is responsible for big-ticket projects such as Aceh's tsunami remembrance museum, the Indian embassy in Jakarta and Singapore's Marina Bay Waterfront Masterplan.
As if Kamil's architecture and urban planning CV wasn't impressive enough, he's also a career university lecturer and a faculty member at ITB. He says his father, who was also a lecturer, used to tell him that teaching is one of the greatest sources of pride a man could hope to find, as he can watch the impact of his work unfold for years to come. His words ring true for Kamil to this day; he is a strong believer in the power of knowledge and credits his success to the education his parents gave him.
In high school, I was active in the football club and was a member of the national flag-raising troop. It was during this time I honed my leadership skills. I know when to be tough yet still remain courteous, and it's thanks to my education.
Indeed, his unique approach sees him championing developments such as the Indonesia Berkebun movement, which is devoted to building amateur gardens and green spaces in Indonesia's densely populated urban centres.
Kamil's smart-city blueprint for Bandung, meanwhile, includes a mass transportation project slated to begin construction this month. By creating a cable car network, Kamil hopes to get 80% of the city's private car drivers off the roads and onto the aerial gondola that will connect the two shopping areas of Tamansari and Cihampelas. It would be the first of its kind in Indonesia.
"Bandung is already crowded, but the people keep on coming. All the more when we have the cable car and monorail. It will be the first such public transportation in Indonesia and we will keep innovating for such things," Kamil says. "In the future, it will be expanded all over Bandung."
The mayor's plans for the city of 2.7 million are indeed forward-thinking, yet he took office in June 2013 as a political novice. His running mate, Oded M. Danial, an Islamic cleric turned politician and father of seven, supported him to victory. The pair secured more than 45% of the vote, blitzing the other seven pairs in contention.
Kamil's profile got a major boost earlier this year when he stole the show at the 60th Asian-African Conference. Tasked with welcoming hundreds of foreign delegates and a number of world leaders to his city, Kamil shone among contemporaries who even included President Joko Widodo.
He was appointed to read aloud the Ten Principals of Bandung, which was penned back in 1955. In front of dignitaries such as Chinese President Xi Jinping, Zimbabwean President Robert Mugabe and North Korean Presidium of the People's Assembly Chairman Kim Yong Nam, Kamil's poise and eloquent delivery had social media abuzz, with many touting him to be a future leader of Indonesia.
On behalf of the 2.7 million happy people of Bandung, I welcome you, all of the great leaders, the tigers of Asia and the lions of Africa.
Kamil's confidence in his city and its people are undeniable, yet it is not always reciprocated. At inauguration, Kamil and Danial boasted a 94% approval rating, according to a poll by Bandung-based think tank Information and Democratic Studies Circle, in conjunction with Padjadjaran University. As of April this year, that number had dropped to 68%.
Muradi, head of the university's Political and Security Studies Centre, describes Kamil's leadership style as "sporadic and based solely on popularity", instead of focused on the needs of the city and its people. He adds that Kamil is too focused on the middle class, has no clear timeline for his Bandung Juara (Bandung the Champion) roadmap and is incapable of consolidating with the city's bureaucrats.
Such criticisms fail to perturb Kamil. He says the facts speak for themselves. "Eight months after inauguration I went to Jakarta to collect an award from the national ombudsman for the city having the fastest public service improvements [in the country]," he says.
Bandung was also recognised by the Corruption Eradication Commission (KPK) last year for its diligence in reporting gratification and for having the best regional gratification control unit in the country. "We have achieved physical and non-physical progress. We now have more open public spaces. We have progressed a lot with bureaucracy reform, and physical progress such as public transportation is underway. After all, our administration is just 18 months old," the mayor says.
Awards aside (Bandung has received 112 of them since Kamil took office), Kamil says that his proudest achievement during his term as mayor is instilling a sense of community engagement in his city. "It is now evident that Bandung people are very cooperative and that there is a sense of greater collaboration because the people trust their leader," he claims, referring to the lead-up to the Asia-Africa conference, which saw thousands turn out to help clean, paint and decorate the city.
People can see for themselves; the town square used to be dark and gloomy… but now we have hundreds of thousands of visitors. This is an example of how an open space that was considered negative can be turned into a positive.
Earlier in the day, in front of a gathering of Bandung's tourism industry, Kamil explained his plans to develop the city into a successful tourism destination. Not only that, but he wants the estimated $375m generated to go directly to the people of Bandung. In order to achieve this, Kamil says he will develop 'creative villages' throughout the city to entice visitors away from traditional tourist establishments in downtown Bandung that are owned by conglomerates and big corporations.
"I want everyone to feel the impact," he says with tangible passion. "This is what I call a creative people's economy based on ideas and creativity. It's shared evenly, though maybe in smaller amounts, instead of a large one pooled [to big players]. This is what I call sustainable tourism.
Pavements have been re-laid, benches have been installed and proper lighting now illuminates a city that people are increasingly proud to call home.
"People have more spots to take selfies, so Bandung people can be happy," Kamil smiles as he discreetly checks his watch. It's pushing midnight and he still has much to do. "It's so simple to be happy and statistics show that Bandung has one of the highest happiness indexes [in the country]. This is why most Bandung people always smile. It shows a multidimensional happiness that benefits people from all walks of life."