Rainsy's position remains unchanged despite Prime Minister Hun Sen overturning a decision that prevented his return to the country, where he faces years in prison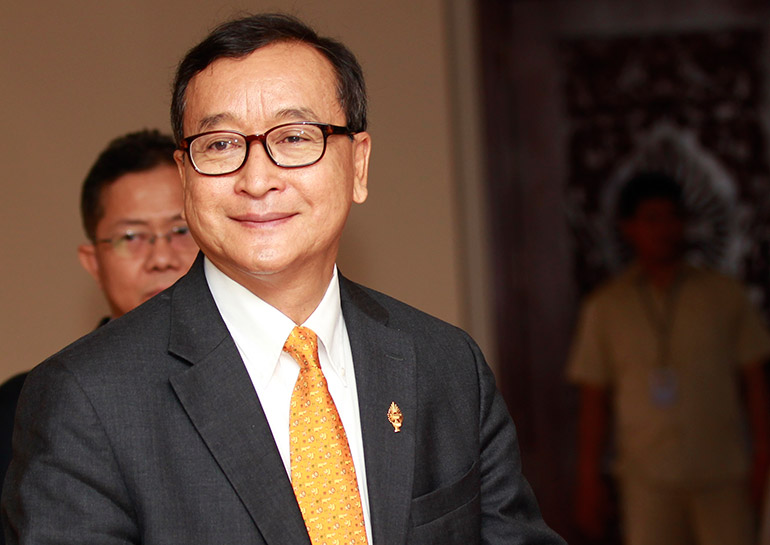 Following Prime Minister Hun Sen's decision to repeal the travel ban preventing Sam Rainsy from entering Cambodia, the premier's longtime nemesis said that he would only return "when all obstacles to my safe return and freedom of movement are cleared", effectively ruling out a return in the near future.
In an email to Southeast Asia Globe, Rainsy also said that his life was at stake.
"I have also to make sure that I am not the first of the '100 to 200 persons' Hun Sen is publicly considering eliminating in order to 'ensure stability for Cambodia', meaning to preserve his power," he said, referring to a speech in the buildup to the commune elections, during which the prime minister said he would be willing to "eliminate 100 or 200 people" to prevent losing power.
The former president of the country's opposition Cambodia National Rescue Party (CNRP) has been in self-imposed exile since November 2015, after a warrant for his arrest was issued in relation to a defamation case filed against him by foreign minister Hor Namhong in 2008.
Rainsy's exile was then made official in October 2016 when the Council of Ministers issued a letter ordering airlines and officials to prevent his return, a move that appeared to violate numerous international conventions and Cambodia's Constitution.
Rainsy theorised in an email to Southeast Asia Globe that Hun Sen's decision to repeal the ban was the latest in a series of attempts to drive a wedge between him and current CNRP President Kem Sokha, and could have been brought on by the gains made by the opposition party in the recent commune elections.

"The CNRP's recent success must have a lot to do with the decision because the balance of power has obviously changed since the June 4 polls with Cambodia entering uncharted waters conducive to a leadership – or even a regime – change," Rainsy said.
"Therefore Hun Sen has to adapt his strategy and he may be trying now to split me from CNRP President Kem Sokha after failing to split then CNRP Vice President Kem Sokha from me with his surprising request to the King last year to 'pardon' Kem Sokha," he added in reference to a legal case surrounding his former deputy.

The decision to lift the ban came a day after Rainsy, in an interview with Radio Free Asia, requested "Hun Sen be brave enough not to obstruct me from being able to compete with him" in the national election set for July 2018.
Rainsy had initially promised to return to Cambodia to face down his conviction in the defamation case, which was announced while he was travelling abroad, but backed out at the last minute. The decision has brought ridicule by the ruling party and political observers, who have accused him of cowardice.
His legal woes have only worsened during his time outside the country.
In December 2016, Rainsy was handed an additional five years of prison time after being convicted as an accomplice to opposition senator Hong Sok Hour, who was charged with forgery and incitement for presenting an altered border treaty in a video posted to Facebook.
Three months later, he was found guilty of defamation for claiming that the government ordered the killing of outspoken critic Kem Ley and sentenced to 20 additional months behind bars.