Cambodia urgently needs to reform public finances, Deloitte said
in its recent Asia-Pacific Economic Outlook
Last year, total tax revenues were $881m, just above 5% of nominal GDP.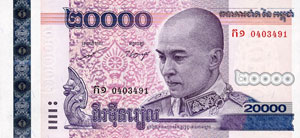 "This figure is much below corresponding levels in developing- and emerging-economy peers and is the main cause of persistent budget deficits," the advisory company said.
Transparency is another aspect of public finances that needs addressing, according to Deloitte.
In the budget for this year, more than $1.5 billion of funds remain unallocated or are placed under "miscellaneous" expenses.
"Critics allege that this nebulous allotment encourages corruption," the report added.