Sponsored: Judges from across Asia awarded real estate developers from the region for their leading examples of sustainability and urbanisation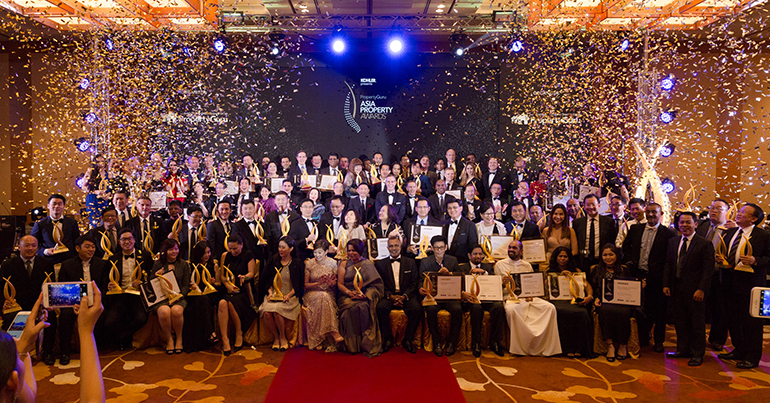 The PropertyGuru Asia Property Awards 2017 was held on the evening of November 8 in Singapore at the Sands Expo and Convention Centre, where developers from the Asian real estate industry were honoured for their achievements.
The inaugural event recognises real estate excellence from across Asia and is judged based on the assessment of an independent grand jury that is comprised of 11 judges from the Asia Property Awards.
Taking home the biggest award of the night was Singaporean champion GuocoLand, who won the Best Developer in Asia for their leading example in urbanisation on the Tanjong Pagar Centre.
GuocoLand was also recognised for their innovation when it came to utilising mixed-use public spaces and sustainable development.
"One of Singapore's leading developers, GuocoLand believes that every project should possess 'poetic ambience' and offer a lifestyle that's comfortable and usable," said the grand final jury when announcing the winner.
"GuocoLand achieves its goal by incorporating well-designed public spaces, sustainable and green amenities, and choosing the most premium locations for the benefit of consumers."
Bon Estates Sdn Bhd took home the local award in August in Kuala Lumpur, collecting the second biggest regional award for Best Boutique Developer in Asia. Bon Estates is also the only regional winner that took home a prize for Malaysia at the grand final ceremony.
Indonesia stood out as being the most represented when it came to taking home prizes at the grand final, collecting a total of 22 awards including Best Retail Architectural Design, for PIK Avenue by Agung Sedayu Group, and Best Green Development, for Sequis Tower by FARPOINT.
Delivering the keynote address at the gala's grand finale was none other than Singapore's legendary former master architect-planner, Dr Lui Thai Ker, who boasted about the region being the world's most dynamic property market.
"As an architect-planner, it is my belief that just as no man is an island, and no property project is an island. Projects function and look better if they are well integrated with the urban fabric," said the former architect-planner. He later went on to encourage developers and governments to promote quality housing, reliable infrastructure and integrated communities that could support the region's growth.
The awards ceremony is now in its seventh year, and the 2017 grand final event served as an opportunity to usher in the next stage of the PropertyGuru Asia Property Awards, which will be joined by developers from Japan and South Korea. Sri Lanka's inaugural domestic gala dinner in Colombo has already been set to take place in July 2018.