The dive at Cape Kri is finishing and a roaring tidal current threatens to sweep divers up the reef, forcing us to grab a rock for stability. Out in deeper water, thousands of jacks make their trademark fish tunnel, great barracuda hover ominously and blacktip sharks glide by skittishly. Closer to the reef, a river of gold-lined snapper flows past, while a fierce-looking moray eel peers out from its shelter and tiny ghost pipefish masquerade as coral. This site holds the world record for the most fish counted in one dive, with 374 species recorded by scientists, and it lives up to the hype.
With 75% of the world's coral species, 1,700 species of fish, five types of sea turtle, 17 dolphin and whale species and even two types of manta ray, the array of underwater life here is mindboggling.
Many divers covet a visit to this area in the Raja Ampat islands in Indonesia's West Papua province. The archipelago consists of more than 1,500 islands with diverse habitats including coral reefs, mangroves, seagrasses and limestone caves. Raja Ampat is also a meeting place of the Indian and Pacific Ocean currents, spreading larvae of many animals. According to scientist Mark Erdmann of Conservation International, these factors combine to make Raja Ampat a "species factory" – and with 75% of the world's coral species, 1,700 species of fish, five types of sea turtle, 17 dolphin and whale species and even two types of manta ray, the array of underwater life here is mindboggling.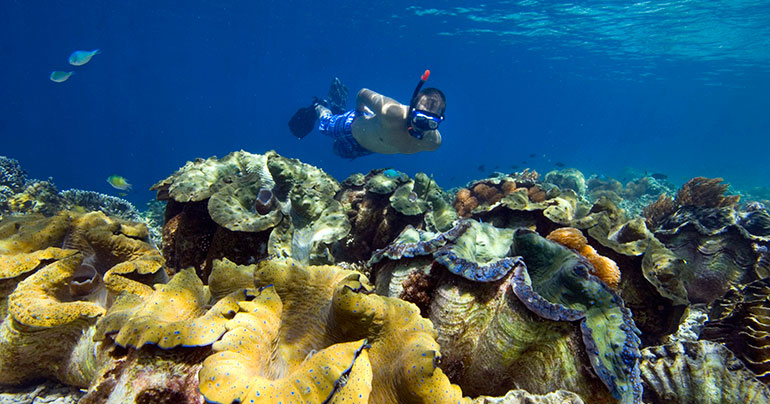 Kri Island, the base for my exploration of Raja Ampat, is in the Dampier Strait, home to numerous famous dive sites. The site known as Blue Magic boasts a dazzling lineup of characters, from the two-centimetre pygmy seahorse, all the way up to the oceanic manta ray, which can be seven metres wide. Shore reefs here are also enthralling, with opportunities to snorkel with resident turtles or night dive with the flamboyant Mandarin fish.
The island is rich with above-water wildlife too. By day, sounds of the spice imperial pigeon and raucous white cockatoos permeate the jungle. Radjah shelducks, appearing to wear black and white tuxedos, cruise in for an ocean landing. Next door on Waigeo island, the endemic red bird of paradise conducts a flamboyant courtship dance, and visitors join local guides for a tour.
The highlight of this stay on Kri is a Gam island day trip, which includes Manta Sandy, a cleaning site for the giant rays. Snorkelling on top of the water, kids squeal with excitement as two majestic rays wheel below, in and out of view. On tiny Arborek island, Papuan children shyly scrutinise the tourists, working up the courage to use their English: "Hello! What's your name?" they call with cheeky grins, before dissolving into giggles. Snorkelling under their jetty reveals bright pink soft corals, giant clams in turquoise and copious fish life.
At Hidden Bay, local knowledge leads to a small inlet in the coastline that turns into a narrow, twisting bay of several kilometres. Here, mangroves line the inlet's banks and sheer limestone karst islets rise up out of the waters, forming the trademark Raja Ampat 'mushroom islands'. There is no trace of other humans here, and the isolation feels magical.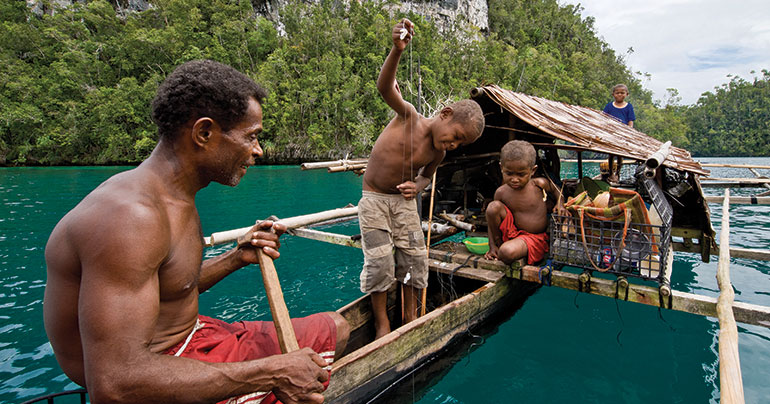 Indeed, isolation has meant Raja Ampat is late to the tourism party, and this has provided some protection for the local environs. But word is out, and even non-divers are discovering Raja Ampat's charms. This has led some tourism operators to bear in mind the mistakes of other hotspots and find new ways to protect the marine environment and the Papuan people that depend on it.
Dutchman Max Ammer is at the forefront of both conservation and tourism in Raja Ampat and has been living here for more than 20 years. Ammer developed the rustic Kri Eco Resort and more upmarket and boutique Sorido Bay Resort, primarily as a way to help local Papuan communities. "If you're a Papuan person, there are very few ways to make money. One way we could help was to start a resort, and over 90% of our staff are Papuans," he explains.
Ammer is providing more than just hospitality jobs, believing that education and empowerment are the best ways to save ecosystems. His resorts fund the not-for-profit Raja Ampat Research and Conservation Centre (RARCC), where Papuans are taught skills such as adding value to their forestry products, boat building and even aviation training for pilots and mechanics.
RARCC is also behind Kayak4Conservation, which connects Papuans to tourists through multi-day sea kayaking expeditions. Kayaks are built onsite in RARCC's workshop, and local landholders are supplied interest-free loans to build basic homestay cabins for kayakers along the routes – it's hoped that hosts will be inspired to protect their environment for guests to enjoy. Ammer says that all kayak guides are locals, noting that "they're the best because they're proud to show their own country".
Joining Kayak4Conservation guides for a paddle to a nearby sandbank, bathed in silence, it is easy to feel like part of the panorama. The water of blue and green, the vibrant reef below and the birds overhead make for an intoxicating experience. Standing on the isolated sandbank with salt-sprayed sunglasses, I vow to return for a longer journey.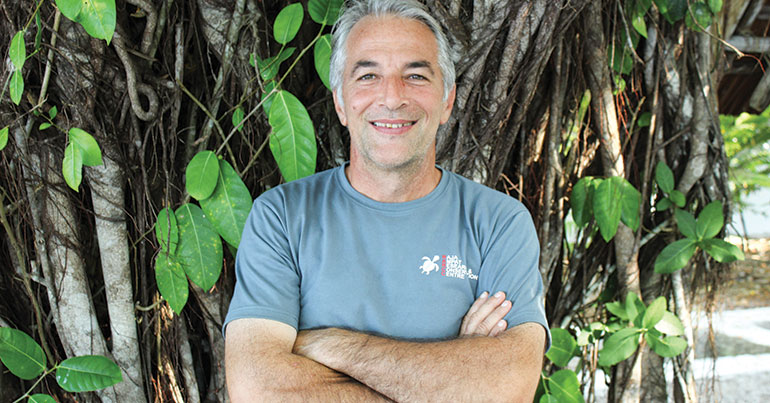 Also in Raja Ampat is sustainable tourism operator Misool Eco-Resort, which supports the Misool Foundation, a not-for-profit conservation organisation. When Swedish- American Marit Miners established the resort in 2005, she says the shark fin soup industry and illegal longline fishers had devastated local fish stocks.
Now the resort leases an area of 120,000 hectares, which has become a 'no-take zone' patrolled by the foundation's local rangers. As part of the initiative, nearby villages that are situated outside the no-take zone also benefit from the arrangement. "Fish swim out of our protected area, improving catches closer to home for villages," Miners says.
In 2010, the Misool Foundation, together with organisations WildAid and Shark Savers, lobbied the local Raja Ampat government to protect sharks and rays. As a result, the whole archipelago became a shark and ray sanctuary. "We never used to see sharks, and now our lagoon is a healthy shark nursery. In fact, our son's first two-word combination was 'baby shark'," Miners says. On some reefs within the no-take zone, fish life has increased by a staggering 650% in six years, according to researcher Mark Allen of Murdoch University's Centre for Fish and Fisheries Research.
Such grassroots initiatives appear to have motivated the Raja Ampat government, which has shown its intention to manage increasing tourism with plans to control the number of live-aboard boats visiting the busiest dive sites in the Dampier Strait.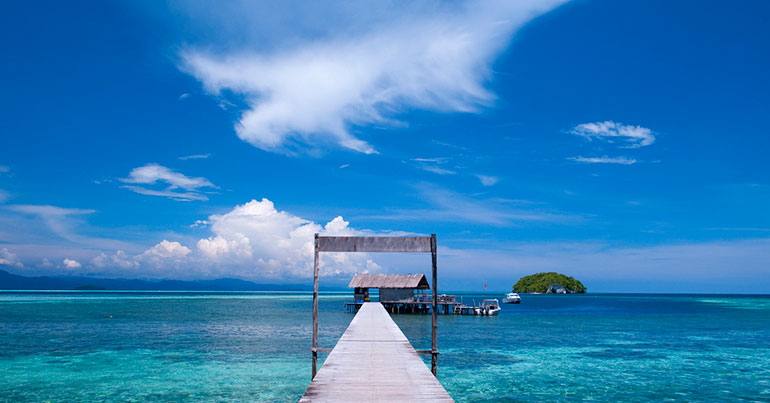 The enthusiasm of the Raja Ampat authorities to protect the area's natural assets has also been noted by Miners. She explains that the local government supported Misool Eco-Resort's no-take zone. And when the Misool Foundation lobbied for a shark and ray sanctuary, the government added turtles and dugongs to the protected list of their own accord. "They've shown themselves to be very forward thinking, protecting ecosystems as well as local economies and communities," Miners says.
Lounging on the deck at Sorido Bay at dusk, Ammer explains that challenges remain for managing tourism in this fragile environment but says that empowering local people is key. The Papuans have a depth of knowledge that outsiders can never match, he says – a vital asset to both tourism and conservation.
As we sit, spice imperial pigeons drawn by the sunset are returning home to Kri for the evening. The distinctive green-and-white birds winging their way across the pink sky live only on these islands, and who could blame them? Far below, at water level, a local family chugs past in their wooden fishing canoe, and Ammer gives them a wave. "You can't protect nature if you don't love and work with the people," he says. "It all works together."