As Cambodia has begun to develop a solid middle class, it has attracted some of the world's most prestigious brands. Southeast Asia Globe sat down with Michael Vetter, CEO of Porsche in Cambodia, to discuss the demand for luxury cars in the region and the problem of unofficial importers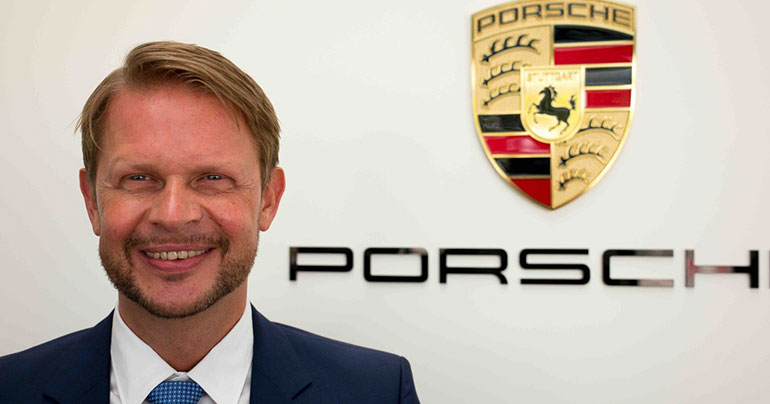 How long has Porsche been officially represented in the Cambodian market, and why did the brand choose to begin operations in the Kingdom?
Porsche has been in Cambodia for three years now, first arriving in February 2015. After conducting a global export analysis to identify countries and regions that had proven to have promising markets for our brand, Porsche realised that there were already a lot of our cars on Cambodia's roads. It's estimated that there were about 100 of our Porsches on the roads back then, which is significant considering the lack of official representation at the time and the high import costs in the region.
This proved that there was a market for luxury vehicles in Cambodia. My gut tells me that proportionally, there are more luxury cars on the roads here in Cambodia than you would see in a lot of other countries. So not only did we want to sell our cars to Cambodians, we also wanted to have an official presence in the country to help service the Porsche owners who didn't have access to certified mechanics that could adequately service their cars.
Is the luxury car market especially competitive in Cambodia?
It is. We weren't the only ones who noticed that the Cambodian market was ready for luxury vehicles, and several brands including Mercedes, Audi and BMW entered the market around the same time as we did. The pool of buyers here isn't so big, so we do often fish for the same people – but our major competitor here is really the parallel market.
There are a lot of unofficial importers in Cambodia, and there is no regulation in Cambodia so far, so anyone can import anything into the country without having to prove that they are official sellers of the cars they are importing. They can often sell these cars more cheaply than the official Porsche dealers in the country, in part because they often do not pay tax on the sale of these luxury cars.
In the future, we can see that Vietnam, Thailand, Malaysia and Indonesia definitely have the potential to begin selling over 1,000 Porsches a year
Porsche has tried to crack down on these parallel importers in the past. Have you been successful in doing so?
We have registered with the Ministry of Commerce and have exclusive importer rights on all Porsches. Theoretically, any time a Porsche is being brought across the border we should be contacted to prove that the car is officially registered with us. But there have been no cases of this happening yet, and you can still see that plenty of unregistered Porsches are on the market.
I hope the government will enforce this law a bit more, and protect our foreign investment in the future. We struggle with getting a return on our investment, but someday we do hope to make this a profitable business in Cambodia. We can't keep investing and expanding on our brand awareness, only to have our potential customers going to buy these unregistered cars.
It's a safety issue, as well. In the worst case scenarios, some of these cars prove to be stolen. We cannot legally service a stolen vehicle, which is obviously bad for the customer. Often these cars are technically modified as well, so that they're not safe to drive. Some have engines that are not compatible with the gas sold at Cambodian stations, others have fake parts that degrade quickly, and many are sold under false pretences regarding the vehicles' age and mileage.
Porsche has several high-tech models that are not yet on the market in Cambodia. Do you have plans to bring these models to the Kingdom and to the region sometime soon?
We're expanding the lines of cars we're bringing to the Southeast Asian market, and will soon be bringing the Taycan – an all-electric four-door vehicle – to Cambodia. In this country, we already have about 100 hybrid vehicles on the roads, which can run on fuel or electricity, and we've grown accustomed to setting up charging stations at owners' homes and offices. We're also looking to develop partnerships with luxury hotels that will have charging stations for our electric cars in the future.


Cambodia has high electricity costs, while fuel costs are low. We are in the process of calculating a comparison on mileage costs for electric versus combustion engines, and I could imagine the electric cars might actually be pricier per mile. But electric cars are far more environmentally friendly, and Porsche customers often like the novelty of owning the latest, most high-tech models. Two years ahead of importing the first Taycan in Cambodia, we have already sold one in advance to a Cambodian customer who is dedicated to leading the charge when it comes to this new technology.
We're also trying to focus on bringing self-driving vehicles to the market when we can. Porsche customers are typically interested in driving their cars themselves, and even when they do have chauffeurs they typically prefer to be in the driver's seat. A self-driving model could be beneficial to road safety in a country like Cambodia. The trend is definitely coming to Asia, though the infrastructure in Cambodia will have to improve before we can market it here.
[manual_related_posts]
Do you anticipate considerable growth in Southeast Asia in the near future
Porsche's Asian market has grown exponentially in the past couple of decades. Back in 2000, we sold only 300 cars a year across all of Asia, and China only accounted for about 30 cars a year. We started developing the brand, and now China is the largest market for Porsche, reaching 70,000 cars this year. We have also seen considerable success in Korea, Japan and Taiwan.
In smaller countries in the Asia Pacific region, Porsche chooses to appoint local investors to represent the brands via official franchises, rather than set up subsidiaries. In Southeast Asia, Porsche has franchises in most all countries aside from Laos and Myanmar, but does not have any subsidiaries in Asean yet. In the future, we can see that Vietnam, Thailand, Malaysia and Indonesia definitely have the potential to begin selling over 1,000 Porsches a year, meaning they would be prime locations for subsidiaries further on down the line.