In his highly anticipated address, the Pope called for peace in Myanmar, but refrained from directly referencing the Rohingya crisis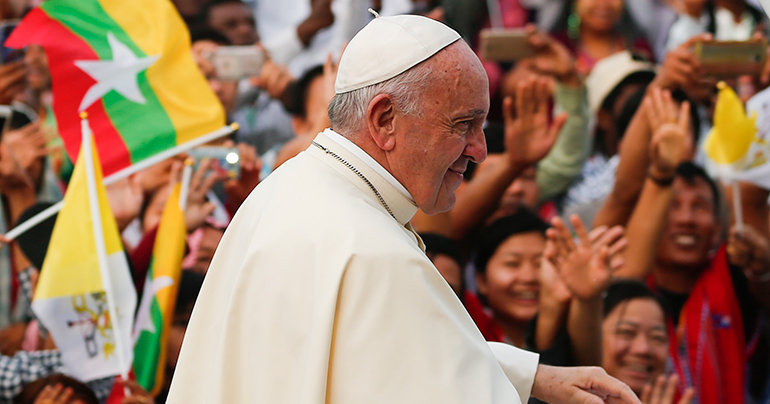 Pope Francis failed to directly mention Myanmar's persecuted Muslim Rohingya population during his widely anticipated first speech on Tuesday afternoon, instead indirectly urging the nation's citizens to show "respect for each ethnic group and its identity" amid a civil conflict "that had lasted all too long and created deep divisions."
"Religious differences need not be a source of division and distrust, but rather a force for unity, forgiveness, tolerance and wise nation-building," the pope said, while standing next to Myanmar's state counselor Aung San Suu Kyi. "The religions can play a significant role in repairing the emotional, spiritual and psychological wounds of those who have suffered in the years of conflict."
The Pope's speech to diplomats and civil society leaders in Myanmar's capital of Naypyitaw took place on the second day of a six-day tour that will also see him visit refugee camps in Bangladesh, where more than 600,000 Rohingya have fled to escape a military campaign that the UK, US and UN have described as "ethnic cleansing."
Whether or not the Pope would directly reference the Rohingya had become the focus point of discussions surrounding the pontiff's first trip to Myanmar. Many questioned whether the Pope – who in the past has been widely praised as being a defender of disadvantaged and persecuted communities – would directly denounce the treatment of the Muslim minority or succumb to the diplomatic calls of local politics.
The Pope's decision to avoid mentioning the persecuted minority during his speech – as well as any mention during his first public mass on Wednesday – came after local Catholic Cardinal Charles Maung Bo warned him that using the term would put Myanmar's Catholic population at risk of a violent backlash.
The term 'Rohingya' is rejected by the vast majority in Myanmar, who view the Muslim minority as illegal immigrants from Bangladesh. The pontiff, however, has used the term in the past. Three months ago, he prayed for "our Rohingya brothers and sisters" during a speech at the Vatican.
The Pope's speech on Tuesday followed in much the same manner as that delivered by Suu Kyi, who spoke immediately before the Pope and also chose not to mention the Rohingya by name. Instead, Suu Kyi said that "the situation in Rakhine has most strongly captured the attention of the world" and praised the Pope's support in the face of a breakdown of trust "between different communities in Rakhine."
Phil Robertson, the deputy director of Human Rights Watch's Asia division told the Guardian that he was disappointed the Pope didn't explicitly speak up for the persecuted ethnic group.
"[The] Rohingya have been stripped of so many things, but their name should never be one of them," he said.