The Philippines is taking the plunge into Asia's gambling sector and betting on huge projected growth in the industry

By Girlie Linao
Flashing lights and high-pitched beeps fill the huge space, while hundreds of faces etched with concentration await the flip of their cards. In typical casino fashion, there are no clocks to be found on the walls and the lack of natural light means it could be any time of the day or night.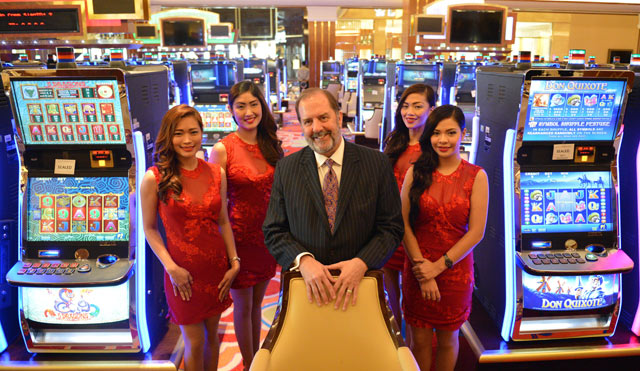 The Philippines has finally rolled the dice in its bid to become Asia's newest gambling mecca with the opening of the first high-end casino resort in a sprawling entertainment hub in the capital.
The $1-billion Solaire Resort & Casino is one of four gargantuan gaming facilities to rise as part of the 100-hectare Entertainment City in Manila, which authorities hope will bring in more tourists, create jobs and boost the domestic economy.
"The facility, staff and style of service [at Solaire] is equal to or better than anything you'll find in Las Vegas, anything you'll find in Macau," said Michael French, the resort's American chief operating officer.
French added that Solaire aims to channel the best of the East's and the West's respective gambling cultures to create the "ultimate gaming and entertainment resort in the Philippines".
The 8.3-hectare Solaire facility boasts bayside villas with private terraces overlooking Manila Bay and suites with walk-in closets, 295 gaming tables – including VIP facilities for high rollers – 1,200 slot machines, eight restaurants with international chefs and a 72-metre-long swimming pool.
Thick red carpets, intricate glass chandeliers, gold trimmings and contemporary artworks adorn Solaire, which opened as the Asia-Pacific region is projected to overtake the United States as the world's largest regional casino gaming market.
"Asia-Pacific will surpass the US in 2013 as the biggest [casino gaming] region, and will end the forecast period [of 2011-2015] accounting for 43.4% of the total global market," according to the Global Gaming Outlook report by international consulting firm PricewaterhouseCoopers.
"By 2015, the Asia-Pacific market will reach $79.3 billion from $34.3 billion in 2010, an 18.3% compound annual increase," it added.
The Philippines is hoping to cash in on the booming market with Entertainment City, a project overseen by the state-run Philippine Amusement and Gaming Corp (Pagcor). Three other casinos are scheduled to open between 2014 and 2016.
The complex is expected to raise the Philippines' annual gaming revenues fivefold from the current $2 billion after its completion, according to Pagcor chairman and chief executive officer Cristino Naguiat Jr.
"Our very optimistic gross gaming revenue projection is about $10 billion annually by 2017," he said. "That does not include food and beverages, theatres, retail and others."
Nearly half a million direct and indirect jobs were also projected to be created by the entertainment hub, Naguiat added.
Industry analysts said gaming's growth in Asia-Pacific was being driven by the region's strong economic performance despite the global financial crisis, which results in an increase in the disposable incomes of the working classes.
The region also has a long-standing cultural attachment to various forms of gambling, they noted.
However, the industry suffers from a lack of broad public support as it is often dogged by controversies over social ills that compulsive gambling breeds and the business' perceived association with organised crime.
In Manila, retired Catholic Archbishop Oscar Cruz, leader of an anti-gambling group, warned that having high-end casinos in the country, such as Solaire, would only "foment graft and corrupt practices and promote greed and avarice".
"No one is saying anything about the errant and erratic social costs of gambling," he lamented. "The addiction they cause. The criminals they generate. The dishonesties they cultivate. The decent professions they ruin. The families they destroy. The cheats and thieves they multiply. The rich they impoverish. The poor they make more miserable."
Naguiat has declined to discuss criticisms about Entertainment City and gambling, and instead stressed that the government was not focusing on promoting just the gaming facilities in the entertainment hub.
"Because we are a Catholic country, to focus on gaming alone is a very sensitive issue," he said. "So we are packaging Entertainment City with our tourism promotions. We have several beautiful sites in the Philippines and that's our advantage."
"Solaire expects the majority of its guests to come from the rest of Asia, including Hong Kong, Macau, Singapore and China," said Lorraine Koo, Solaire vice-president for business development and VIP services.
"For the start-up, it would be more of the local players, but we are basically inclining towards a lot of international VIP players," she said. "Probably in one or two months after the opening, we will have stabilised our operations."
Koo said that of Solaire's 100 VIP gaming tables, 61 belong to "junket operators" – companies that bring in regular international high-rollers.
"All our junket rooms are booked already and I've got some operators on a waiting list," she added.
By September next year, Solaire will open 300 additional suite rooms, a 1,800-seat theatre, a shopping centre with 40 luxury brand shops, more restaurants and a nightclub.
The three other casino resorts being built at Entertainment City are joint ventures involving Australian billionaire James Packer, Macau gambling tycoon Lawrence Ho, Japanese gaming mogul Kazuo Okada and Malaysia's Genting Group.
Naguiat said Entertainment City was envisioned to boost the regional gaming market by giving players another venue to try their luck.
"We will be complementing the regional market, and not competing with the other gaming destinations," he said. "Players go around. If they lose in Macau or in Singapore, they will try their luck somewhere else. They will try other casinos, which will place us in the circuit."





Also view:
"Riding high" – Theme parks are multiplying in the region. Will Southeast Asia become the new happiest place on earth?