Locked up in a cage at a garment factory, where more than a thousand well-intentioned workers would feed him snacks dripping in condensed milk, he eventually got so fat that he was unable to move as nature had intended. Simply reaching, let alone jumping or running, was way out of his realm of ability.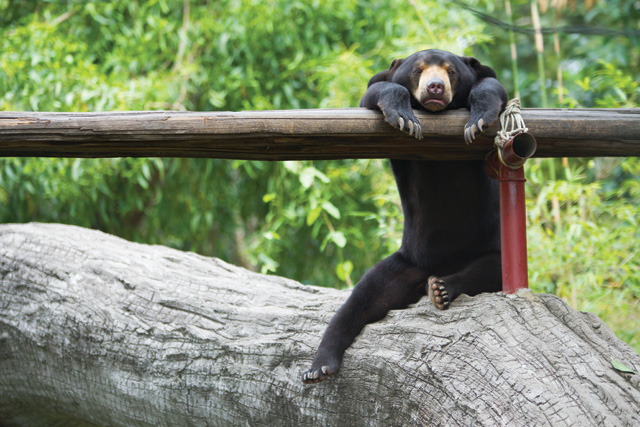 Clocking in at a whopping 144kg, or more than double his ideal weight, Hefty, as he came to be known, is a sun bear who was rescued from his cramped, calorie-soaked conditions at a garment factory in 2013.
Today, Hefty calls the world's biggest sun bear sanctuary home and has shed more than 60kg from his now-sleek frame. At the sanctuary, located at the Phnom Tamao Wildlife Rescue Centre – just outside the capital and founded by the Forestry Administration back in 1995 – he has some 130 sun and moon bear buddies to share his days with. Fresh bananas and afternoons spent roughhousing with his pals have replaced twice-fried doughnuts and countless hours spent gazing through rusty metal bars.
Phnom Tamao is a weekend favourite for local families looking to escape the city. The centre consists of 2,500 hectares of protected forest and is home to many rescued victims of the illegal wildlife trade, such as clouded leopards, the Indochinese tiger, Asian elephants, pileated gibbons, Siamese crocodiles, the slow loris and the Sunda pangolin.The sanctuary's bears though – some of whom have been brought back from the brink and saved from bile farms, and others who were left orphaned after their parents were killed by poachers – are the headline act in the wonderful Bear Keeper for a Day programme. The sanctuary and this special initiative are supported by Free the Bears, a registered charity founded by Australian woman Mary Hutton and dedicated to protecting, preserving and enriching the lives of bears throughout the world.
Visitors can choose from a number of different itineraries, each focused on a different bear and incorporating hands-on and educational activities alongside the park's real-life bear handlers.
Sandie, a sweet-natured moon bear who lost a leg in a snare trap, is always willing to help educate curious kiddies, while Brandy, affectionately known as 'the golden girl' due to her striking lion-like colouring and matriarchal position in her enclosure, is an all-time favourite. "We like to play up to Brandy's golden girl image because she really does command a kind of respect from the other bears and is quite proper. When we give her honey we can't just put it on the ground – she prefers to eat it off a spoon," laughs Emma Blint, an Education Team staffer and our guide for the day, as we feed Brandy from an area usually reserved for bear keepers who are on the payroll.
We spend the morning on 'enrichment' activities that get the bears moving and their brain juices flowing. We stuff fistfuls of unpeeled bananas, dog biscuits, long beans and morning glory into battered plastic balls before finishing each off with a lashing of honey. At the enclosure, we launch the balls over the fence and they crash to the ground like little bombs before the bears pounce, using their pink, padded feet to scratch out every last morsel of goodness.
We zip by the sanctuary's eco-friendly quarantine unit where bear cubs are bottle fed around the clock by their dedicated keepers before moving on to a different enclosure for the daily 'scatter feed'. The sleuth of bears inside can hardly contain their excitement as they notice the telltale signs of dinnertime. They bound from one end of the enclosure to the other, through dinky doorways and tumbling off climbing poles, their slightly turned-in feet looking adorably innocent as they do so.
Each is wrangled inside an indoor enclosure before we step inside and hide the contents of a few buckets of their favourite foods in ditches, underneath rocks and on top of tree stumps. The ritual encourages the bears' natural foraging instincts and makes for quite the entertaining spectacle as they bumble about, sniffing out their latest meal.
Prices to experience the Bear Keeper for a Day programme are dependent on the number of participants, ranging from $70 for one person to $50 per person for five or more people. The cost includes return transportation from Phnom Penh, entrance fees, lunch, a guided tour and an official Bear Keeper for a Day t-shirt. You can sponsor a bear for just $200 for six months or $400 for one year. For little more than $1 a day, you will help to enrich the life of one of these beautiful bears. For more info go to freethebears.org or email bearkeeperforaday@gmail.com