Guests come to Navutu Dreams not only for its quiet luxury and full-service pampering, but also for its custom-tailored holistic wellness packages that include yoga, alternative healing and a complete range of spa services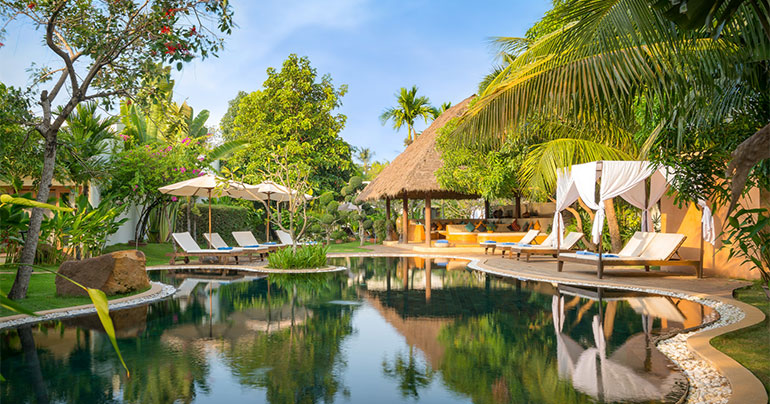 Tucked away from the bustling center of Siem Reap but a short driving distance from the Angkor Archaeological Park is the city's only upscale wellness resort. Opened in August 2012, Navutu Dreams Resort & Wellness Retreat is the brainchild of Italian sisters Maddalena and Giovanna Morandi, whose previous hospitality success was with the Condé Nast favorite Navutu Stars Resort Fiji.
Low-slung chalets sit on an acre and a half of well-maintained tropical gardens speckled with three swimming pools. Twenty-eight spacious rooms and suites each come with a private garden, large bay windows and a private terrace. The minimalist perfection of Navutu Dreams provides relaxed luxury for an unpretentious eco-chic holiday.
Guests can enjoy daily yoga at its two shalas, and even practice the ancient discipline alongside local residents. Navutu promotes holistic wellbeing as its core ethos, offering traditional Chinese medicine, alternative healing and nature-based fitness coaching. À la carte spa treatments complete its array of pampering and wellness. The resort's team of wellness professionals also offer individual fitness training, along with programs for detoxing the body, de-stressing and decompressing, and 'yoga mini-breaks'. All of these services are available in bespoke packages designed for each guest.
The retreat's own unique take on wellbeing escapes include its highly lauded sunrise meditation on sacred temple grounds and a walking meditation through the archaeological park.
Navutu Dreams has welcomed those who pursue mindful living and has hosted retreat groups from around the globe. Seeking a wellness holiday and a balanced lifestyle? Visit www.navutudreams.com, and allow us to design a package just for you.