Animosity toward the Muslim Rohingya minority runs deep in Myanmar, even infecting local NGOs that claim to oppose human rights abuses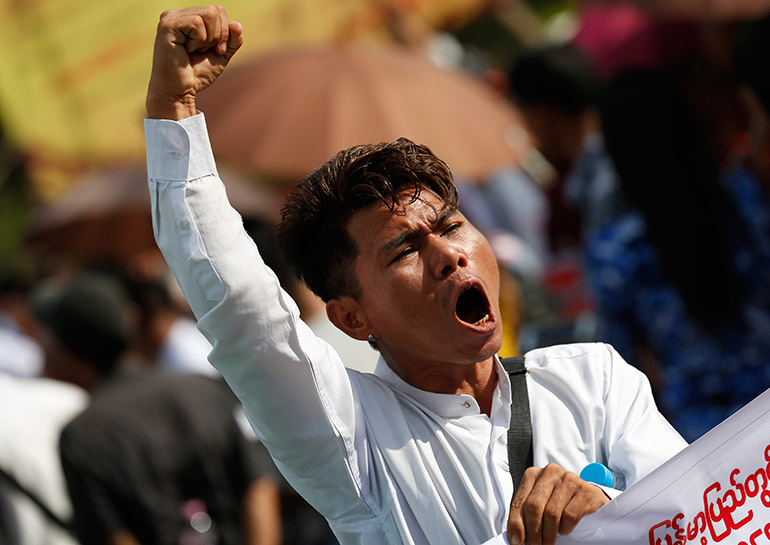 Opinion by Sean Gleeson 
Nearly 100,000 people, overwhelmingly from the long-suffering Muslim Rohingya community, have been displaced in the five months since a security operation began in Myanmar's northern Rakhine State. The tens of thousands who streamed across the border to take refuge in Bangladesh have offered harrowing testimony of killings and mass rapes allegedly committed by security forces, while a review of satellite footage commissioned by Human Rights Watch appears to implicate soldiers in the razing of entire Rohingya villages.
As official denials of human rights abuses continue to stretch the bounds of credulity, a coalition of 40 civil society groups called on the Myanmar government in January to establish an independent investigation into the crackdown. It is the strongest public statement on the matter by local organisations since the violence began back in October 2016. Tellingly, it does not mention the specific abuse claims, nor does it mention the Rohingya by name.
However oblique this statement may read, it is commendable that so many disparate groups have finally proved willing to align themselves with the chorus of international condemnation. Use of the word Rohingya is political and deeply taboo; in the minds of many, it is a neologism by which the community is attempting to stake a claim to Myanmar citizenship. Raucous nationalist protesters picketed the US Embassy last year for referring to the Rohingya in a condolence statement, while a Malaysian aid ship delivering relief supplies to those displaced in recent months was greeted at a Yangon port by signboards denying the existence of the community it had been dispatched to help.
Pressure from these nationalist groups, largely but not exclusively drawn from Buddhist monastic networks, is the inevitable result of any action on behalf of the Rohingya. Their principal members are few in number but remain influential through sermons and the supplementary education offered at places of worship, despite the government's attempts to rein in their public activism. Most importantly, they reflect an entrenched worldview found throughout much of Myanmar society, including many of the most prominent civic leaders.
Ko Ko Gyi, perhaps the most famous member of the country's democracy movement after state counsellor Aung San Suu Kyi, and a prisoner for nearly two decades for his political activism, shocked many foreign advocates in 2012 when he claimed the Rohingya "pretend to suffer so much" and said any international representations on their behalf would be met with protests. He was speaking soon after he was appointed to investigate Rakhine State's communal violence in 2012, which claimed the lives of more than 100 people and forced 100,000 more – again, overwhelmingly Rohingya – into the squalid displacement camps where many of them remain today.
Ko Ko Gyi's comments are indicative of the complex attitudes toward ethnicity and nationhood at play in the current crisis – attitudes that are lost in the constant and reductive framing of the conflict as a sectarian one between the Buddhist Rakhine and Muslim Rohingya. For a great many people in Myanmar, the Rohingya are illegal foreign interlopers, who they believe entered with the collusion of corrupt border guards.
Myanmar has always chafed at the influx of South Asian migrants under British rule, a colonial legacy that continues to pit communities against each other to this day, whether in the form of a taxi driver refusing a fare to men in Islamic dress, or the communal violence that shook the urban centres of Mandalay and Meiktila earlier this decade.
It is these prejudices that lead some in Myanmar to dismiss as fabrications the extensive body of evidence that documents human rights abuses against the Rohingya, despite how closely the recent violence hews to the military's standard counterinsurgency campaigns of past decades. It is why the attacks on police posts that prompted last year's crackdown are considered acts of terrorism, lacking the moral claims that underscore the ethnic insurgencies raging elsewhere in the country. It is also why those Rohingya who can trace their local ancestry back to before Myanmar's independence in 1948 – and are thus eligible for conditional citizenship under an arcane 1982 law – have had their attempts to claim their legal rights scuttled by local protests. That much of the community has roots in the country predating British colonisation scarcely seems to matter.
It should come as no surprise that January's joint statement ends by arguing that a truly independent investigation would help shift attention to other human rights challenges elsewhere in the country. Even among those civil society activists who quietly express disgust at what has transpired in Rakhine, there is a powerful resentment arising from a belief that the international rights lobby is focused on the Rohingya to the exclusion of ongoing military abuses, land seizures and the continued imprisonment of political activists elsewhere in the country, all under a government led by an international democracy icon. In the absence of political leadership from the government — senior members of which have publicly expressed the same prejudices as nationalist groups — many civic leaders will continue to view this crisis as, at best, a distraction.
Sean Gleeson is an Australian journalist and digital editor at Frontier Myanmar, a weekly news magazine based in Yangon.