A protest to mark four years of dissatisfaction with Thailand's military government came to an end when Bangkok police arrested the leaders of the demonstration, who willingly gave themselves up for breaking the law on political protest following an impassioned speech to their supporters.
Several hundred people gathered Tuesday evening at Thammasat University to march to the prime minister's office at Government House and demand the national election be held in November rather than the current plan for February.
The protest marked four years since the military swept to power and put an end to months of political deadlock and street protests aimed at ousting then-Prime Minister Yingluck Shinawatra. Amid a wave of corruption scandals, human rights abuses and broken promises to hold elections and restore democracy sooner, people have become increasingly frustrated.
A repressive constitution drafted by the military and promulgated 13 months ago that is weighted in favour of the military and which limits the power elected politicians can exercise in parliament has compounded indignation – while the ban on political gatherings of five or more people has prevented new parties from campaigning in the run-up to the vote.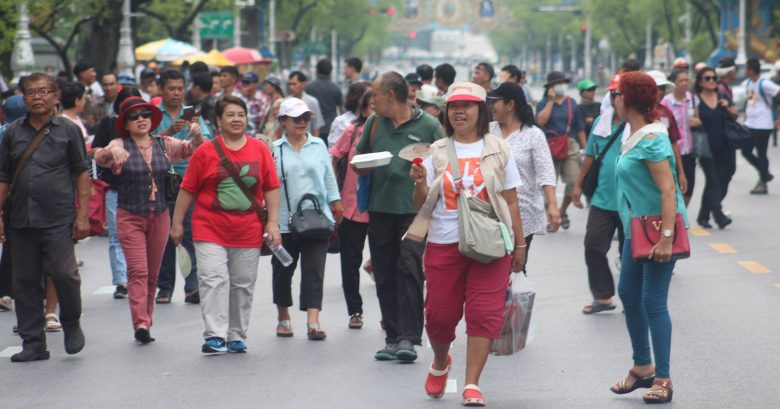 Hundreds of protesters holding banners and hand fans with the prime minister depicted as Pinocchio set off from Thammasat University but were blocked by police barricades from reaching Government House. Many remained at the university grounds, while others demonstrated near the United Nations building, within sight of Government House.
Protest leader Rangsiman Rome told Southeast Asia Globe the march was organised to vent anger over the army's seeming unwillingness to rescind power – but that it was also an opportunity to expose the military's vulnerabilities.
"The military is weak at the moment, so that's why we feel the movement will have a stronger impact than before," Rangsiman said, citing allegations of corruption and economic mismanagement levelled at the government.
Police declared Government House off limits to protesters and warned them not to defy a junta ban on public gatherings.
Unable to proceed to Government House and vastly outnumbered by some 3,000 police officers, the leaders decided to give up and hand themselves over to authorities. "We have tried everything. But in the end, we might not be able to bring change and return to democracy," announced Rangsiman, one of fourteen arrested, before he surrendered at the university. "For four years, no one has ever challenged and fought for rights and liberties like how it unfolded today. We have done everything. We have tried everything."
At the protest near Government House, a ring of security forces encircled four of the demonstration leaders, who had faced off with police, before bundling them into a police van. Seven of the leaders who were initially arrested were separated and taken to two different police stations.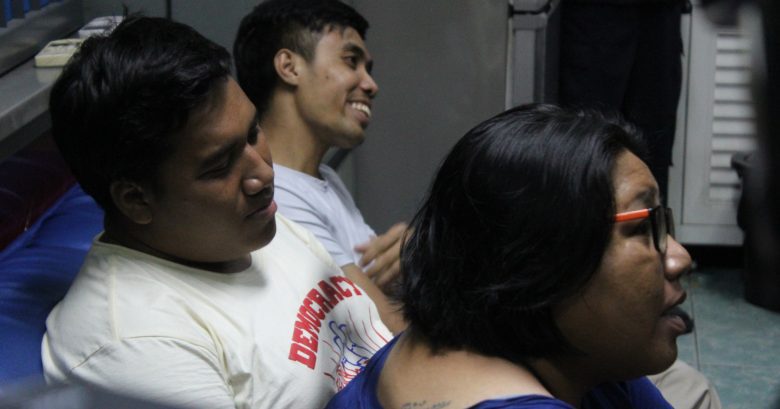 Among those arrested were Nuttaa "Bow" Mahattana, Chonticha Jaengrew, Arnon Nampha and Ekachai Hongkangwan, who were put in one van; and Rangsiman Rome, Sirawith Seritiwat and Piyarat Chongthep, who were put in another.
Tensions dissipated as demonstrators packed up their belongings and dispersed.
"We were outnumbered," said one demonstrator who earlier had shouted profanities at the police. He'd expected 10,000 demonstrators today, and was bitterly disappointed that only around 500 turned up. "The army is trying to enslave people, including me, because of their foolishness in handling the economy," he said.
Thammasat student Jah Apiradee, who was at the campus but not demonstrating, said her parents were happy when the military seized power because there was much turmoil in the seven months leading up to the coup. But controversial decisions amid a lacklustre economy have led to a change of mind for her and her parents. "My mum asks why does the government have to spend millions on submarines when the economy is bad?" Jah said, referring to a government decision to buy three costly submarines from China.
Appearing unrattled by the pro-democracy stirrings, Prime Minister Prayuth Chan-o-cha said on Tuesday the election is not going to be sooner than 2019.
"I've said already that it will be according to my steps and that is early 2019 and no sooner," he said, according to Reuters. "These people have shown their point of view many times and we have taken onboard what they've said within our capacity."
This article was updated on 23 May to state that the number of arrested leaders ended up as 14, instead of seven as was initially reported.