Raised in a poor family in Cambodia's Siem Reap province, Pola Siv dreamed of becoming a chef. Here, the owner of Mie Café tells the story of how he moved from the village to running one of Cambodia's most exciting kitchens – by way of Bahrain, the Cayman Islands and Switzerland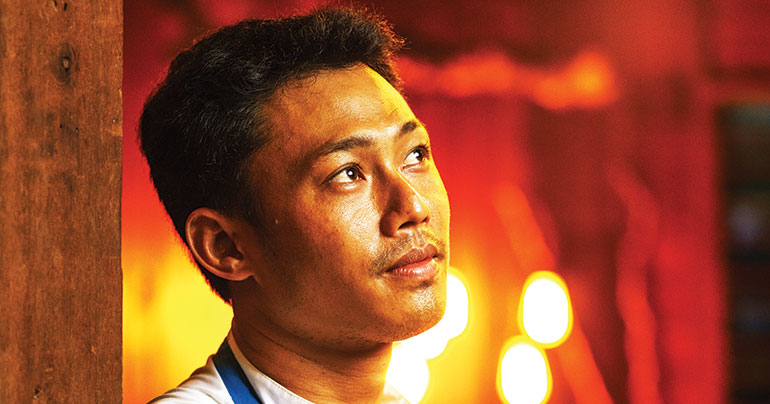 "I got the inspiration for cooking from my mother. Growing up, I didn't have a proper education, but I really wanted to go to the Paul Dubrule School, a hospitality school in Siem Reap, but there was a tuition fee of $500 per year. I could not afford it because I came from a very poor family. So I pushed myself to go and work abroad, save money and come back.
"I started out working in Siem Reap as a dishwasher, but then I applied to an employment agency and left Cambodia to go to Bahrain, where I worked for two years as a waiter. I didn't even know where Bahrain was, and I actually wanted to go to Dubai, so it was a big move.
"While I was there, everybody told me I needed to go to school to become a chef. I moved from Bahrain to the Cayman Islands, which is where I saved a lot of money because there was no tax, and I worked a lot. I was a beach boy while I lived there, which means serving drinks on the beach and looking after guests.
"After I saved enough money I moved to Switzerland, where I studied at the Culinary Arts Academy Switzerland for one-and-a-half years before taking a six-month internship at Domaine de Châteauvieux, [a restaurant in the Geneva countryside], which has two Michelin stars.
"At school you learn about the basic flavours and [do] lots of writing, and then when you go to work at a restaurant that's when you really learn. I came back to Cambodia with very little money and opened this place as a little coffee shop with five tables, that's why it has 'café' in the name. I didn't even have a fridge or any of the proper equipment. Slowly, I moved on from being a café to a small restaurant to where we are today."