When Digital Kaway began doing business three years ago, it comprised two founding employees, two computers and an internet connection. The agency had one client: an infants' vitamin and nutrition company that Sandi Sein Thein won over at a networking event. Her pitch for a low-cost outreach scheme was based around mothers submitting photos of their babies to the client's Facebook page and sharing the link with friends in an attempt to gain 'likes' and win a product. It worked.
"Mums really love to do that. They really want to post all their baby photos," said Sein Thein, the marketing agency's CEO and co-founder. "So they shared a lot."
The baby products were selling well, and Digital Kaway's first successful project meant that "we had the confidence that it's a good idea to start [marketing] on Facebook", the 29-year-old said. The social media-focused agency was ready to kick off and planned to use the internet's relative infancy in Myanmar and the firm's understanding of platforms such as Facebook and company-specific mobile apps as its leverage in the marketing industry.
"In Myanmar, [companies] spend really huge on traditional marketing, like newspapers and billboards. They might invest $1,000 for [one ad]," she said.
If companies were to shift gears to use social media as a marketing tool instead, Sein Thein was sure they could reduce or eliminate the need to pay for advertisements and take advantage of a growing online audience.
This concept was new to the country. Less than a decade ago, the fingernail-sized piece of PVC that makes up a SIM card was going for $2,000 in Myanmar. Restrictions on internet access were reduced in late 2011, but usage remained limited in the face of high phone and internet costs. Then, suddenly, SIM card prices dropped – drastically. By 2014, the going rate was $1.50 and the internet's popularity surged.
As with many nations that have only recently embraced the web, there was tunnel vision surrounding Facebook, which had become synonymous with the internet as far as the local population was concerned – but few knew how to take full advantage of the platform.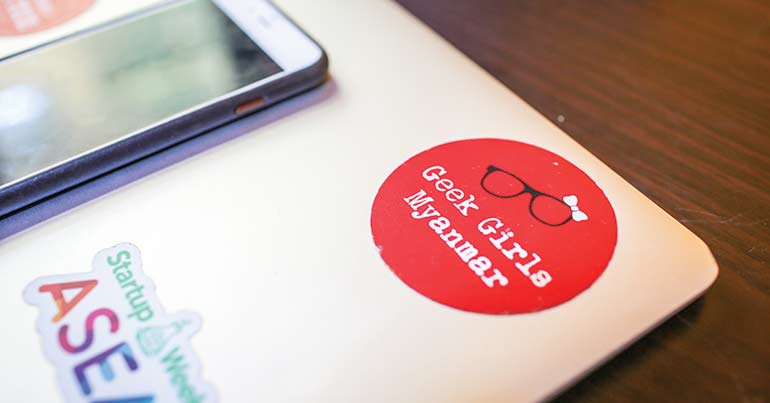 At the time, Sein Thein was in Singapore, working at her stable and lucrative job of five years recruiting students to attend Shelton College International using social media marketing.
"That was a good time. The pay was really good," she said. "But my mind changed in 2014 when I saw some changes in my country, like politics and the economy and everything."
It was time to move on.
Within six months of returning to Yangon, she and her business partner, Kaung Sitt, had used their personal savings, along with some money from a small investor, to prepare a makeshift office for Digital Kaway.
"Crony businesses" owned by affluent locals and small family businesses would be their focus. Sein Thein said they avoided corporate companies and focused on smaller firms because Digital Kaway understood their needs best. The two founders were alert to how important social media would become with time, and it became a matter of convincing business owners of the importance of a media plan.
"One thing some of them really don't realise is you can't just post a photo and a caption" on Facebook, she said. Companies that use that approach are "posting content but not engaging the public and customer relations".
Local social trends and commentary – such as political jokes or trending lingo – can be turned into catchy marketing material so that companies are not just posting about their product.
"Every two weeks there's something new," she said. "There's a saying that went viral recently: 'When the world is divided into two, I want to stay where you are.' So we reworked it: 'When the world is divided into two, I want to stay where – insert the name of a restaurant – is,'" Sein Thein said, adding that this might be developed in the form of a meme, a graphic or an animation.
She began pitching tailored media plans relentlessly to potential clients. Sein Thein has lost track of how many marketing proposals she has developed over the past three years, but it's in the hundreds. Building a portfolio, she said, is essential to gaining credibility for a startup company.
In one instance, in 2015, Digital Kaway developed an app for an NGO hoping to educate the population on political candidates and their platforms in the general election. Illustrations of the candidates were commissioned and her team developed written copy that was easy for users to digest before heading to the polls.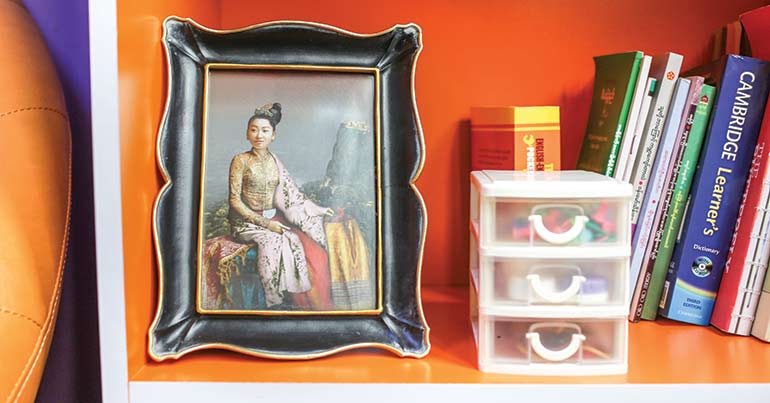 Branding for companies became a focal point of the agency's work, while company-to-consumer relationships were bolstered by hands-on social media monitoring in which Digital Kaway staff were the first to respond to online enquiries or complaints – often using digital "stickers" to maintain a cheerful tone. With these services, Sein Thein said, clients had established a reliable and engaging online presence.
As Sein Thein grew her company, she began looking into opportunities to advance tech literacy across Myanmar, which she thought would inadvertently boost social media marketing success. She founded the country's chapter of Geek Girls, a women-in-tech initiative, and began training tours throughout the country.
"It's something that promotes my business, too, because I give guidelines on how to use social media… how to use Google, Wikipedia, YouTube," she said.
Now, Sein Thein spends about a third of her time on Geek Girls tours, devoting the rest to her Digital Kaway office in Yangon. She has become the first established entrepreneur in a long family line of corporate and government employees.
"My mum didn't like it – and she still doesn't like it – when I started this, because when I worked in Singapore for a corporation my pay was really good," she said. "When I started the company, things changed. Sometimes I couldn't even afford a taxi fare after paying the salaries of employees, which is the first thing [employers need to pay out]… But now we are doing well."
Tech literacy in the country has grown drastically in recent years, and about 90% of the population is now online. According to Sein Thein, contributing to the tech environment surrounding her company has been key to the agency's success – even as competition has blossomed in the marketing sector.
"We don't really have a lot of [tech] talent here in Myanmar yet, because the country is opening and growing up," she said. "We still need a lot more training and vocational training, all these professional trainings."
In addition to Geek Girls workshops, Sein Thein invests time in training her own employees – Digital Kaway currently has a staff of 69 – and said that the company's expertise and focus on the local market propels it past competition.
The young entrepreneur sees plenty of room for Digital Kaway to grow in this environment. The agency currently provides services to 34 companies in Yangon, and in the next five years Sein Thein hopes her medium-sized company will gain investors and become a "big media agency" that's established in other parts of Myanmar, including Mandalay. She also plans to turn the company's attention to Google, SEO management and website copy editing in anticipation of a future lull in social media use in Myanmar.
Indeed, it is precisely the uncertainties in the industry that evoke worry in her mum that have been a driving factor for Sein Thein in the growth of Digital Kaway, she said.
"I think without the risk there is no opportunity to grow… It has taken a lot of components to survive for three years. That was a long journey and it's still a long journey," she said. "When you start a business, you can see that sometimes things will not happen as you expect, but this is my enjoyment in life."