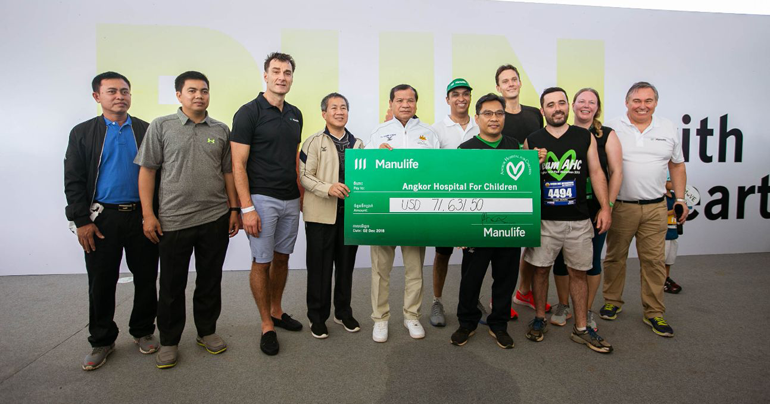 Amidst a palpable air of excitement, runners from 78 countries basked in one of the world's most extraordinary sights: the sunrise over the ancient Angkor Wat temple, which serves as the backdrop to the start of the Angkor Wat International Half Marathon.
From young children to parents to grandparents, a record 10,500 people came together to compete in the 23rd iteration of the popular race, where runners can choose between 3km, 10km or 21km runs.
The competitors raced through the historic Angkor Wat complex, under glorious arches and alongside ancient structures, some attempting to break records and others just taking in the spectacular sights. What connected them all though, was their engagement in a healthy activity and their commitment to living better. As each of them crossed the finishing line to the sound of cheering from friends, family and the other competitors, a sense of joy and exhilaration was etched on their faces.
The event, sponsored by Manulife since 2014, is growing in size and popularity each year. As well dedicating the event to healthy living, Manulife also raises vital money for charities such as the Angkor Hospital for Children in Siem Reap and supports underprivileged communities in Cambodia.
Speaking after the race, Robert Elliott, CEO and general manager of Manulife Cambodia, said that this year's event had been amazing and lauded its growth and improvement in the past few years.
"Our commitment to the Angkor Wat International Half Marathon is something we are very proud of. Manulife wants to help people make decisions easier and lives better and our support of this event is the perfect alignment to this mission," he said.
"When people are more active they become healthier and live longer. We want to encourage people in Cambodia to have a healthier and better financial future, and that's why we are very proud of the work we are doing here in Cambodia."
"Supporting and promoting the wellbeing of the local community has always been part of our culture. We know we have a clear responsibility to make a positive contribution to the society beyond our business operation. We want this event to continue getting bigger and better, which means more people participating, becoming active and healthier and more money being raised for our Corporate Social Responsibility programmes including the Angkor Hospital for Children," he said.
Anil Wadhwani, president and CEO of Manulife Asia echoed Elliott's views, after having himself completed the 10km run.
"As part of Manulife's mission, we feel duty bound to be able to promote the virtues of living a healthy lifestyle. We feel really honoured to be involved in events such as the Angkor Wat International Half Marathon, so that we can promote what living healthier means," he said.
On competing again next year Wadhwani responded enthusiastically.
"I will run it next year! And I will try and better my time."