On the weekend of August 29-30, thousands of Malaysians rallied as part of Bersih 4.0, a series of demonstrations held across Malaysia and in 70 further cities across the world. Wearing trademark yellow T-shirts, the protesters, who were mostly of Chinese and Indian descent, were there ostensibly to rally for electoral reform. But given the circumstances – including a prime minister embroiled in a multimillion-dollar corruption scandal, a tanking economy and dissatisfaction over a general sales tax – it was seen by the world's media as a manifestation of widespread discontent with the government and the direction the country is taking.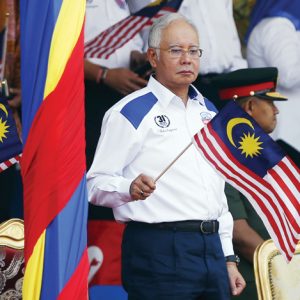 This feeling of general malaise and a buildup of pressure for change were underlined by the appearance at one of the rallies of 90-year-old Mahathir Mohamad, the influential former prime minister and 'kingmaker' of the country's political scene. Of late, he has been doling out sharp criticism of his former protégé and current prime minister, Najib Razak, and is now openly calling for "people power" to topple Najib if he does not step down.
However, it is the younger generation that has to live with the consequences of Malaysia's current quagmire, and it seems that many in this segment of society are more than a little concerned about the country's future.
"This is a government that has failed to explain issues, again, again and again," said Liew Jia Teng, 28, a business journalist. "There are so many controversial issues surrounding the government, from 1MDB [a strategic state fund $11 billion in debt] to the $700m [allegedly] found in Najib's private bank account, that were never appropriately explained."
Such situations have certainly engendered misgivings towards the government in some quarters. For example, Beatrice Goh, 23, who works in hotel management, said the government is "losing the rakyat's [ordinary people's] trust. If our government carries on with their current way of governance, things will definitely get worse."
In turn, Chan Ooi Leng, 30, a housewife, said she feels "frustrated" and has "lost hope in the government". She added that she fears "the poor leadership and attitude of the government will continue and that citizens may turn against each other".
Malaysians are renowned for placing great trust in their government and, in particular, their leaders. "When the leader is perceived to not be trustworthy, he will be blamed for all that's wrong in the country," said Greg Lopez, a Malaysian research fellow at Murdoch University's Asia Research Centre in Perth, Australia.
Last year was a traumatic one for Malaysia. The country suffered three aviation disasters, along with the worst floods since 1972, and the government was heavily criticised for its responses. Meanwhile, the ringgit plunged 7% against the US dollar, and global crude oil prices plummeted by 40%, causing the stock market in Kuala Lumpur to drop by 5%.
This year has not been much better for the country. The currency has continued to crash, reaching its lowest rate against the US dollar for 17 years, and confidence in the stock market remains weak, which has not been helped by the continuing 1MDB scandal.
Liew feels that no country's economy can be completely impervious to outside influences, such as oil prices and changes in major nations' economies, "but financial scandal and money politics are internal issues, something within our control". He believes the federal government and the ruling party deserve blame for the current meltdown. "Today, we're not sad [like in 2014]. We're angry," he said.
For many in Malaysia, it seems that the financial scandals involving the prime minister are the final straw. "There's a sense that the PM's scandal might give their cause the momentum needed to bring about real change," said Julian C H Lee, a Malaysian scholar at Australia's RMIT University and author of Second Thoughts: On Malaysia, Globalisation, Society and Self.
But that change may take a lot longer than some Malaysians would like.
The country has the world's longest-serving ruling party; it is clearly adept at retaining power. Therefore, the kinds of electoral reforms that Bersih and others are pushing for have been stymied by the powers-that-be for decades. "Furthermore, many will be concerned about the lengths the government will go to to retain power," Lee said.
The expectation that change will be slow is shared by Tammy Chan, 28, a public relations manager. For her, the government is the perfect example of "all talk, no action", something she links to a lack of motivation and genuine talent. "They keep the useless and greedy people in the cabinet and not talented people," she said. "They come out with plans that sound brilliant for the country, spend a lot of money, but nothing gets done properly for one reason or another."
But however many people are currently pining for change, there remains a majority of Malaysians – particularly ethnic Malays – who like things just the way they are. Ahmed Kamal Nava, founder of Politweet, a Malaysian research firm that studies the use of social media in politics, has found that the opposition is not well perceived by the majority of Malay-speaking youth who post online.
Furthermore, Nava believes that 1MDB's debts will be settled soon, perhaps as early as this month, and that Najib might use that to accuse the opposition of lying about his mismanagement. In fact, Nava added, the opposition is currently so weak and divided that, even in the current climate, it would be unlikely to win an election.
For decades, Malaysia has been seen as a moderate and tolerant Muslim nation. But that tolerance is fading. Hardline Islam is gaining ground, manifesting itself, as Nava pointed out, in stronger views by Muslims on how fellow Muslims should behave, the use of Arabic words for Islamic practices and a rise in the practice of female circumcision. It seems inevitable that issues of race and religion – certainly not absent before – will become a focal point in the next general election, scheduled for 2018. Indeed, in the wake of the Bersih 4.0 rallies, pro-government critics branded it a demonstration dominated by ethnic Chinese who wished to challenge the political power of the Malays.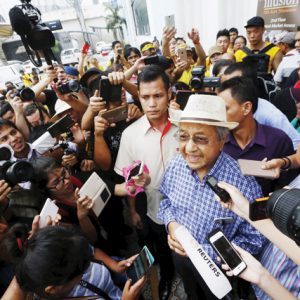 Yeoh Seng Guan, a senior lecturer in media and cultural studies at Monash University Malaysia, does see positives, such as the increasing sophistication of Malaysian civil society and the necessity for at least some long-term change if the ruling party is to hold onto power.
"To their credit, the powers-that-be have been cognisant for more democratic reforms in line with these aspirations, especially among the younger and urban demographic," he said. "For many, however, these changes have not been fast enough nor comprehensive enough."
Many Malaysians yearn for the days of Mahathir – for the most part a time of economic success and national unity. Liew believes the country needs a figure of the calibre of Nelson Mandela, and Chan is sure that the country's current rulers are nowhere near this level. "I can tell you now that some of my friends at 28 years old don't even know who our PM is, let alone our deputy – which sucks," she said.
Strong leader or not, change cannot come quick enough for some. Joaan Foo Pui Yan, a 32-year-old Malaysian music teacher based in Phnom Penh, is frustrated at the state of play. She helped organise a Bersih 4.0 rally in the Cambodian capital and was taken aback at how many fellow nationals attended. Although only a handful were expected, more than 45 showed up to show their discontent.
"It's insane. Things are so shaky right now," she said. "If we are going to wait until 2018 and push for a change, I'm just worried that things could be really, really bad by then."