Nestled among torrents of traffic and touts, Ben Thanh Market is a treasured historical landmark on the map of Ho Chi Minh City, formerly named Saigon.
But in May 2012 came news that the 100-year-old building will soon be overshadowed by a very different construction, a complex of multi-purpose buildings to serve luxury lifestyles. The move serves as a metaphor for a larger trend in the rapidly modernising metropolis. While some embrace the change, others expect something else from the city.
It's been a long time since the Foreign Legion marched past what Graham Greene's character Thomas Fowler in The Quiet American, called the "hideous pink" Notre Dame Cathedral in central Ho Chi Minh City.
But for many tourists the ghost of French colonialism is one of the city's biggest attractions.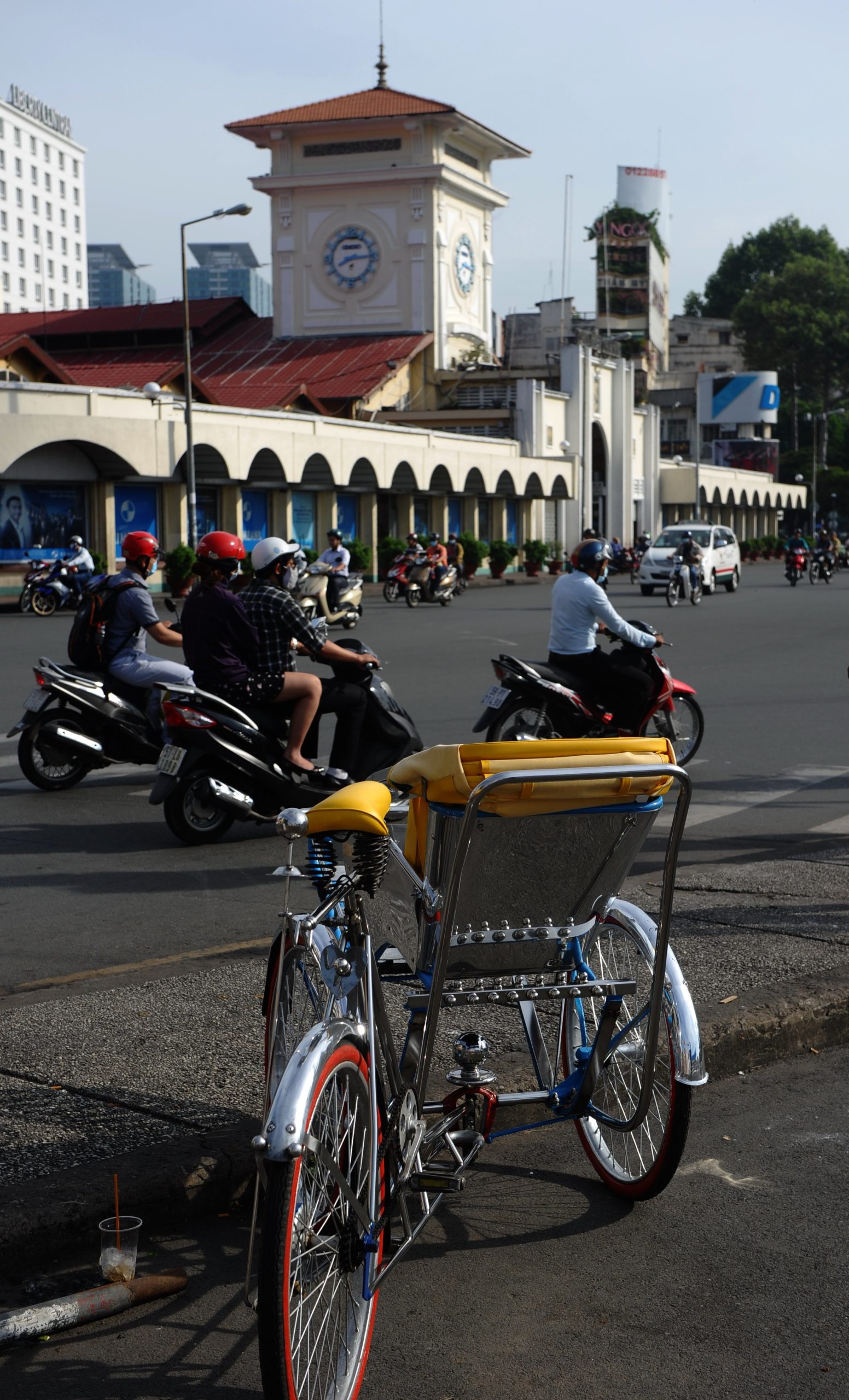 British tourists Sylvia and Paul Kopecek recently spent a weekend here. They planned a short walking tour that was to include a couple of French-era cafes highlighted in their guide book as good places to have pastries and coffee.
Unfortunately, the guide was two years out of date and by the time they got there the facades were boarded up to be transformed into luxury flats. The nearest place to have a rest was an internationally branded coffee shop. "It was quite anonymous," Sylvia said.
The cafes, both on Le Loi street, are situated in the centre of the city's most affluent area, District 1. Just around the corner is Dong Khoi, now lined with glitzy, up-market clothing stores. It is a world away from its days as the grimy Rue Catinat, fondly described in Greene's novel, where men played the dice game quatre vingt-et-un in Art Nouveau cafes and girls in silk white trousers drifted past on bicycles.
Pham Van Hung, 51, has touted for business as a pedicab driver in the area for ten years after giving up his job as a steel worker. Typically, Hung takes foreigners past the still-pink Notre Dame, the austere colonial-style People's Committee building on Le Thanh Ton street, and the neoclassical Opera House.
"The centre is very different now compared to ten years ago," he said, pausing here and there to point out a new high rise. "There will be nothing left in 20 years time. I will miss the old buildings if they keep going as they are. However, the roads are better now."
Not everyone is so pessimistic. Travel company Haivenu offers custom-made tours across Vietnam, including one advertised on its website that details landmarks from Greene's novel.
The government does care about this issue but they need help. They need people who can find out which buildings need to be preserved and why

Duong Hong Hien, a member of the Architects Association
"You can still see many historical buildings and colonial architecture around the centre of Saigon now," said Le Diem Huong, sales manager at the company. "Some private villas around the city might be destroyed and replaced by new buildings, but I am sure they are not masterpieces of colonial architecture."
The salient landmarks do seem to be safe for now, said Eric Burdette, a Saigon resident who runs Old Saigon Tumblr, a site where people post photos of old buildings in the city.
"Some icons of the city, like the People's Committee, the Opera House and Ben Thanh Market are probably safe for the time being," he said, going on to list a number of historic buildings knocked down in the area to make way for "ugly" high rises.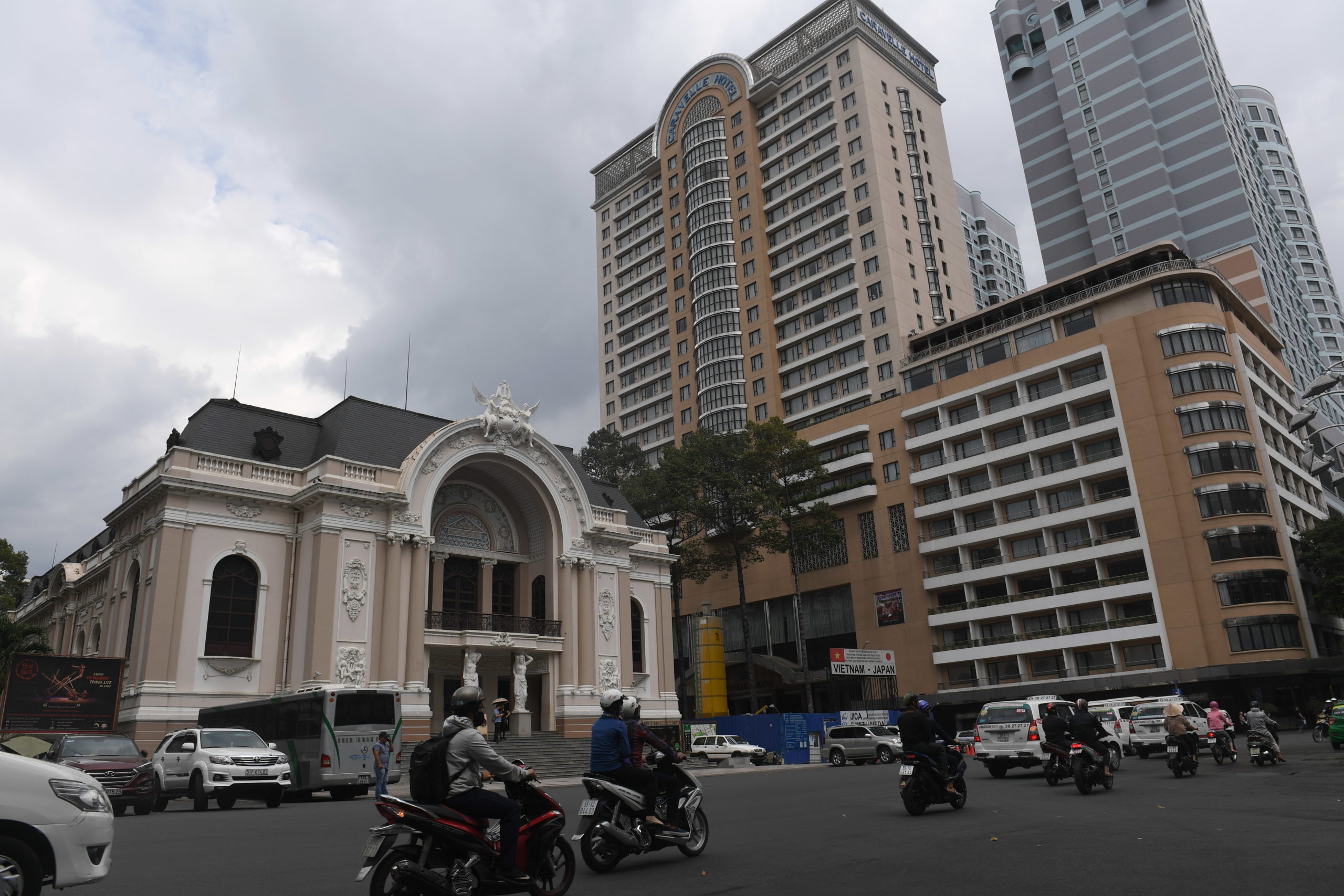 Duong Hong Hien, a member of the Architects Association, shares this view. Hien says the problem is that there are no specific regulations or policies on preserving historic buildings.
"The government does care about this issue but they need help. They need people who can find out which buildings need to be preserved and why," he said.
It is impossible to gauge the effect changing structures have on tourism numbers, said Illaria Walker from travel guide company Lonely Planet. "There are just so many variables that could affect this kind of thing," she said. However, she does stress that guidebooks for places such as Ho Chi Minh City have to be constantly updated.
Clutching such a guidebook, 22-year-old tourists Nick Watson and Sarah Hellawell survey the streams of traffic outside Ben Thanh Market.
"I was expecting a modern city," history student Hellawell said. "It's a shame if they knocked down all the historical architecture, but it's also interesting to have modern buildings in the skyline."
Watson is more reticent. "We would be less likely to come if they got rid of all the old architecture," he said. "If they knock everything down, you may as well go to Bangkok."