Kulikar Sotho cut her teeth as a line producer working on 2001's blockbuster adventure Tomb Raider before recently directing her first feature, The Last Reel, a tale of reconciliation with roots in Cambodia's turbulent past. Here she talks to Southeast Asia Globe about authenticity, maintaining one's vision and how her film is not about the Khmer Rouge
What has the reaction been like in Cambodia since The Last Reel's cinema release last month?
Fantastic. All audiences seem to love the film, and we haven't had any negative feedback on social media. And the feedback that we've had has been diverse. Some like it because it's educational; some praise the acting and script; some like it because it is good quality.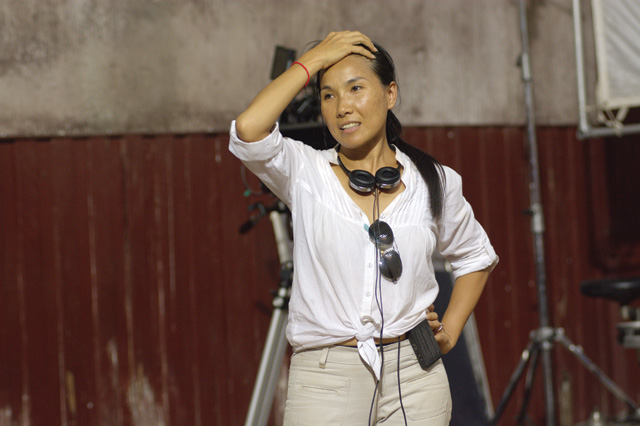 What kind of audience did you have in mind when you started work on The Last Reel?
I've always seen myself in the audience. But first and foremost a Cambodian audience seeing Cambodian history, a Cambodian story with a Cambodian personality. Everyone in the film has Cambodian features: dark skin, big eyes – we didn't use any skin-whitening products [laughs]. And I was careful for the actors to only speak using an authentic Cambodian tone, clearly and precisely. And the emotions too. Cambodians are very friendly and hospitable, but feisty as well. I was sure to show this in the film. But in being authentic, I think this helped attract an international audience to the film.
What do you think the impact of the film will be in Cambodia?
Well, the main theme of the film is reconciliation: between the past and the present, the older and younger generations and becoming reconciled with your loss in order to move forward. The main message is: don't be judgmental. We all have different versions of the truth. It's not a film about the Khmer Rouge; it's a film about us today, about our society and whether we have moved on or not.
What have you learned from making this film?
I used to think that anyone who had been in the Khmer Rouge was bad. Now I don't think that they are bad or not bad. I try not to be judgemental and look deeper. Everyone is the victim of something or somebody.
Did you have any problems with censorship?
No, not at all. [The authorities] really liked the film. I was worried as I had heard some rumours about censorship and, although my film is not political, it does contain scenes about politics, particularly with a character who is ex-Khmer Rouge but is now someone quite big in society.  But this is based on the truth, as part of reconciliation. The government did this themselves when they invited the Khmer Rouge to join them so Cambodia could be one again.
What was it like being a female film director in a male-dominated business?
It's not just the film business, it's society. It was challenging not just being a woman film director but being a first-time director. You have to be able to get people to understand your concept, your vision, and to hear you. It's down to how you communicate with them. For me, I was able to relate my story to theirs, and once we had that we could trust each other.  To be honest, the biggest challenge was finding enough equipment to shoot the film.
What message would you give to young people starting out in the film-making business?
First and foremost, not to let your ego get in the way of making a film. Leave your ego aside and just think of the story. Make the film because you love it, not because you want to become famous. Secondly, you are the director; don't let other people run away with your vision.  You must know exactly what you want and stick with it, otherwise you'll regret it forever. I fought for this film right from the writing stage until the final editing. I love it, even the mistakes I made.
What do you think you could have done better?
I can think of four scenes I could change, to change the emotions, make them clearer.  And some of the language – I could have changed the words to make them more precise. You always make mistakes, but that's what you learn from, right?
What's next for the film?
We've already won five awards. The first one was at the Tokyo International Film Festival, which opened the door for all the other awards. The most recent award was at the Cambodia Town Film Festival in Long Beach [California], voted for by Cambodians, which was very gratifying for me. We've just completed our application for the Oscar committee here for it to represent Cambodia [it has since been accepted as Cambodia's official film]. We'll be releasing the film commercially in Japan next year, and we're in negotiations to release the film in the UK and US. And we'll be at festivals in Warsaw, Hamburg, at the Viennale and in Goa. 
Keep reading:
Life's but a dream – Acclaimed filmmaker Apichatpong Weerasethakul emerged from the isolated northeastern reaches of Thailand to become one of the golden boys of the Cannes Film Festival, captivating audiences with his subtle, otherworldly explorations of the joys of life and what lies beyond them.In his world, dreams and reality overlap and intertwine, while conventional cinematic devices are thrown out of the window. Deeply held Thai spiritual beliefs are combined with his love of early neo-realism to create a new kind of cinema, one far removed from convention and cinematic precedent