As afternoon turns to evening and the high and blinding sun sinks slowly toward the horizon, Zubaidi still keeps the peak of his cap tilted slightly down, all the better to run an eye over the sky-blue paint job on the small skiff he and his small team are putting the finishing touches to.
Behind Zubaidi's seaside house, set about three feet up on stilts to keep the floor above any high tide, the whine of the electric saws and planes readies another batch of precision-cut timber for the next boat, each one to be sold to eager local fishermen at 1.5 million Indonesian Rupiah (US$106) a pop.
Less than two years before, Zubaidi and team had to saw the planks by hand. It was only a year and a half ago that his tiny village of Kwangko on the coast of the island of Sumbawa was connected to the national electricity supply.
"I can do three times as much now, more than I had before we got power," Zubaidi says. "Now you have to pre-order if you want a boat."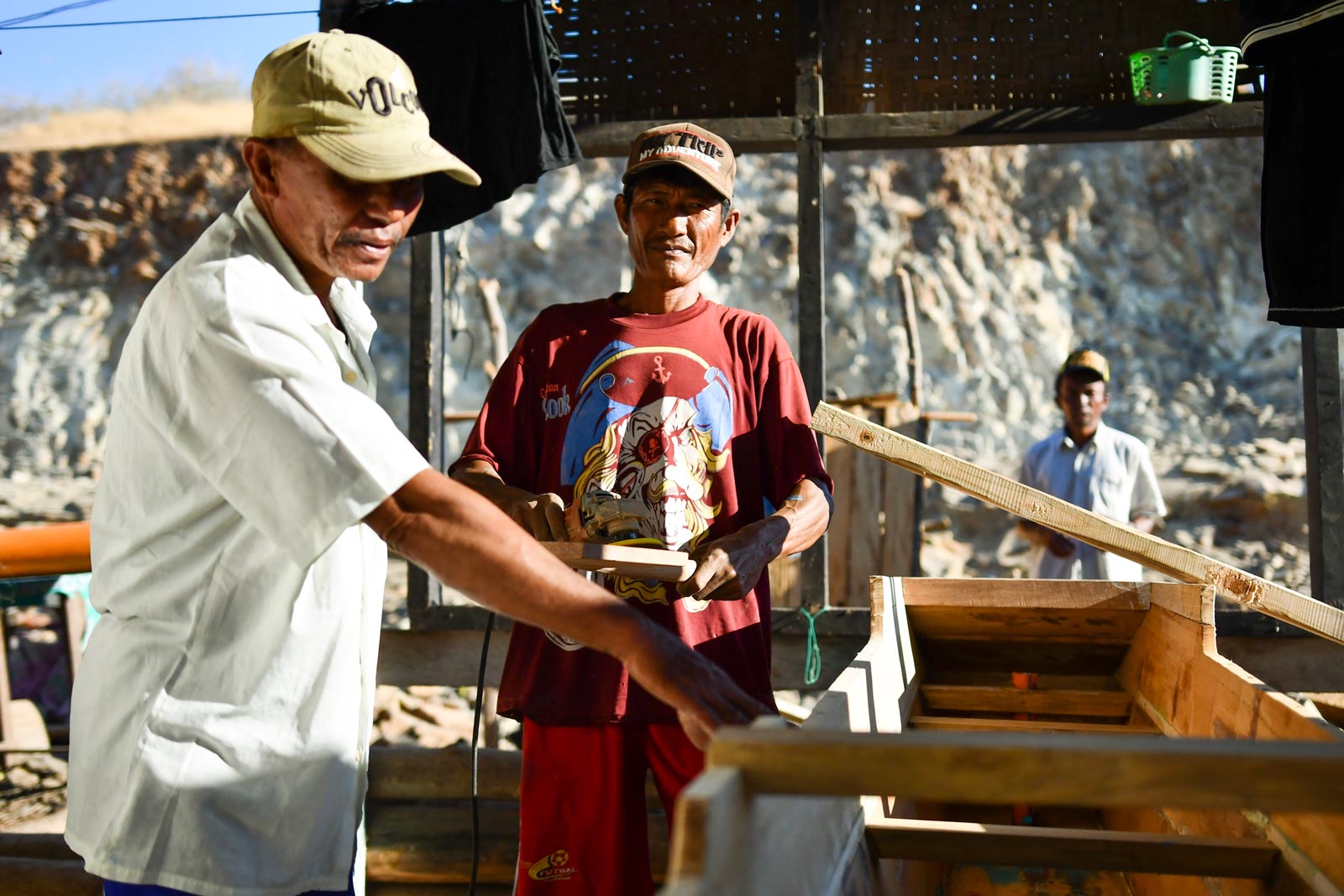 Re-elected to a second and final five-year term in April, President Joko Widodo has restated first-term pledges to enhance and expand Indonesia's infrastructure – including building more power plants in the hopes of full electrification across the country by 2024.
But it hasn't been easy. Over the weekend, tens of millions of people in Jakarta and West Java got a brief taste of how life was for decades for Kwangko residents after being left without power due to widespread blackouts attributed to problems at gas turbines.
"Going forward, we will continue building faster and we will connect those large [pieces of] infrastructure, such as toll roads, trains, seaports and airports, with the people's production areas," Widodo claimed in a speech last month in Bogor, a town on the outskirts of Jakarta. "We will connect them with small industrial areas, with special economic zones, with tourist areas. We will also connect the large infrastructure with farming areas, plantation areas and fishery ponds," said the president, who is best-known by the nickname "Jokowi."
Despite the promises made before Widodo's first 2014 election win, some projects stalled during his first term. A proposed high-speed rail link from the capital to Bandung, the nearby regional capital of West Java, was hindered by land acquisition issues on the densely populated island, while opposition politicians spun the Chinese-backed rail link as a harbinger of increased Beijing involvement in Indonesia's infrastructure building.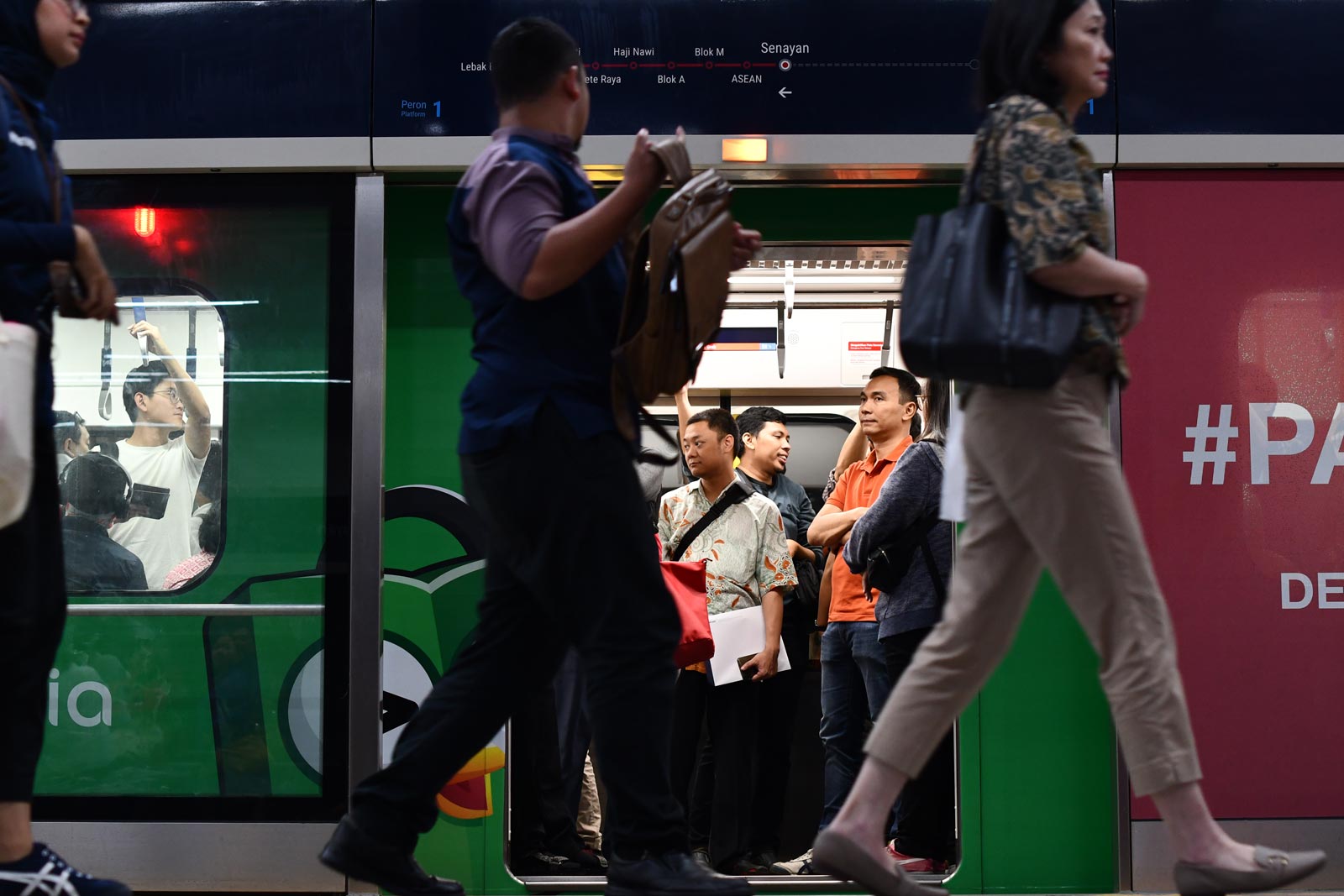 "We are free from darkness. It was worth it to see how children can now study into the evening"


Saiful Baharudin, Kwangko village leader
Plans to better link the remote east – which includes islands such as Sumbawa – to the economic heartland of Java have made slow progress, with much of the eastern infrastructure development under Widodo taking place around the city of Makassar, Indonesia's fourth-biggest, on the southern end of Sulawesi.
"Jokowi had to be careful in his first term but perhaps now because the pressure for re-election is off he can pursue investment more aggressively," said Djayadi Hanan, executive director of the Saiful Mujani Research Center, a Jakarta-based political consultancy.
Darkness overcome
Regardless of national level progress, finally connecting to the grid was like flicking a switch for the residents of Kwangko – in more ways than one. Incomes increased by 25-30% for the roughly hundred families living there, according to Saiful Baharudin, the 59-year-old former village head.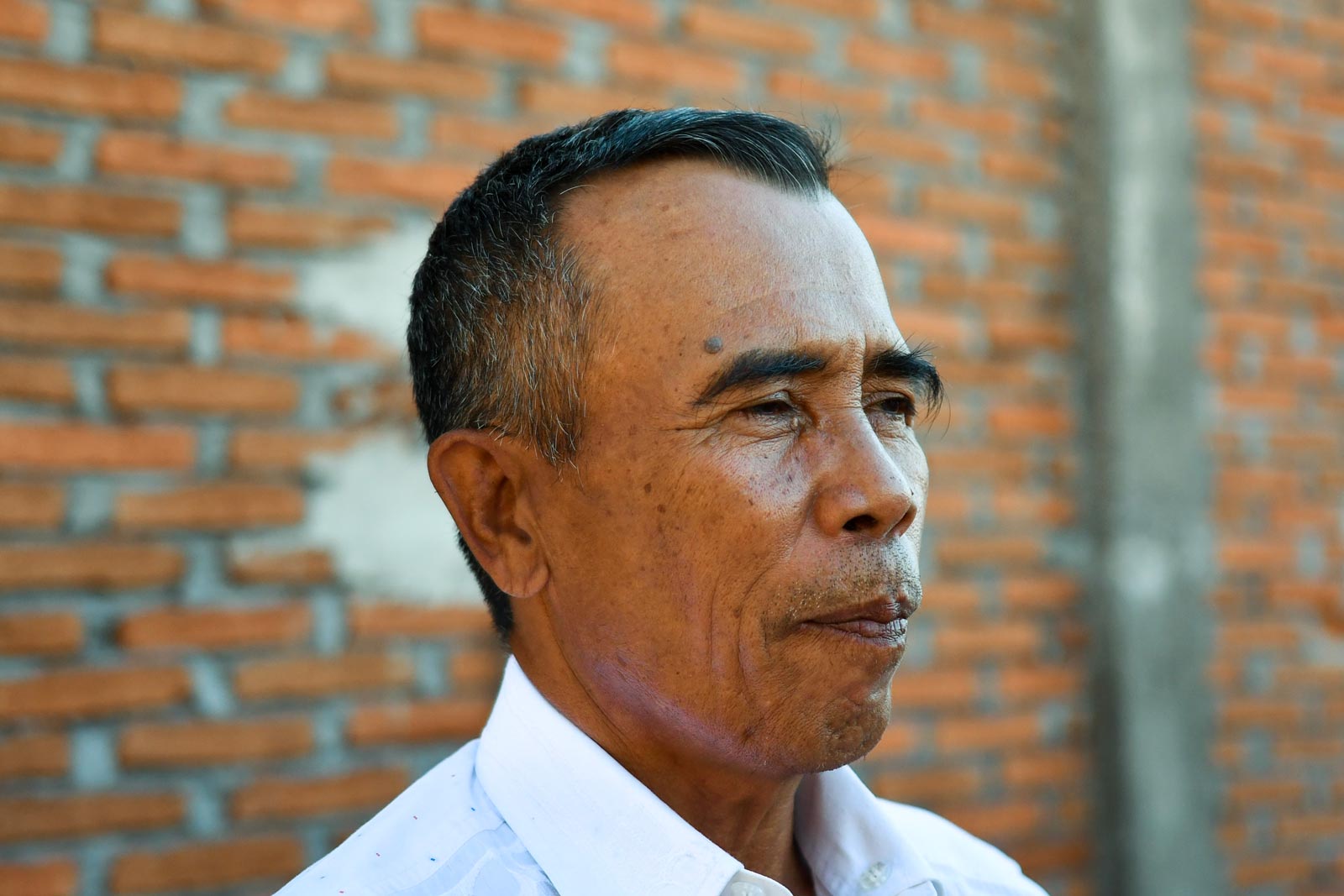 "We are free from darkness," Baharudin said. Looking back at what he said were five separate applications to have the Kwangko hooked up to the grid, it was clear he counted the village's electrification as his political legacy.
"My term ended when electricity came to the village," Baharudin said. "And it was worth it to see how children can now study into the evening."
Before, the village eked out around three or four hours of power every day from a few generators owned by wealthier villagers. For most people, though, this electricity was too intermittent – and too expensive – to reliably power refrigerators or keep the lights on after dark.
Electrification on Sumbawa is proving challenging, as the roads are often hilly, the distances can be from 40 to 70 kilometers


Hamzah Hasanuddin, PLN area manager
Kwangko is about a 15-minute drive up a hill and down to the coast along a newly cut but rock-strewn road that winds off the highway linking Sumbawa Besar and Bima, the two main towns on the island of Sumbawa. The island is about the size of East Timor and sits just east of Lombok – the latter the site of two deadly earthquakes a year ago that killed hundreds and sent thousands of tourists into panic.
Without a proper road until around the time the electricity supply was connected, tourism remains a distant prospect for the relatively isolated Kwangko, where people depend on fishing for their income.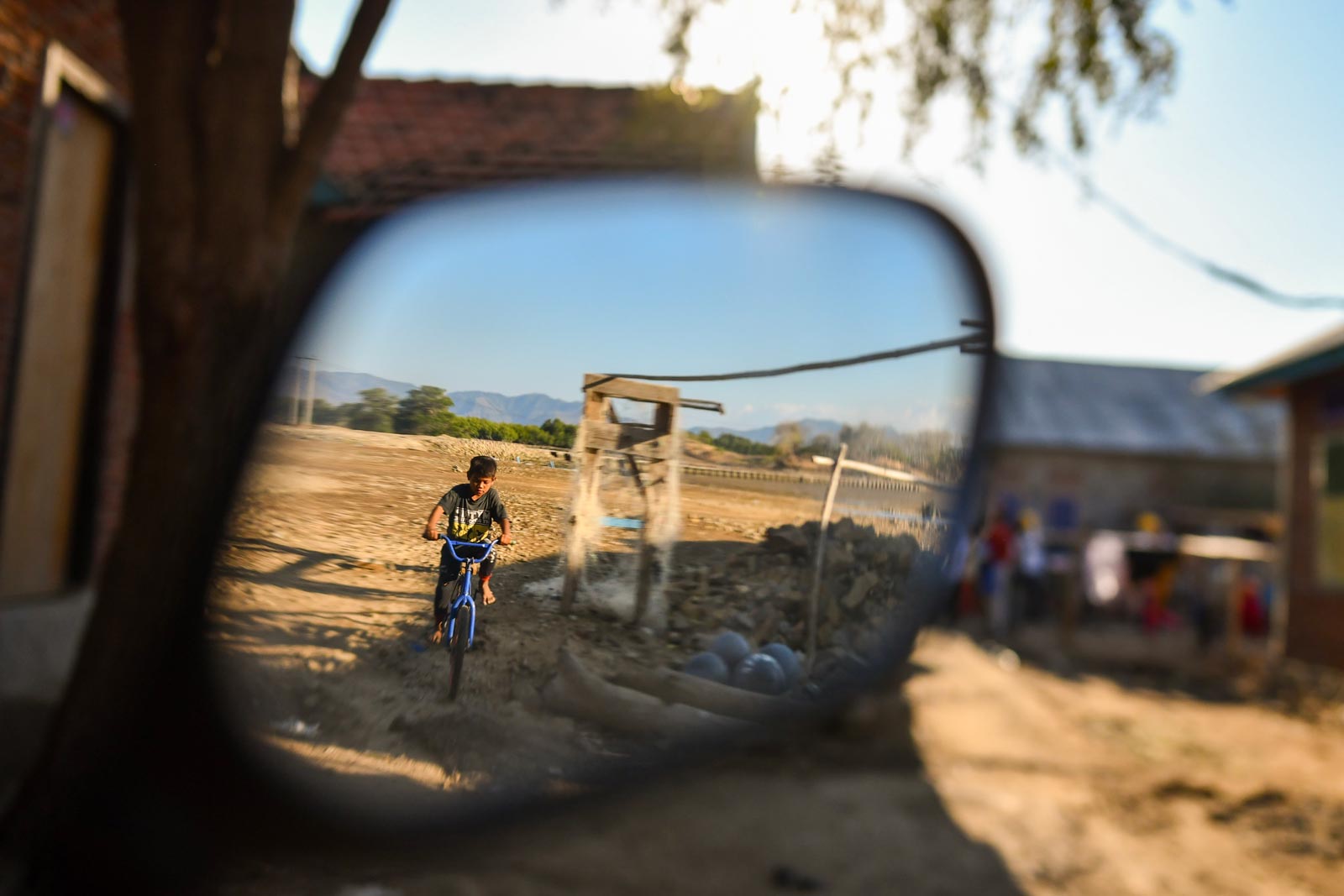 Those who are not at sea with nets cast over the side of one of Zubaidi's boats have spin-off jobs in niche industries that have emerged since the village was electrified. Some fill single-litre cellophane pouches with freshly drawn water for freezing into ice-packs needed to keep catches fresh while en route to inland market towns.
"I don't know, around 35," said Anti, laughing as if half-indifferent to the question of her age while she kept on with the work, the water gushing from the tap and splashing about her bare feet as she knotted each newly-filled pouch.
"Before we had to walk to get water from up the mountain," she said, pointing over her shoulder.
The arrival of electricity meant that a pump could be installed at source and the water piped to the village. Time and energy saved, output increased – and the chance for Anti to earn a few more Rupiah. The freezers meant that Anti and other villagers could make ice from the water spurting from foot-high taps lining the main path through the village. The fish could be stored in the refrigerators and freezers that were suddenly a must-have, purchases that kept catches fresh for longer and in turn boosted the prices the villagers could get at markets inland.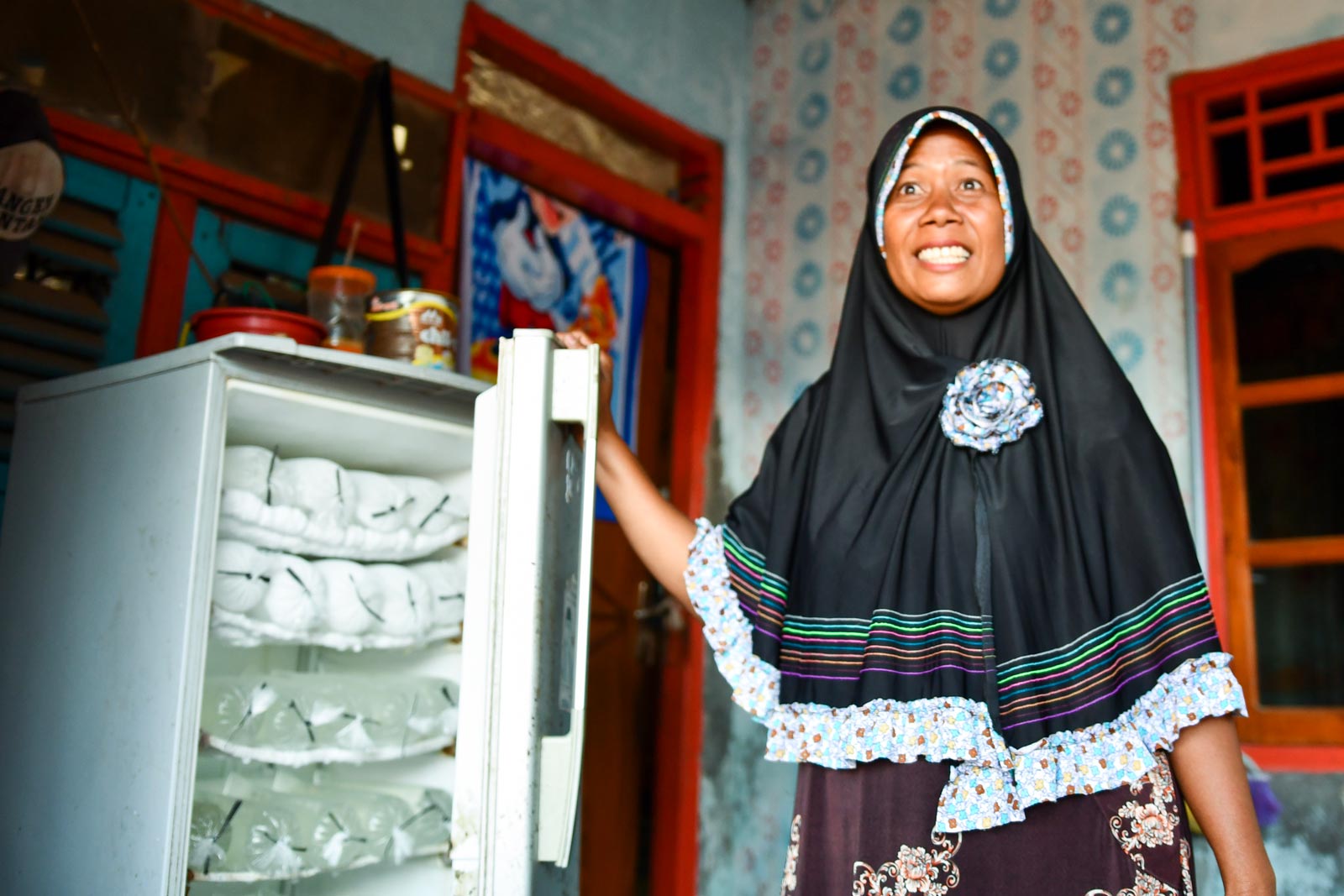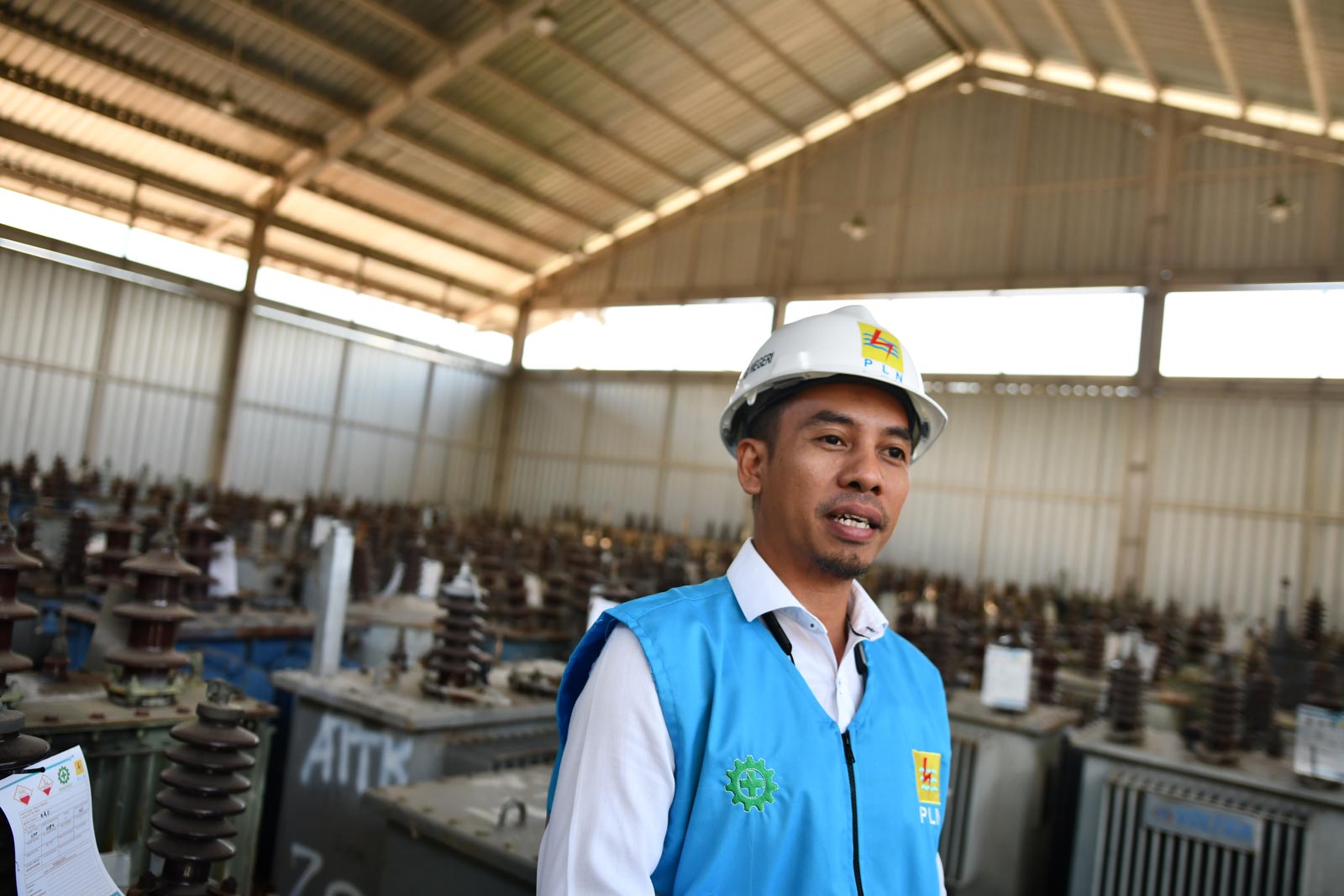 Satellite dishes are now a common sight around the village – more fruits of the Kwangko's labour in harnessing of the wealth of the sea. "Before there was one TV in the whole village and the other families had to pay the owner to watch a movie," Anti said.
The last mile
Now there's a road into Kwangko as well, alleviating the relative isolation that meant the village had to await what is the most expensive and difficult "last mile" of any country's electrification, according to Florian Kitt, Southeast Asia energy specialist at the Asian Development Bank (ADB).
The ADB has funded work contributing to connecting just over 6 million Indonesians connected to the national grid, including on Sumbawa. Still, the State Electricity Corporation, known by its Indonesian acronym PLN, remains almost US$30 billion short of the overall national funding needed for full electrification.
Around 4.5 million of Indonesia's 267 million population still lack electricity – "either because they are too poor to afford the connection or because they live in far-flung islands or remote hinterlands," according to the ADB.
Many of those 4.5 million live in hard-to-access or poorer regions such as East Nusa Tenggara, a string of islands north of Australia, or central Kalimantan in the Indonesian part of the island of Borneo.
"The roads are often hilly, the distances can be from 40 to 70 kilometers," said Hamzah Hasanuddin, the PLN area manager for Sumbawa.
Indonesia's land area might be less than slightly less than Mexico's, but as an archipelago that is home to hundreds of ethnic groups and stretches around 3,000 miles from Aceh on the northern tip of Sumatra to the border with Papua New Guinea, it is as diverse as it is far-flung.
That diversity, however, includes formidable regional economic disparities. In contrast to more remote areas, not only is electricity access almost universal on Java, the crowded central island is home to around half of the country's population.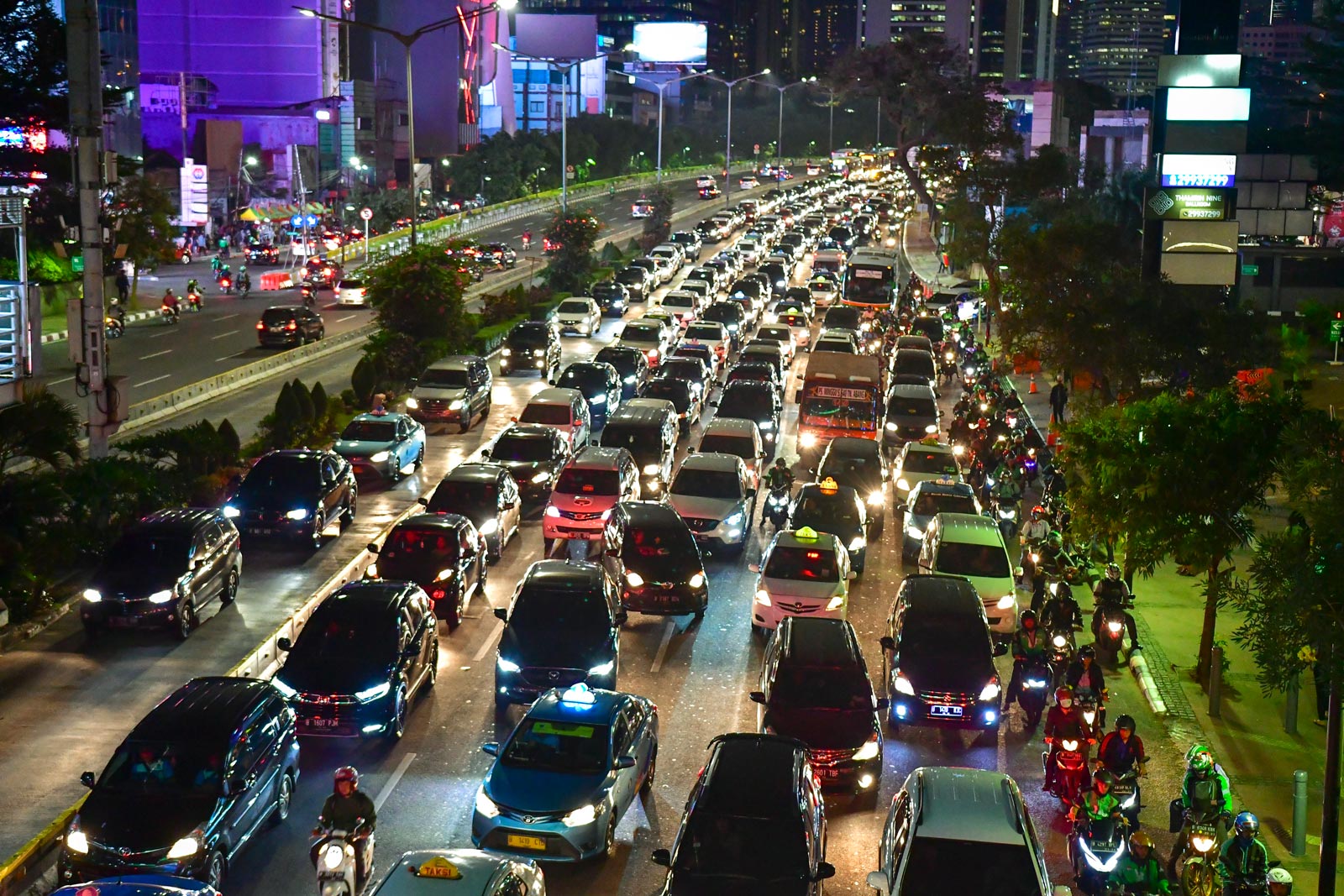 Java is also the source of just under 60% of the country's economic output, while Sumatra, the western-most island facing Malaysia across the Strait of Malacca – one of the world's busiest maritime trade passageways – contributes around 22% of the country's wealth, according to 2018 Indonesian government statistics.
But islands such as Sumbawa account for tiny fractions of the country's economy – the total output of eastern Indonesia is less than that of Sumatra.
Location and nature are among the chief impediments to economic development.
"The soil is far less fertile than Java's due to the harsh dry winds that blow from northern Australia," said Jamie Seth Davidson, associate professor at the Department of Political Science, National University of Singapore. "So, [the area is] resource poor and quite isolated and far from Jakarta, not to mention in an archipelago, which drives up transportation costs."
2020 vision
Part of the government's plan for improving incomes in more remote regions is to persuade more tourists to visit areas outside of the longer-established beach and surf island draws of Bali and Lombok, and other popular magnets such as Yogyakarta, a small city in central Java within reach of Borobudur, one of the world's best-known Buddhist temples.
In the east, Komodo, the island home of the eponymous world's largest lizard, and Moratai, a remote island north of Maluku and facing across the Celebes Sea from the southern Philippines, are on a government list of ten potential alternatives to Bali.
"There is a significant effort to get eastern Indonesia into the tourism economy," said Steve Noakes, director of Ecolodges Indonesia.
But boosting visitor numbers to such hard-to-reach places means improving infrastructure, including building airports capable of handling bigger aircraft and more frequent arrivals. And then there's the issue of the roads on remote islands – which will need improving to enable visitors to get around.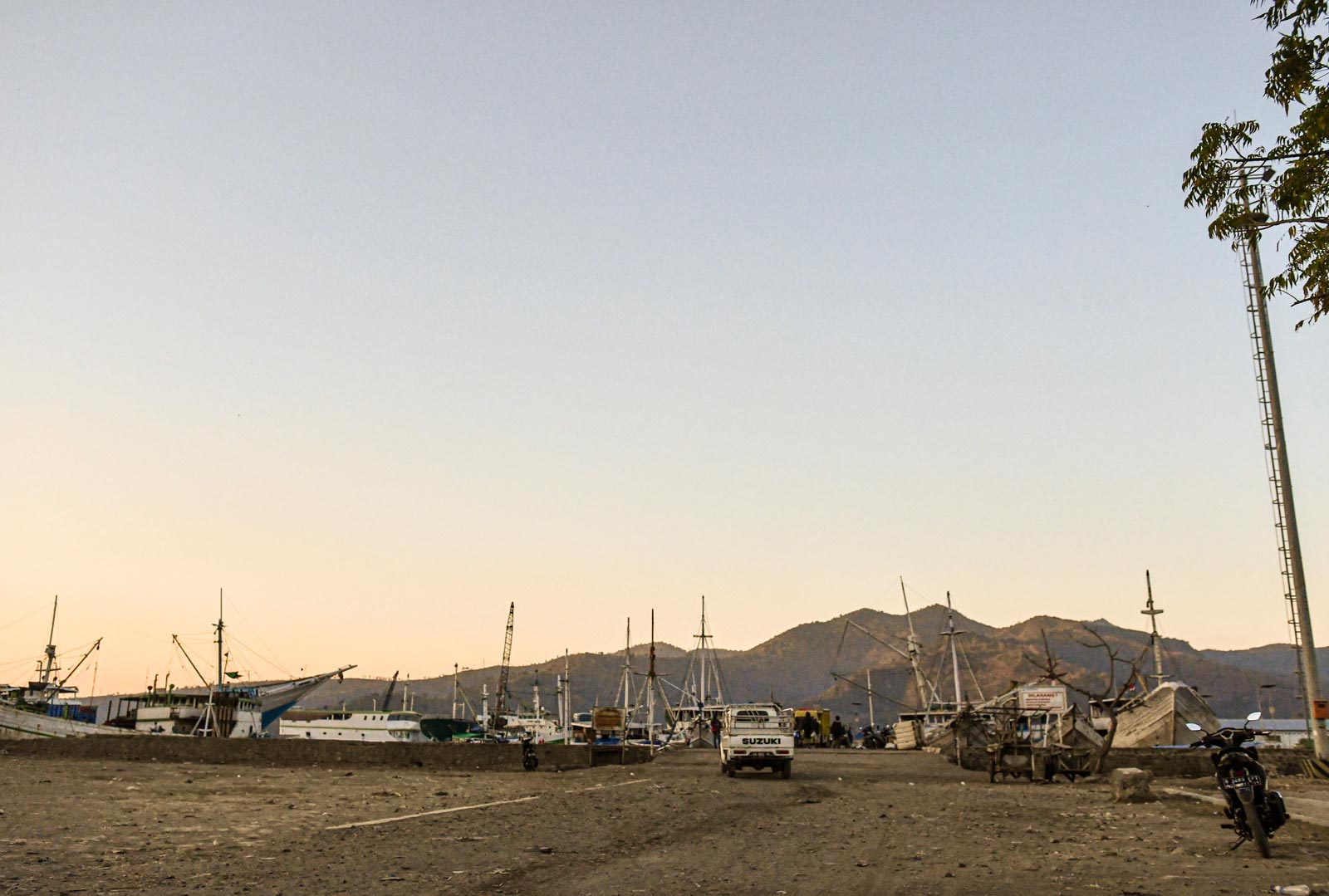 Would-be tourist areas lacking electricity, or where the supply is unreliable, will need upgrading as well – and the cost and complexity of projects will be exacerbated by Indonesia's cross-cutting thicket of laws, where local government rules often contradict national-level codes.
"Jokowi needs to keep or appoint good ministers," said Djayadi Hanan, mentioning various economy-related departments such as finance and state-owned enterprises, as well as home affairs, which coordinates between the national government and local or regional administrations.
"Infrastructure is critical but it requires large-scale capital investment," Noakes said, with the ADB estimating that if Indonesia is to catch up with wealthier Asian neighbours it will need US$1.1 trillion worth of infrastructure spending across all sectors of the economy through to the end of the next decade – an outlay that would exceed the country's gross domestic product.
Back at Kwangko, people have more down-to-earth ambitions – no less important, though, for all their relative modesty, to the families in the village.
Asked what he would like to see next after electrification, Wahidin, head of the Pulo Bajo dusun (hamlet or sub-village), didn't have to think long about his answer.
"A good road – an asphalt road – and street lighting," he said. "Hopefully by 2020."
The author travelled to Sumbawa as part of an ADB press tour