Siam Organic claims to have created the world's healthiest rice. The Thai social enterprise hopes that its unassuming, dark purple grain known as Jasberry rice can take the Southeast Asian staple to new heights. With its soft consistency and delicious taste, both of which belie its 100% wholegrain roots, Jasberry rice is also helping to transform the lives of small-scale farmers across Thailand's countryside, according to the organisation.
"Our [Thai] farmers are among the lowest-earning in the world, even below Vietnam [or] Burma, which is an amazing kind of statistic," says Siam Organic co-founder Neil Dejkraisak. "The idea was very simple. We had two missions for the company: one was to alleviate the problems of small-scale farmers' poverty and the second was to create healthy and delicious organic products for the global consumer."
The high costs of production and low yields in Thailand are the result of a lack of government educational initiatives, which has led to farming malpractices and the heavy-handed influence of major food conglomerates, according to Dejkraisak. With dependence on chemicals damaging soil over time, productivity has remained low.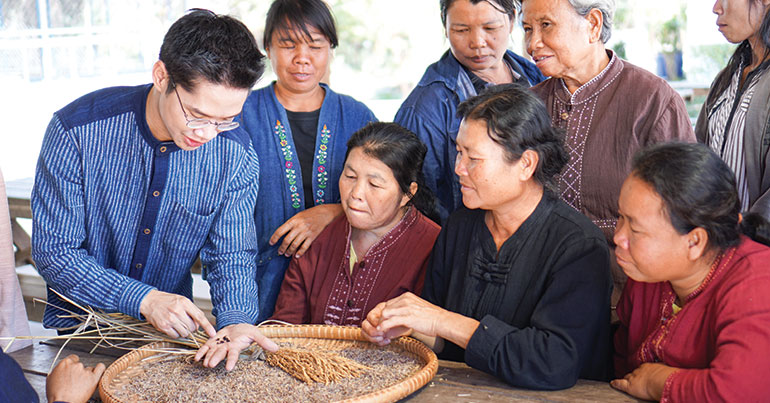 The organisation started out working with 25 farmers in 2011, but that number has now shot up to 1,800, with the expectation of reaching 2,500 next year. After helping farmers switch to organic farming and their new breed of rice, Siam Organic says its farmers' income has skyrocketed to an average of 14 times higher than a regular farmer, with an added yield of about 20% compared to jasmine rice, the next-best alternative. And the organisation's community-based approach means that farmers can retain ownership of their land. "We basically manage the entire value chain without actually owning anything apart from the trademark of the product," says Dejkraisak.
Produced through natural crossbreeding with the help of rice scientists, Jasberry rice's high level of antioxidants, measured through the Orac value, sets it apart from other varieties. "Jasberry rice has [an Orac value of] about 13,000, which is about three times higher than blueberries, which is already considered a very high antioxidant food in itself," says Dejkraisak. "To put it in perspective, brown rice would have an Orac value of maybe 800."
With big ambitions to partner with major international food outlets and see their product reach as far as the US, the team are still wary that while Western consumers may be willing to pay a higher price for their product, they still need to promote the social value of the project to retailers. "As we grow bigger we have to find a way to bring the costs down without affecting the farmers," says Dejkraisak. "The big supermarkets of the world, they don't care… What we're hoping will change a lot over the next couple of years is the mentality of doing business."