While Christian incumbent Ahok is the favourite to come out on top in today's election, the race might not be decided until May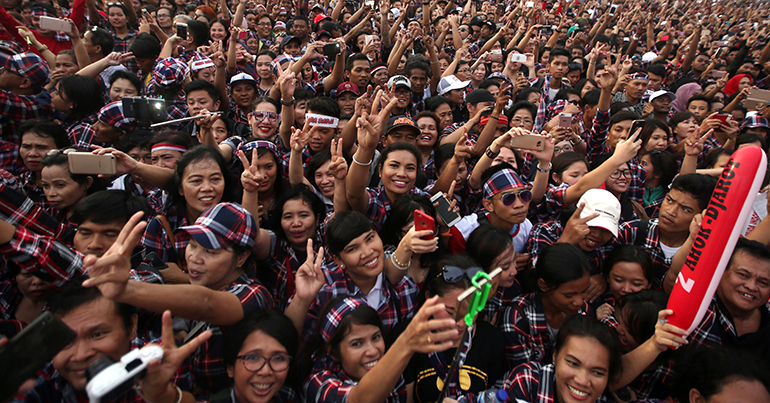 Update: Early results indicate the Jakarta governor race will be decided in a runoff vote, with Basuki "Ahok" Tjahaja Purnama failing to reach the 50% necessary to win outright. With a 40% sample of the votes counted, according to private polling firm SMRC, Ahok has secured 42.57% of the votes to former education minister Anies Baswedan's 40.23%. Agus Harimurti Yudhoyono, the son of former Indonesian president Susilo Bambang Yudhoyono, received 17% of the vote.
Jakarta's residents will today cast their ballots to decide between three candidates for the city's next governor, capping off a months-long campaign overshadowed by religious tensions.
Polls conducted earlier this month showed incumbent governor Basuki Tjahaja Purnama – known as Ahok – of the ruling Indonesian Democratic Party of Struggle ahead, maintaining a slight lead over former education minister Anies Baswedan and Agus Harimurti Yudhoyono, the son of a former president.
Though numerous other regional elections are being held in Indonesia today – 101 across the country's provinces, regencies and cities – the Jakarta governor election is by far the most contentious. The winner of this race will be faced with rampant corruption, endemic poverty and overburdened infrastructure in the city of nearly ten million but would also find himself in a strong position to run for president in 2019.
Ahok, a Christian from the ethnic Chinese minority, has been charged with blasphemy over comments he made that allegedly insulted the Qur'an. In the lead-up to today's election, Islamic hardliners have amassed in the streets of Jakarta calling for his arrest, and Baswedan has drawn flak for meeting with members of the leading hardline Islamic group.
Though Ahok has been credited with building up Jakarta's infrastructure and leading in a 'straight-talking' fashion since taking over as governor in 2014, a December poll by Saiful Manjani Research and Consulting showed that the blasphemy case had largely set the conservative religious base against him – 45% of Indonesians believed his comments were blasphemous, despite 88% of respondents admitting they were not sure what he had actually said.
Some analysts view today's election as a test of religious and cultural pluralism in the world's largest Muslim country and Southeast Asia's largest economy.
"You cannot underestimate the effect, the significance of this primordialism and the politicisation of religion in order to achieve political ends [by] those who use religion to win the election," Aleksius Jemadu, dean of political science at Jakarta's Pelita Harapan University, told the Guardian.
Results are expected to be announced around 8-10 March. If no candidate receives the 50% majority of votes needed to win outright, a runoff between the top two candidates will be held in April or May.