Indonesia's controversial tax amnesty programme has netted $7.45 billion in its first three months, but the country will need more to fund President Joko Widodo's ambitious $400 billion infrastructure plan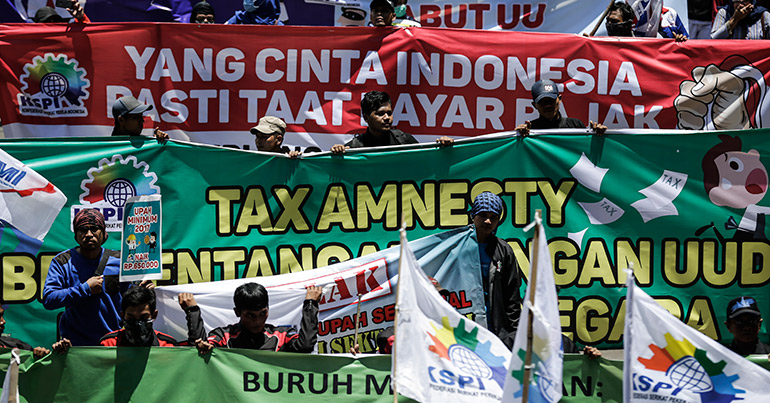 Indonesia has reclaimed $7.45 billion in unpaid taxes during the first phase of its tax amnesty programme, which offers a reduced tax rate to individuals and companies currently avoiding paying taxes.
Those declaring funds or assets through the amnesty scheme will be charged a tax rate between 2% and 10%, a dramatic reduction from the standard corporate rate of 25% and top personal income rate of 30%.
The Indonesian government passed the tax amnesty bill on 28 June with hopes of confronting a fiscal deficit dangerously close to Indonesia's self-imposed limit of 3%, as well as an urgent demand for improved infrastructure.
On Saturday, Indonesia's finance ministry released data that showed nearly 330,000 Indonesians had joined the scheme since its inception in July.
The government initially announced that it expected to recoup $12.53 billion through the initiative but, despite Indonesia already hitting 59% of its target, it remains to be seen whether the programme will achieve its initial target.
Penalty rates will increase this weekend and the rate of fiscal repatriation is therefore expected to slow.
"More important than the flow of revenue through repatriation and redemption of asset declaration is the possible increase in tax base, which would lead to more stable state revenue in the future," said David Christian, research assistant in the Department of Economics at Jakarta's Centre for Strategic and International Studies.
In 2015, only 27 million of the country's population of 250 million had registered as taxpayers, according to the Financial Times.
Shoring up the government's finances is top of President Joko Widodo's to-do list as he attempts to come good on his pre-election pledge to achieve annual growth of 7% by building ports, roads and railways.
Widodo has pledged $400 billion to fund infrastructure plans, but the current state budget will only finance 40% of that amount.
Howard Dick, honorary professorial fellow at the University of Melbourne's Faculty of Business and Economics, said Indonesia has not efficiently allocated its funds towards logistics and will need to invest in almost all aspects of its infrastructure.
Dick also warned that the fiscal deficit could not be resolved in the short term, despite the government hoping for a quick fix.
"Increasing revenue is a long-term process of broadening the tax base, and that requires data, reporting systems, training, integrity, sanctions, etc," he wrote in an email. "In the short to medium term, the government may just have to scale back expenditure."
The programme has sparked protests from thousands of Indonesian labour workers who say it grants unfair clemency to tax dodgers.