DHL has become one of the most visible international logistics brands in Cambodia. What has been your strategy to capture this share of the market, and how has the market evolved since your inception?
Our core business is shipments with a pre-defined delivery time. We also provide industry-specific services to complement this product. For example, our Medical Express transport solution, which is tailored specifically to customers in the Life Sciences & Healthcare sector, offers various types of thermal packaging for temperature-controlled, chilled, and frozen content.
Over the past few years, we have seen tremendous growth in e-commerce, and customer expectations for faster and more reliable deliveries have increased. That is why more Cambodian businesses are looking for a logistics provider with the reach and experience to help them expand their customer base globally. We are confident that e-commerce will continue to grow in the long term, and consumers and businesses will continue to seek fast and reliable express services.
A skills-gap is one of the most common issues cited by international investors entering the Cambodian market. Has this issue affected your operations in the country?
The human capital situation has changed drastically in Cambodia compared to the time when we entered this market. We have found it relatively easy to find capable, college-educated graduates. However, as there is currently little or zero curriculum focused on the transportation and logistics industry at the university level, we can sometimes face challenges in filling certain specialist roles.
The human capital situation has changed drastically in Cambodia compared to the time when we entered this market
According to the 2019 DHL sustainability report, "Employee Development" is a key part of your global business model. What do these programs look like in Cambodia?
Our emphasis on employee development is paramount to our success as a business. We have our in-house training program called Certified International Specialist and our number one priority is to develop our team of highly motivated employees. We ensure every one of our employees has the skills and the passion to give our customers an exceptional quality of service every single day of the year. We take our annual Employee Opinion Survey (EOS) very seriously, and we consistently have workgroups and performance dialogues to dissect concerns as well as find areas of improvement. Our First Choice tools also help to create an open environment where staff can speak straight to the top. In addition, our flagship Employee of the Year, annual AsiaCup Competition and Appreciation events are examples of employee engagement initiatives that positively drive motivation and morale.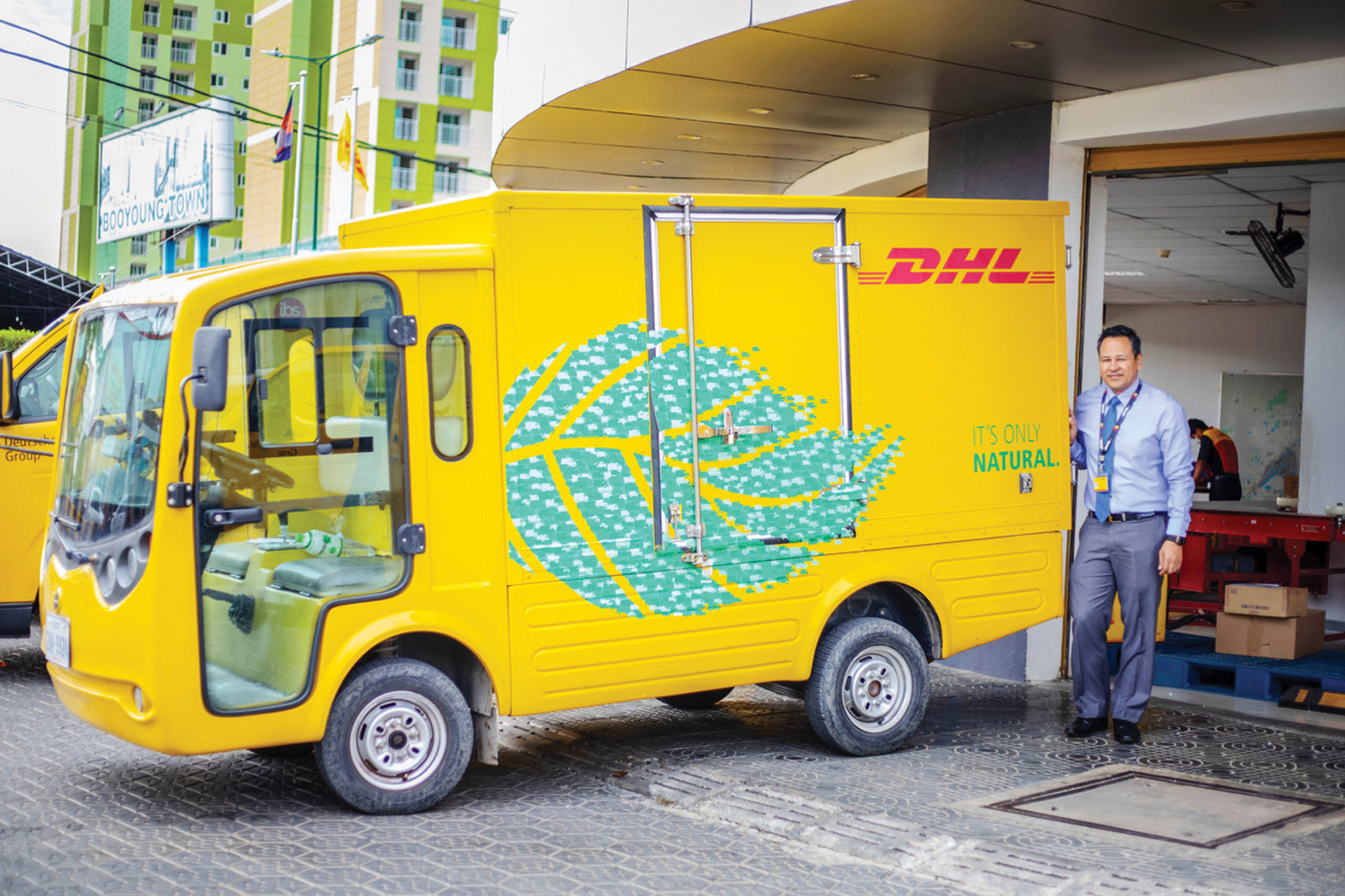 How do DHL's efforts in CSR and its use of renewable energy solutions influence your team and its loyalty to the company?
As part of our Corporate Responsibility strategy, Deutsche Post DHL Group is generating value for business and society with its GoGreen program, and with our Mission 2050, we want to reduce our logistics-related carbon emissions to zero by 2050. In Cambodia, DHL Express was the first company to introduce e-vehicles for last-mile delivery in 2018. We have three e-vehicles and we are planning to add e-moto bikes in the near future. We also aim to train 80% of our employees to become certified GoGreen specialists and actively involve them in our environmental and climate protection activities.
By demonstrating our leadership through the GoGreen program and actively encouraging employees to participate in activities such as tree planting, we hope to foster a greater sense of responsibility for the communities we work in and the environment around us.
This article was first published in Globe Media Asia's Focus Cambodia 2021-22 magazine.