A flood of complaints over land disputes throughout Vietnam stirs the government to kickstart legal reform
War veterans from rural areas congregate outside the Government Office in Hanoi during an anti-government demonstration last month to protest the forced relocation of farmers to make way for lucrative industrial projects on prime land.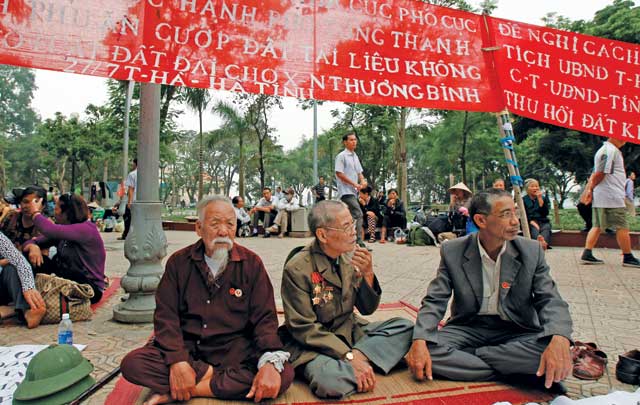 In November, Vietnamese officials passionately debated changes to the land law, following intensifying public anger over land disputes, land management and land-related corruption.
During the National Assembly session, local authorities presented results showing that 48% of rulings in land-related lawsuits between 2003 and 2011 were wrong, according to administrative procedures on land reoccupation, compensation, resettlement and land disputes. The government report showed that some localities had not fully complied with official procedures to grant land use right certificates.
In a country with limited land resources, the amended law must be supported by stricter management and the enforcement of fines to encourage transparency at a local and state level, advocates say.