A taxi service in the Indonesian city of Yogyakarta hires only disabled drivers and caters to disabled passengers to help those with mobility impairments lead more independent lives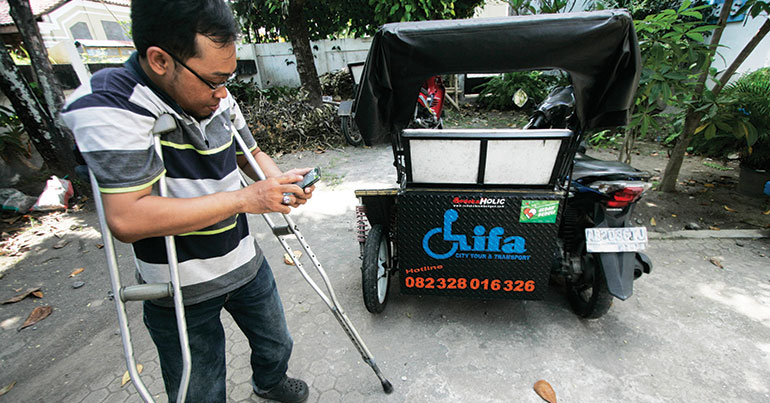 Uneven sidewalks, broken or non-existent curb ramps and an inadequate public transport system: getting around can often be a minefield for Indonesians living with disabilities.
However, Difa Tour and Travel, a motorcycle taxi service aimed specifically at people with disabilities, came along to change all that and deliver a new level of freedom to Yogyakarta's 25,000 disabled residents.
As well as catering to disabled passengers, the company known locally as Difa-Jek – a combination of the Indonesian words for 'disabled' and 'motorcycle taxi' – only employs drivers with physical impairments of their own. Since launching in 2015, it has assembled a crew of 20 drivers and 17 individually designed three-wheeled motorbikes, all fitted with sidecars that can accommodate a wheelchair.
"Because I myself am [disabled], I found it really difficult to get on public transport or find transport that was appropriate for me," says founder Triyono, 37, who, like many Indonesians, goes by only one name. "I thought to myself that any disabled person in Indonesia must have the same problem."
A lack of public facilities and the authorities' less-than-motstellar treatment of those with disabilities means that nearly 25% of Indonesians with impairments live in extreme poverty, according to government figures.
"Those with disabilities are overlooked in many ways," says Triyono, who uses crutches after twice contracting polio as a child. "But I definitely feel Difa-Jek is improving the lives of people living in Yogyakarta. Before, people with disabilities found it hard to get a job because they couldn't even get to their workplace."
Doddy Kaliri is the vice-chairman of the Indonesian Disability Persatuan Association and a regular Difa-Jek customer. He says the service has allowed him to travel to places quickly and easily compared to before, when an impaired foot due to polio meant walking to public transport services was almost impossible.
"Mobility factors made travel difficult for me," he says. "But Difa-Jek is designed for people with disabilities. The compartment beside the motorbike is large enough for me to use; it fits me and my crutches."
The company offers package transfers, city tours and takes bookings via a smartphone app. Customers pay just 2,500 Indonesian rupiah ($0.18) per kilometre. "Ninety percent of the money goes to the drivers; the remaining ten percent goes towards operating costs," Triyono says.
One driver, Tanto, who lives with cerebral palsy, says the service has allowed him the freedom to contribute to society and become economically empowered.
"I decided to become a Difa-Jek driver because I wanted to get a job and change my life to become a successful person," he says. "I was previously not able to find any work. Now, despite my disability, I can make my own money and give back to my parents."
This article was published in the November edition of Southeast Asia Globe magazine. For full access, subscribe here.