Singapore, Malaysia, Vietnam and Brunei join with eight Pacific Rim nations to form massive trade pact

The Trans-Pacific Partnership (TPP), a trade deal between 12 Pacific Rim countries, was signed in Auckland, New Zealand, today.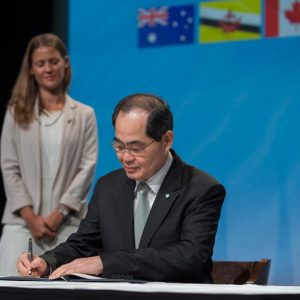 The TPP is one of the biggest trade deals in history and, once ratified, signatory nations will enjoy lower tariffs on exports to member countries and have access to an investor-state dispute settlement system.
Four countries in Southeast Asia – Singapore, Malaysia, Vietnam and Brunei – inked the deal, along with the US, Japan, Australia, New Zealand, Canada, Mexico, Chile and Peru.
"The signing of the TPP agreement marks an important milestone for regional trade liberalisation," said Singapore's Minister for Trade and Industry, Lim Hng Kiang, in a statement. "The TPP signatories comprise nearly 40% of world trade, and account for over 30% of Singapore's total trade."
"We look forward to the TPP's ratification as soon as possible, so that our businesses can benefit from increased trade and investment opportunities," he added.
US President Barack Obama also welcomed the deal. "TPP allows America – and not countries like China – to write the rules of the road in the 21st century, which is especially important in a region as dynamic as the Asia-Pacific," he said in a statement.
The deal is not without its critics, particularly as the negotiations were carried out behind closed doors. Provisions concerning intellectual property have been criticised for their expected erosion of freedom of expression, due process and the right to privacy.
And patients in signatory countries may experience a dramatic increase in the prices of the generic medicines as a result of the deal. "[In Vietnam] medicines are the single largest expense for patients, accounting for 58% of all out-of-pocket costs for healthcare," Andy Baker, then-country director of Oxfam Vietnam told Southeast Asia Globe in 2014. "Thus, high medicine prices have serious direct impacts upon patients, many of whom have to go without or find themselves and their families forced to make impossible sacrifices to pay for treatment."
Others, such as US Senator Bernie Sanders have panned the deal, contending that it favours big corporations over ordinary workers. Academic Noam Chomsky rounded on it in an interview with HuffPost Live in January, saying: "It's designed to carry forward the neoliberal project to maximize profit and domination, and to set the working people in the world in competition with one another so as to lower wages to increase insecurity."
And as for the much-touted economic benefits for member countries, Adam Hersh, senior economist at the Roosevelt Institute, believes these will not be as large as some claim. "In general, the macro-economic impact is going to be a lot smaller than anticipated," he told Southeast Asia Globe in November. "It covers 40% of the world's GDP, but most of those countries already have agreements with one another so the incremental amount of trade opening up is not that big."
Other countries in the region may join the TPP in the future, with Cambodia, Indonesia, the Philippines and Laos expressing an interest in recent months.