Malaysia's recently deposed Prime Minister Najib Razak has reportedly been arrested by anti-corruption investigators at his home in Kuala Lumpur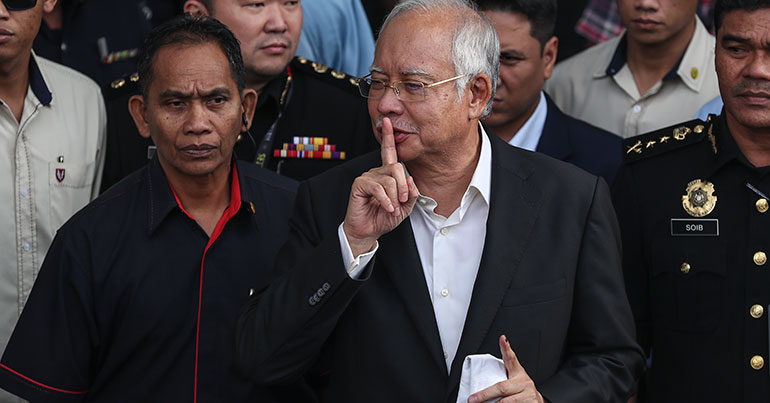 Najib, who was ousted by his former mentor Mahathir Mohamad in Malaysia's general election in May, is believed to be facing charges connected to the alleged theft of billions of dollars from the 1MDB state development fund during his tenure. Around $700m from the state-owned fund was found to have been funnelled into the former premier's personal bank accounts.
The arrest comes after weeks of speculation – fuelled by a triumphant Mahathir's pledge that investigators were working at a "furious pace" to assemble a case against his former protégé – that Najib would be charged with embezzlement and bribery with government money.
"He was totally responsible for 1MDB," an impassioned Mahathir told Reuters last month. "Nothing can be done without his signature, and we have his signature on all the deals entered into by 1MDB. Therefore, he is responsible."
Najib and his wife Rosmah Mansor were placed on a no-fly list shortly after the shock election result amid fears that the pair were planning to flee the country to escape a seemingly inevitable prosecution.
[manual_related_posts]
Soon after, half a dozen properties linked to the former premier were raided and almost $300m worth of cash, jewellery, watches and almost 600 luxury purses were seized by police. Najib has adamantly denied any wrongdoing, and was cleared in 2016 by an attorney-general appointed by his government. The attorney-general, who was previously a member of Najib's ruling party, has since been ordered on leave by the new prime minister.
The 92-year-old Mahathir's triumph in the May election marked the first opposition victory since Malaysia won independence more than 60 years ago.