Following a breakneck round of elections and coalition-building, Indonesia has been left with a straight choice for its next president: Joko Widodo or Prabowo Subianto?
By Ismira Lutfia Tisnadibrata
After ten years of stability, including President Susilo Bambang Yudhoyono's two terms in office, voters in the world's third-largest democracy will head to the polls on July 9 for a single-round presidential election that will decide Indonesia's next leader.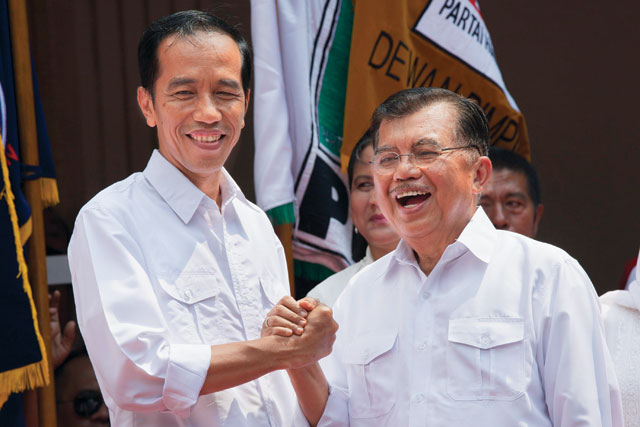 Results from the country's April 9 legislative elections showed that no single party managed to reach the threshold of 25% of the popular vote, or 20% of parliamentary seats, to nominate a presidential candidate. After much political haggling to woo coalition partners, the race to claim the top seats has come down to two pairings: former three-star general Prabowo Subianto, the chief patron of Great Indonesia Movement (Gerindra), with his vice-presidential candidate, the former coordinating economic minister Hatta Rajasa; and Jakarta governor Joko Widodo with former vice-president Jusuf Kalla. Widodo has taken a leave of absence from his governor's post, which he has held for one-and-a-half of a five-year term, while Kalla, who is now chairman of the Indonesian Red Cross Society, was vice-president during Yudhoyono's first term, from 2004 until 2009.
"This is the first time in Indonesian history that we will have a head-to-head presidential election. This is like a zero-sum game for each side because the stakes are high and therefore the campaign is hostile," said Nico Harjanto, chairman of the Populi Centre, a policy research and political polling organisation in Jakarta.
Ikrar Nusa Bhakti, a political analyst with the Indonesian Institute of Sciences (LIPI) concurred, saying it is going to be a "kill or be killed" competition. According to him, the election will be "tremendous" in a historical sense because if the Joko-Kalla pair is elected, Kalla will make history by twice being elected vice-president.
"If Prabowo is elected, it would be the first time that someone who was discharged from the military would hold the position as the Armed Forces' highest commander and have the authority to appoint the military top brass," Ikrar added.
Prabowo was discharged from the military in 1998 for the abduction of pro-democracy activists earlier that year. The nine abductees have all since been released, and while Prabowo admits to the action, he maintains he was simply following orders. However, a further 13 activists are still missing to this day, with Prabowo denying any knowledge of them – a stick still used by some critics to beat him with.
This election has already broken new ground – it could be termed Indonesia's first social media election. Voters have taken to various platforms in incredible numbers to express support for candidates and even to launch black campaigns against their opposition. This comes as no real surprise considering Indonesia's famously Twitter-loving population. The nation is also the world's fourth-largest Facebook market. Data from Jakarta-based social media monitoring service Awesometric shows that there have been hundreds of thousands of tweets and Facebook updates about the two candidates, even prior to April's legislative elections.
Yustina Tantri, a researcher at Awesometric, said Joko enjoyed 82% of activity in the Twittersphere from May 19 (the day Kalla was announced as his running mate) until May 26. Prabowo took the remaining 18%, though he did fare better on Facebook, with a 52% share of activity, leaving Joko with 48% during the same period. "Prabowo was mentioned 12,000 times and Joko was mentioned 11,100 times on Facebook from May 19 to May 26," said Tantri.
To endorse his presidential ticket, Prabowo, who was formerly commander of the Indonesian Army's Special Forces, has secured a six-party coalition deal, comprised of his own Gerindra, the National Mandate Party (PAN) led by Hatta, and Islam-based parties, namely the Prosperous Justice Party (PKS), the United Development Party (PPP) and the Crescent Star Party (PBB). The runner-up party in the legislative elections, the Golkar Party, also decided to back the Prabowo-Hatta ticket after its chairman, Aburizal Bakrie, who was once Indonesia's richest man, failed to secure a coalition to support his presidential ambitions.
The Indonesian Democratic Party of Struggle (PDIP), with backing from first-time election contestants the National Democratic Party (Nasdem), led by media mogul Surya Paloh, nominated Joko. The PDIP – led by former president Megawati Sukarnoputri – also sealed a coalition deal with the National Awakening Party (PKB) and the Hanura Party, led by Prabowo's former top commander and armed forces chief Wiranto. The Indonesian Justice and Unity Party (PKPI), led by former Jakarta governor and retired general Sutiyoso, eventually joined the PDIP coalition too.
Tom Power, an Indonesian political researcher at the Australian National University, said the coalitions behind each presidential bid illustrate the ideological differences between the two pairings. The Joko-Kalla team has so far presented itself in a manner consistent with PDIP's fundamentally pluralist platform, and their religious references are more implicit than explicit. For example, Joko's use of an extended Islamic greeting during his speech to a Nasdem group was designed to reaffirm his religious credentials following a mudslinging campaign that claimed he was not a Muslim. Conversely, Prabowo and Hatta have placed more emphasis on their Islamic principles, playing up their nomination as a 'nationalist-religious' combination.
"Prabowo and Gerindra's campaign had been focused on an ultra-nationalist protectionist platform, but it appears Prabowo wants to corner the 'Muslim' vote," Power said. "Prabowo seems something of a political chameleon – he is capable of aligning with whichever 'axis' gives him the best shot at power. I'm not convinced Joko could be characterised in the same way."
The ruling Democratic Party, led by President Yudhoyono and ranked fourth in the legislative elections, has abstained from formally supporting either side so far, and Yudhoyono is barred by the constitution from seeking a third term. The Prabowo-Hatta camp has garnered 48.93% of electoral votes collectively, while Joko-Kalla has 40.88%. Mass organisations are also continuing efforts to solicit votes, with groups and community leaders from fields as diverse as academia, entertainment and agriculture pledging support for candidates and making grand proclamations about their vote-securing abilities.
"This is also the first time the presidential candidates have personally handled efforts to yield votes and directly met with their supporters at the grassroots level," LIPI's Ikrar said.
On May 28, a group calling themselves the Businesspeople's Community for Jokowi-Jusuf Kalla declared their support for the pair in Jakarta. The group's chief patron is Kalla's younger brother Halim Kalla, a construction and telecommunications businessman. "We aim to generate 20 million votes across the country through our business network by the end of June," said Yugi Prayanto, the community's chairman and a maritime and fisheries businessman.
Meanwhile, Said Iqbal, president of the Confederation of Indonesian Workers Union, said the nationwide network has declared its support for Prabowo-Hatta as they believe them to be "honest, firm and courageous men" who are willing to stand up for them and to fulfil the ten demands – including increased wages, better healthcare and the abolishment of outsourcing – put forward by labourers at a Labour Day rally in Jakarta on May 1.
Ahmad Riza Patria, a Gerindra politician and member of the Prabowo-Hatta campaign team, said it will aim to focus on swing and undecided voters, especially young and first-time constituents, in the hope of boosting numbers. He added that Prabowo-Hatta campaigners expect the pair to be well recognised by all levels of society by the end of June and that they aim to secure 60% of the vote. "Prabowo is an authentic leader, he is what he is without any polish or excessive image-making efforts. So is Hatta Rajasa," Patria said.
However, it remains to be seen whether the mass support pledged through community and organisational leaders will be effective in garnering the votes they claim they can secure, said Karyono Wibowo, a senior researcher with the think-tank Indonesia Public Institute.
"The pledges of these leaders don't mean their community members would vote for the [same] candidate," he said, adding that it also depends on whether the leaders are well-respected enough to encourage community members to follow their example. "After all, this is a one man, one vote [election]. In the end, it's up to the individual voter.

***
Changing up
Is a multi-party system best for Indonesia?
Tom Power, Australian National University:
"The multi-party system is suitable for Indonesia because it best reflects its society's pluralistic aspect. The number of parties contesting the elections has decreased substantially since 1999, so an unwieldy number of parties is less of a problem than it has been. If the number of parties was artificially reduced, for example by forcing distinct parties to form permanent coalitions, those new parties may be unable to match up the various values and interests that have been forced to coexist. For instance, could a catch-all Islamic party really cater to both PKS and PKB cadres?"

Nico Harjanto, Populi Centre:
"The multi-party system has been designed for further simplification by increasing the parliamentary threshold from 2.5% to 3.5%. There would be more simplification after 2019, possibly by increasing the threshold even more. It would be very likely to happen because we would hold the presidential election and legislative election concurrently in 2019."

Karyono Wibowo, Indonesia Public Institute:
"I think we need to revise it and trim it down to a limited multi-party system because such a system can lead to better economic and political stability. It would be more effective if we can have a maximum of five political parties. There are some ways to do that, namely through natural selection by increasing the parliamentary threshold from 3.5% to 5%. I notice there's a downward trend – though it is positive progress – from 42 parties in the reform era's first election in 1999 to 12 parties this year."
Keep reading:
"To catch a queen" –

Recent corruption scandals have ignited the debate about dynastic politics in Indonesia. But even experts are unsure of how to address this world of clandestine meetings and mystical martial-arts clans