Built in 2005 as Myanmar's titanic new capital, the city of Naypyidaw is a surreal stop between Yangon and Mandalay – and an unmissable experience for travellers looking for a glimpse into a golden era yet to come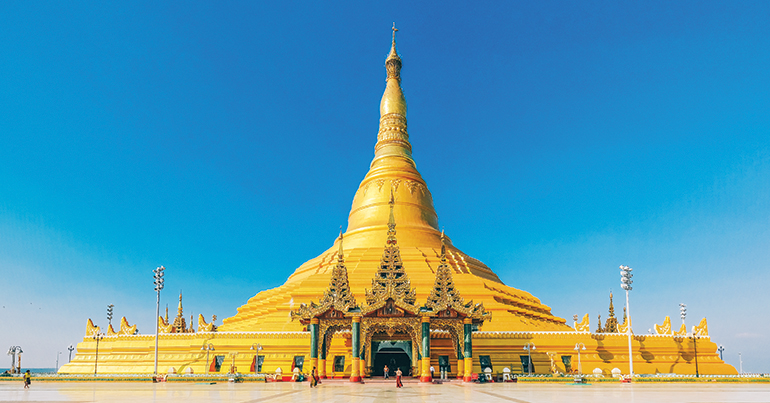 Naypyidaw is post-apocalyptic in perhaps the most positive sense of the word: a city whose time has not yet come, waiting with open arms and empty streets for some distant generation. Now, though, more than ten years after its inauguration in 2005 as a new capital for a new Myanmar during the rule of the astrology-obsessed dictator Than Shwe, the nation's infamous "ghost capital" remains a surreal stop on the long road from Yangon to Mandalay.
Ten-lane highways lie bare beneath the sun, asphalt untouched by all save the steady hooves of the water buffalo that roam in lazy herds across the city. Row upon row of identical flame trees spill their burning blossoms unheeded onto close-cropped lawns before vanishing beneath the brisk brooms of the landscapers who seem at times to be the city's only inhabitants. Stately ministries built like Soviet pagodas loom on the edge of vision, secure behind coiling rings of military blockades. In the late-night seafood restaurants branching off the pitch-black roads, there is life, of a sort, and light, and nervous servers waiting with faces daubed in thanaka to bring another plate of stir-fried shrimp, but the well-furnished food halls are never more than half full. After the crowds and chaos of Yangon, it is a jarring and otherworldly sight.
But now that you're here, it's time to explore. Here are a few things you'll need to know if you ever visit this most baffling of Southeast Asian cities.
WHERE TO STAY
---
If you're a travelling dignitary or other member of the diplomatic corps – and if you find yourself in Naypyidaw, chances are you might be – Kempinski Hotel Nay Pyi Taw is the last word in luxury accommodation.
Although most resorts in the designated Hotel Zone offer a level of ease and luxury to appease most travellers, none can boast a guest list as august as this expansive compound's: former US President Barack Obama and Myanmar's own State Counsellor (and de facto leader) Aung San Suu Kyi have each booked out the extravagant Grand Royal Suite, with its private pool, gym and spa facilities, conference rooms and – this is essential – foyer-adjacent bedrooms to house their private bodyguards.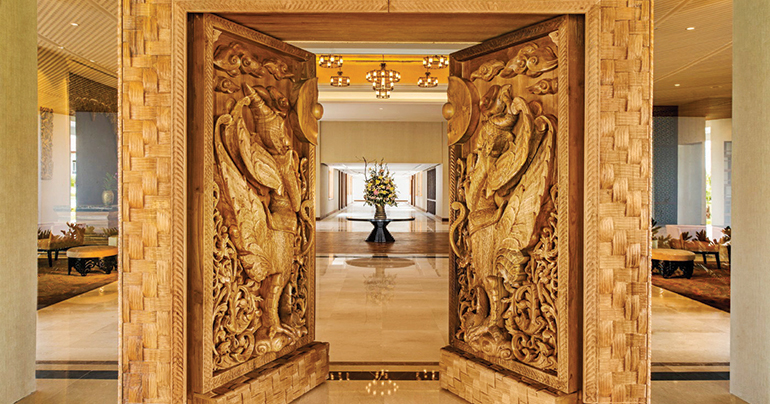 For guests with less-presidential needs, Kempinski offers a range of luxury suites suitable for either an executive business trip or just a weekend's indulgence up from Yangon. Sprawled across three separate complexes, Kempinski's charm lies as much in its space as in its exquisite taste – and in a region where personal space comes at a premium, Naypyidaw has hectares to spare in breathing room. From the moment you drive through the ornate wooden archway rising above the entrance like palace gates, Kempinski blends gilded luxury with the unbeatable expanse of Myanmar's natural splendour.
From its lavish spa, pool and fitness centre to the spacious Rangoon restaurant and glitzy Diplomatic Bar, Kempinski brings an effortless class and grace to a city that has been planned down to each blade of grass. Sipping on a cocktail at the ornate bar, guests run their gaze over walls adorned with pictures of visiting dignitaries eager to establish diplomatic ties with the once-reclusive nation – and, perhaps more urgently, the local bartenders waiting for the nod to bring the next round.
WHAT TO DO
---
Undoubtedly the most popular of Naypyidaw's sparse attractions is the Uppatasanti Pagoda, basically a replica of Yangon's glimmering Shwedagon Pagoda that stands a demure 30cm shorter than its iconic cousin at a mere 99 metres high. It was built over three years, starting in 2006, around a tooth that is said to have been taken from the mouth of the Buddha (sourced from China). Uppatasanti offers a panoramic view of Naypyidaw's precisely calculated boulevards. Standing in its vast golden shadow, the sky opens above you as the sacred spire blazes with the sun's reflected glory, every inch of its height painstakingly built according to the religion's own geometry of faith. If the milling crowds circumambulating Shwedagon stopped you from achieving that promised inner peace, you'll find no such barriers to enlightenment here.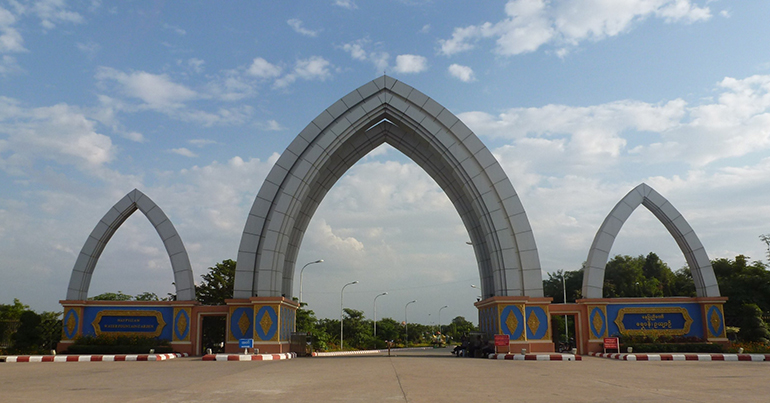 If this simulacrum of one of the nation's most sacred sites has awakened in you a fever for facsimile, your next stop should be Naypyidaw's National Landmark Gardens. Doing nothing to dispel the image that Myanmar's capital is not so much a city as it is the blueprints of a nation stripped of strife and struggle by the clockwork machinery of military might, this sprawling garden features maps of Myanmar's major sites scattered across 400 acres of lawn, and little else. Sprinkled between kitschy funfair rides are replicas of Golden Rock, Inle Lake and – yes, in case you'd forgotten – Shwedagon again, all shrunk down to a more manageable size. If you have the time to drive 40 minutes from the endless malls and highways of the Hotel Zone, Landmark Gardens represents must-see totalitarian chic.
[manual_related_posts]
As vast and empty as the city in which it stands, Naypyidaw's National Museum hosts exhibits covering millennia of Myanmar's history. The pride of the nation, a jawbone locked in stone 40 million years ago, teases at an alternative creation story where humanity arose from apes not in the cradle of Africa, but right here on Asian soil. Relics from the glory days of Bagan, whose stupas still scrape the sky and draw millions of tourists from across the globe, showcase both the splendours and daily struggles of Myanmar's golden years. Finally, artworks taken from the nation's tumultuous 20th century chart Myanmar's rebirth into a thriving modern nation.
Immense, empty and austere, Naypyidaw's frozen perfection seems centuries away from the sarongs and sandalwood of Myanmar's more populous cities. But it is precisely this contrast, this vision of a nation seen solely through the prison of order, harmony and strength, that makes the nation's newborn capital worth the trip.
This article was published in the August 2018 edition of Southeast Asia Globe magazine. For full access, subscribe here.