Twelve hectares of tropical garden unfurl before your eyes. Peacocks amble past your table at breakfast time. The ocean laps lazily at the shore as you relax on the patio. Most amazingly of all, you are in Singapore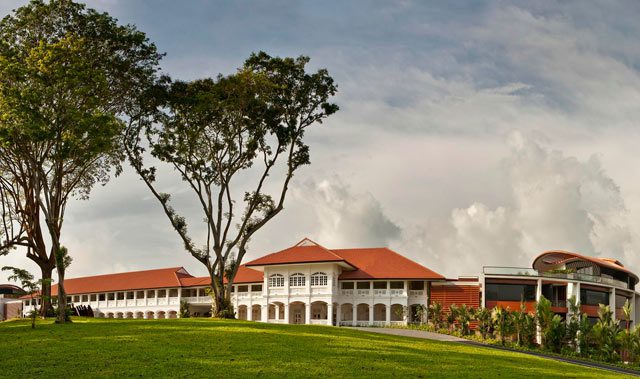 The Club at Capella Singapore has redefined the rules for long-term stays in Southeast Asia's shiniest city. Offering 62 sea-facing suites, ten penthouses and 11 standalone manors, The Club is the cognoscenti's choice for luxury living in the city-state.
Setting off from the historic bungalows – built in 1880 and housing Capella's reception and library – buggies zip around the property, between tropical Johor Fig and towering Angsana trees, delivering guests to their unit of choice, all of which are designed by legendary British architect Norman Foster with interiors by famed designer Jaya Ibrahim.
The three-bedroom penthouses, set over two floors, sparkle with contemporary flair. Two living rooms provide ample space for families to indulge their viewing habits, a sleek kitchen and dining room allow guests to recreate the tastes of home, while gargantuan floor-to-ceiling windows provide the sights and sounds of the South China Sea.
Burmese teak flooring, fully integrated Bose home entertainment systems and bathroom fittings by Lefroy Brooks are standard, yet the indulgence factor is cranked ever higher at the 11 manors. Split into three categories – Contemporary, Capella and Colonial manors – and starting at 390 square-metres, all come with private swimming pools and occasional design flourishes, such as huge, mounted whale fin bones, that exude indulgence.
All Club guests are free to use the hotel's world-class amenities and are provided with exclusive access to the Clubhouse, with its private lounge, swimming pool, tennis court and complimentary breakfast, as well as maid, babysitting and personal assistant services.
Perhaps the heritage-listed Colonial Manors best embody Capella's manifesto, effortlessly fusing classic opulence with modern design. With the late afternoon's hazy glow peering between the wooden slatted windows and across the master bedroom decorated in beige and deep reds, life amidst the world's elite rarely felt so homey. Then the phone rings to announce the arrival of the hotel's chauffer-driven Rolls Royce, and life in Singapore's fast lane comes calling once again.
Back to the island
Capella Singapore is located on Sentosa Island, the city-state's playground for the young and young at heart, which boasts three pristine beaches, myriad dining options and numerous spas. The Club at Capella provides easy access to Palawan Beach, from where visitors can experience an indoor skydive at iFly, visit the island's butterfly park, or zoom down a hillside in a cart on the Skyline Luge.
Moon moods
Treatments at Capella's Auriga spa, named after a constellation, are based on the cycles of the moon. Vitality pools and herbal baths rejuvenate guests alongside signature treatments at Auriga, which has been awarded five-star status by the Forbes Travel Guide, one of just 22 spas worldwide to have achieved this rating.
History and modernity
Set upon a knoll overlooking the South China Sea, Capella Singapore's main building was formerly the British royal artillery officer's mess; the setting for numerous 19th century cocktail parties and soirees. Now fused with contemporary curves provided by Norman Foster, Capella has married a rich heritage with cutting-edge design and boasts fine dining choices, a sleek open-air terrace and three cascading outdoor pools.
Sssshhh
The main building is home to The Library, a restored colonial marvel containing grand armchairs and mountains of reading materials. An array of cakes, sweets and drinks are provided as a complimentary treat for all guests – the perfect accompaniment to an hour or two spent with one's head in a book.
Essentials
Website: theclubcapellasingapore.com. Tel: +65 6591 5054. Long-term stay rates at The Club (prices in Singapore dollars): apartments and suites start at $500 per night, penthouses $2,500 per night (both minimum seven nights), and monthly rates between $10,500 and $38,000. Manors start at $6,500 a night, with monthly rates between $38,000-$58,000.