The storied Eastern & Oriental hotel has spawned a stylish outpost in the centre of Kuala Lumpur: E&O Residences
The Eastern & Oriental hotel in Penang is one of the grand old dames of the Southeast Asian hotel scene. Founded by the Sarkies, the four Armenian brothers behind such jewels as Singapore's Raffles and the Strand in Yangon, the E&O opened its doors in 1885 and has seen off British colonial rule, survived two world wars and welcomed guests including Rudyard Kipling, Noël Coward and W. Somerset Maugham.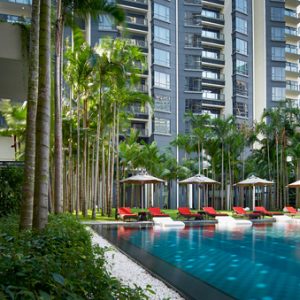 Needless to say, E&O Residences Kuala Lumpur has quite a bit to live up to.
Despite bearing the name of one of the region's finest hotels, the Residences wisely follows a different path. Where the original basks in its colonial charisma, the Residences radiates urban cool. If the Penang property is a hub for well-heeled adventurers, the Kuala Lumpur outpost is a child-friendly oasis.
Wooden walkways traverse gently bubbling rockpools, palm trees stand guard over poolside cabanas containing private jacuzzis and suspended daybeds rock gently back and forth in the landscaped garden courtyard. An unmistakable resort atmosphere pervades this most metropolitan of locations in the heart of Kuala Lumpur's central business district, though on entering any of the 200 rooms the ambience quickly reverts to modern city living.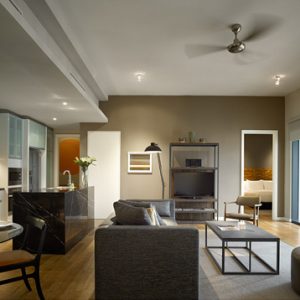 The large one- and two-bedroom suites are the finest serviced residences we've come across in Kuala Lumpur, all of them boasting a fully equipped kitchen, vast standalone baths and a sleek grey finish with smatterings of more natural tones. Yet the star of the show is undoubtedly the intimate view of the Kuala Lumpur Tower, the 420-metre broadcasting tower that glows somniferously at night and dominates the KL skyline along with the Petronas Towers. Its hazy ultramarine hue seems close enough to touch from one's E&O residence, where the Malaysian capital's most renowned landmarks are almost literally on your doorstep.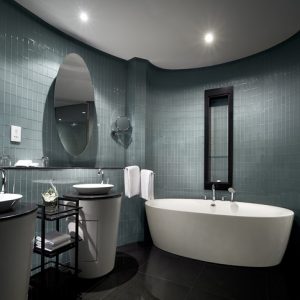 Food nearby
Food is the best reason to come to KL. Yet for those lazy afternoons where you just can't face heading into town, St Mary Place is a decent option. Attached to the Residences, this small enclave includes Sushi Hinata, previously shortlisted for Best Japanese in the Time Out KL Food Awards.
Shopping close
It is rather difficult to visit KL without sampling the city's mall culture, and there is little point in trying to ignore it, with many of the capital's best restaurants, bars and activities located inside these gleaming shrines to shopping. E&O Residences certainly benefits from a prime location to take in the earthly delights of Bukit Bintang, the city's main shopping drag, with the famed Pavilion mall just a ten-minute walk away.
Speaking made easy
The worldwide trend for bars based on 1920s speakeasies has very much found its way to KL. A number of brown-leather-and-dark-wood-infused establishments have sprung up, but our choice is Mr Brooks, which specialises in gin and leans on the swinging London of the 1960s for its design cues. The in-the-know factor here is high, with Mr Brooks located on an upper level of the Bangsar Shopping Centre, with no sign and just a purple Sunbeam car apparently parked in a garage announcing its presence.
Crack pork
Crack Pork is a tiny little place tucked away in Kota Damansara, but it might just be turning out the best pork in the city. Run by extreme pork fans Siew Ching and Juan Lyn, the pork here is roasted on site every day. Try the porchetta baguette, but the star of the show is the Peking pork mantao – crackly roasted pork with hoi sin sauce, sliced cucmber and spring onions encased in mantao, the light-as-a-cloud steamed Chinese bread.
Batting cage
Baseball is slowly catching on in Malaysia, and that's good news for parents visiting with kids who are looking for something fun, different and physically active to do. Budding Babe Ruths should head to It's a Hit! batting cages in 1 Utama shopping centre, where rock-hard baseballs will be flung at participants at extremely high speeds.

Essentials
Tel: +603 2023 2188. Address: 1 Jalan Tengah, off Jalan Sultan Ismail, 50250 Kuala Lumpur. Website: eoresidences.com. Email: reservations@eoresidences.com. Rooms: 105-square-metre one-bedroom suites and 134-square-metre two-bedroom suites. Suggested accommodation: both room types are comfortable and spacious, but obviously two-bedroom suites are a necessity for families.
Keep reading:
Tradition is a guide – George Town's E&O hotel laid the foundations for luxury hotels in the region and remains a role model today