In an upscale Ho Chi Minh City café, Eddie Thai is describing Vietnam's tech startup scene. Wearing a t-shirt and jeans, and with a distinctly youthful face, Thai's relaxed appearance belies a methodical and calculated approach to life. He gives off the impression of someone who, as a teenager, spent his weekends playing video games with friends, but periodically snuck off to check his stocks.
Now aged 31, the Vietnamese-American entrepreneur was included on the 2015 Forbes Vietnam 30 Under 30 list and in January was selected as one of 50 "Global Shapers" to attend the World Economic Forum's flagship conference in Davos, Switzerland.
Thai is a venture partner at 500 Startups Vietnam, a branch of the Silicon Valley venture capital firm that has invested in more than 1,500 technology companies worldwide and manages more than $200m in assets. The firm's model is simple: find promising startups, lavish them with cash and hope for a return on the investment. With $10m to hand out to Vietnamese startups, the 500 Startups team is now scouring the country for new businesses in fields such as financial technology, educational technology, e-commerce and more.
"I had a very typical American childhood, except with a Vietnamese flavour"
Thai's father, the son of a poor Mekong Delta farmer, earned scholarships that allowed him to leave his village for university in Ho Chi Minh City. At the height of the Vietnam War, he was accepted to a PhD programme at Syracuse University in New York. He left the country in 1971, with his wife following soon after.
Thai was subsequently born in Massachusetts but grew up in Florida where there were few other Vietnamese families. "I had a very typical American childhood, except with a Vietnamese flavour," he jokes, remembering a house filled with the smell of bún riêu and the sounds of the Vietnamese language.
A precocious child, Thai was bookish, facilitated by his professor father. Curious about his heritage, Thai began reading up on Vietnamese history, both ancient and contemporary. "Even then, I knew I would come to Vietnam at some point," he remembers. Thai made his first trip to Vietnam, with his family, when he was 16.
After studying government and economics at Harvard University, Thai spent a few desultory years working for a management consultancy outside Washington, DC, but quickly became disillusioned with corporate life. "I felt distanced from seeing the real impact of my work," he explains.
After completing an MBA in private equity and entrepreneurship at Yale University in 2012 – "They do a very social impact-y kind of thing," he says – Thai began to plan his "pivot over" and soon landed a job in Vietnam with private equity firm VinaCapital. Vietnam, a country with an increasingly tech-minded population and rapid economic growth, was somewhere he felt he could carve out a niche.
Vietnam's startup revolution
He recalls a conversation during his early years in Vietnam with Henry Nguyen, the man who brought McDonalds and Forbes to Vietnam. Sitting in Nguyen's office near the top of the Bitexco Financial Tower in Ho Chi Minh City, the city's tallest tower, Thai and Nguyen spoke about the nation's future. "We're looking out towards the city," Thai recalls, "talking about a ten-, 20-year vision for where Vietnam could go and what my role could be."
After two years at film distribution giant CJ CGV Vietnam – where within eight months he became the company's youngest-ever director of strategy and corporate development – Thai began taking tentative steps toward opening his own venture capital fund. He reached out to 500 Startups for help and, instead of money, they offered him a job.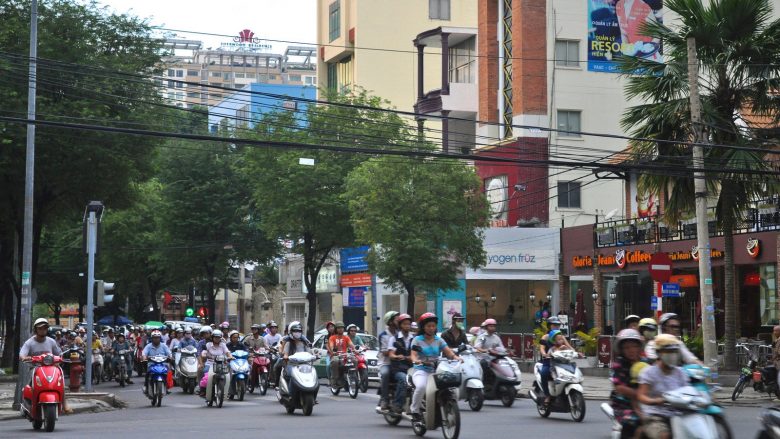 Thai joined the company in August 2015, and since the public launch of 500 Startups Vietnam in March it has invested in roughly a dozen businesses, just the beginning of the 100 to 150 it plans to finance in the country. To receive funding, a startup must convince Thai and Binh Tran, the other half of the Vietnam team, that the business is worthy of investment. If Thai and Tran agree, they send the candidate on to a US-based "investment committee" for final approval.
Within Vietnam, Thai says he is noticing two key startup types. "The first category is [companies] seeing a business model or product working [well] elsewhere and deciding it should be done here." He cites the now-defunct Nhom Mua, a spinoff of the popular US company Groupon that connected users with cheap deals on dining, entertainment and other services.
Other times, companies want to solve problems more specific to Vietnam, such as English language pronunciation. "Folks in Silicon Valley are generally all fluent in English," Thai says. "Here in Asia, it's a huge thing getting people up to par."
The ELSA app, with an undisclosed investment from 500 Startups, wants to fix that. Say an English phrase into a smartphone and ELSA will point out which syllables were spoken correctly, which were spoken incorrectly and how to fine-tune the pronunciation. "It's pretty cool," Thai says with a big smile.
Thai, who works seven days a week, describes Vietnamese startup founders as "hustlers". Their ingenuity, he believes, is less an innate cultural trait than a product of Vietnam's recent socio-economic history. "When you have decades of limited resources and so on, you figure out how to make the most of everything," he says. "That's an immensely valuable ability to have in a founder."
In recent years, Vietnam has received international attention as a burgeoning tech hub. Released in 2013, Flappy Bird was a mobile game by Hanoi-based developers dotGEARS rumoured to be making upward of $50,000 a day. And Misfit Wearables, a brand specialising in wearable technology founded by Vietnamese entrepreneur Sonny Vu, received investment from former Apple CEO John Sculley. "I don't see why these [kinds of success stories] can't continue," Thai says.
Given Vietnam's generational shift toward entrepreneurship, they likely will. "Folks born in the 1960s onward, they tell their children: 'Why the heck are you thinking of starting your own company?' They think people should get jobs in government, or state-owned enterprises – whatever is comfortable.
A new generation
"The kids I see, often they don't want to follow in their parents' footsteps. They explore and make their own path."
Thai says that there is a "sexiness" to startups that has infiltrated Vietnam from the US, where two-thirds of 'millennials' want to start their own company. As in the US, where businesses such as messaging app Slack have received astronomical investments in their first few years, a 'get-rich-quick' mentality around startups has begun developing in Vietnam. "People see it as winning the lottery," Thai notes, "one that seems to be more accessible than the actual lottery."
A recent BBC article that featured Thai went as far as to ask whether rapidly developing Vietnam could become the next Silicon Valley. But this kind of sensationalism is "just to get clicks", according to Thai. "I don't think anything can be like Silicon Valley," he adds. Trying to emulate that level of notoriety would only "set up any market for failure".
Thai would eventually like to return to the US, a country that he says is unmatched in opportunities for entrepreneurs. But although he has set his sights stateside, Thai says he is still doing his best to "build Vietnam" for a more industrious generation.
"I encounter young people here who, despite their challenges, have been able to learn a lot just of their own accord – through the internet, at the library," he says. "If they had the opportunities to study like I had, imagine what they could do."