Cambodia's first 99% plastic-free restaurant serves traditional Khmer dishes using local ingredients whenever possible – and with no MSG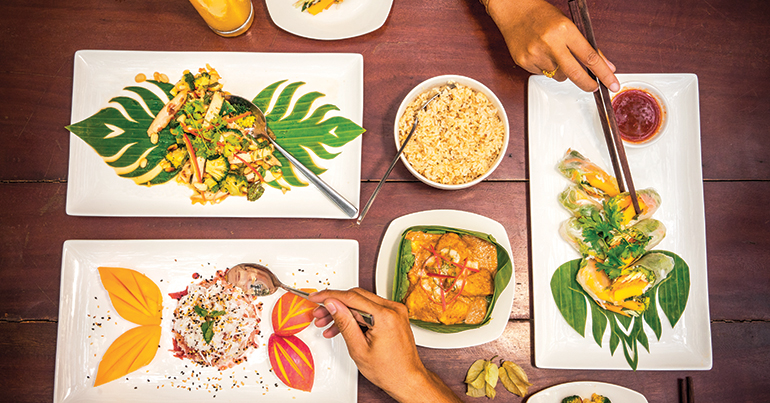 From Toul Tompong to Boeung Keng Kong
With more than a dozen years of experience in hospitality, Soklim opened her first restaurant, Eleven One Kitchen, in 2014. Eleven One, she says, is her lucky number. With a menu offering both classic Khmer favourites as well as western specialties, her mission is to prepare delicious, homemade food using local products – and without the use of MSG.
Soklim's first outlet, set in the trendy Toul Tompong (Russian Market) area, features a spacious outdoor patio, plenty of plants and even an air-conditioned space. The open kitchen gives diners a front-row view of the chefs at work, providing both transparency and trust, consistent with the restaurants ethos of hygienic preparation.
Set in a lush garden in a tranquil street in buzzing Boeung Keng Kong, Soklim's second restaurant – Eleven One Kitchen BKK1 – feels like an oasis away from Phnom Penh's concrete jungle. A small fountain and abundant vegetation welcomes guests, while a small path leads to the cozy yet spacious wooden terrace under natural bamboo shade. The restaurant's interior comfortably accommodates medium-sized gatherings and features walls decorated with creative paintings, while a dedicated meeting room can offer additional privacy.
Vision of the owner Soklim Srun
"My vision and mission is to provide healthy, fresh and homemade food, cooked with seasonal, local produce whenever possible and without MSG. To eat healthy should not be a privilege but a right for both locals and foreigners visiting Cambodia. Furthermore, I'm determined to reduce the use of plastic in my restaurants and I see Eleven One Kitchen being a role model for ecofriendly hospitality businesses both in Cambodia and internationally", says Soklim
Looking after the environment
Facing one of Cambodia's biggest challenges, the unbridled consumption of single-use plastic and garbage throughout the country, Eleven One Kitchen follows a strict no-plastic policy at their restaurants. All our packaging materials are biodegradable and drinking straws are made out of bamboo. Eleven One Kitchen takes their efforts to improve the environment beyond their own business practices, working to influence other links in the supply chain. Soklim explains that, "we do our best to encourage our suppliers to use plastic alternatives, asking them to deliver all products in boxes whenever possible."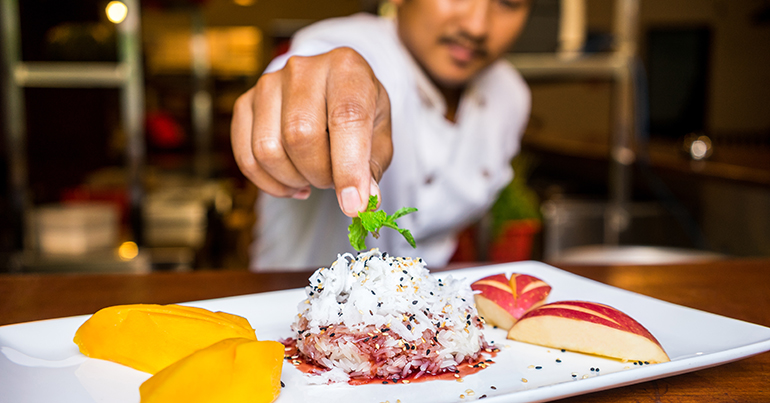 Additionally, Soklim pays close attention to teaching her staff about the negative effects plastic has on the environment (and hence on us), and encourages them to choose plastic-free alternatives in their daily lives. "It has taken some time, and I understand that it is a difficult change as plastic is so easily accessible and given at every occasion, but I feel so proud when I now see my staff with reusable lunch boxes and drinking containers," she says. "It makes my heart leap and I know that over time, more and more people will reduce their plastic foot-print."
Eleven One Kitchen has become the caterer of choice for many organisations in Phnom Penh due to its delicious Khmer and Western dishes, catered in stainless steel trays and served on real plates, with real cutlery and real glasses at the location. Zero plastic waste is their aim!
Sustainable business practices and fresh, locally grown ingredients
Cambodia offers an abundant variety of delicious fruits and vegetables used throughout Khmer cuisine. Eleven One Kitchen cooperates directly with their suppliers and favours produce from independent farmers such as those from their head chef's province of Kampong Thom. By purchasing directly from the farmers, Eleven One Kitchen is able to ensure that much of the produce they use is locally grown, while at the same time supporting local farmers who otherwise wouldn't be able to position their products in the market. Soklim explains that "whenever possible, we source our produce from supplier here in Cambodia. This allows us to accomplish three things. Ensure the quality and freshness of our food, reduce our carbon foot-print, and support local communities."
For all their dishes, they choose only the freshest ingredients to ensure the best taste, and in order to achieve the distinct flavours that Eleven One Kitchen is known for.