How civilians are being dragged into Duterte's war against Abu Sayyaf
The Duterte regime is boasting of its successes in the fight against Abu Sayyaf extremists, but its tactics may be punishing innocent civilians just as much as the terrorist group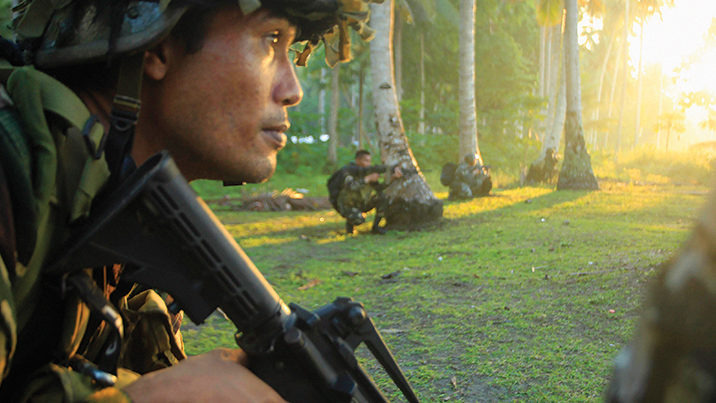 As the propeller plane descended into the Philippine city of Zamboanga, the man in the seat next to mine revealed that his cousin is a member of Abu Sayyaf, the most feared terrorist group in the island nation. "It's complicated," he said. "A lot of people around here support them."
Philippine President Rodrigo Duterte's war on drugs has received global media coverage – and, indeed, condemnation – but here, in the southernmost region of the country, Duterte is also at war with Abu Sayyaf.
The group, which is blacklisted by the US and responsible for a spate of kidnappings and bomb attacks in the Philippines, is based on two islands in the southernmost waters of the Philippines: Sulu and Basilan.
More than 10,000 government soldiers have been sent to the islands, located south of mainland Mindanao, since Duterte came to power. In September, the outspoken strongman vowed to "destroy" Abu Sayyaf, pledging he would "eat them alive". Yet amid the tough words, there are concerns that the military operation against Abu Sayyaf is having limited impact and may be harming civilians as much as it hurts Abu Sayyaf.
Sheikh Gustaham Loderson, a Muslim religious leader from Sulu, said it is the people of Sulu who are suffering in the military operation. Speaking from his office in Zamboanga, a stone's throw from the city's seafront which looks over a calm expanse of water to Basilan, he told Southeast Asia Globe: "People are suffering because, let's say during harvest time when there are fruits and coconuts, they want to harvest, but the military is holding operations. They are not allowed to go back [to their land]."
Gustaham, who works as a consultant for NGOs, said the tactics of the Armed Forces of the Philippines (AFP) – ordering civilians out of an area where Abu Sayyaf is thought to be operating and then shelling suspected Abu Sayyaf positions – is not effective.
"Abu Sayyaf does not have a permanent camp," he said. "They just move from place to place. It is not easy for the military to catch them."
Mark Bidder, head of the UN's Office for the Coordination of Humanitarian Affairs in the Philippines, agreed that it is civilians who are suffering most. "Suddenly they find themselves in the middle of a security operation, the danger of being caught in the crossfire, the trauma of having to flee their homes, the concerns they would have about their own loved ones who they might not be able to contact," he said.
As of September 2016, approximately 32,000 people had been displaced on Sulu and Basilan by clashes between Abu Sayyaf and the AFP. The Philippine government and NGOs such as the International Committee of the Red Cross are coordinating to provide humanitarian assistance to the internally displaced persons.
"The main plan, why they deployed 10,000 soldiers, was to isolate Abu Sayyaf so they cannot carry out kidnappings," Gustaham said. "There's 10,000 soldiers, but there are still kidnappings happening."
Kidnappings are certainly big business for Abu Sayyaf, whose name means 'Bearer of the Sword'. A confidential government report, seen by the Associated Press in October, said the group received $7.3m in ransoms in the first six months of last year.
The report also said Abu Sayyaf had changed its kidnapping tactics in recent months. With the influx of soldiers into Sulu and Basilan restricting the group's movements, the extremists are reported to be favouring the tactic of targeting slow-moving cargo ships.
In November, the group launched a dawn raid on a Vietnamese cargo ship. Ten gunmen boarded the ship from speedboats and seized six hostages. In December, the group demanded $2m for the release of five Malaysian sailors it had been holding on Sulu for five months.
Since President Duterte came to power at the end of June, there have been at least nine reported kidnapping attacks by Abu Sayyaf, with at least 25 people abducted. Sabina Wetch, a German national, was shot dead by the militants in one such raid in November, and her partner, Jürgen Kantner, was taken hostage.
According to Gustaham, though the people of Sulu may disapprove of Abu Sayyaf's tactics, they are not behind the Philippine military either. "This activity of kidnappings and beheadings, the people do not support that," he said, "but because of family ties they also keep silent."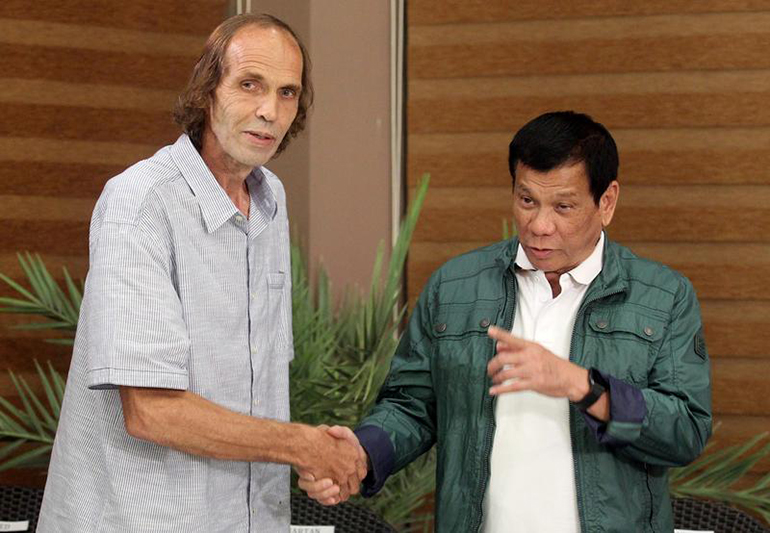 Abu Sayyaf is a splinter group of the Moro National Liberation Front (MNLF), breaking away in 1991 under its leader Abdurajak Abubakar Janjalani because it disagreed with the policy of pursuing greater autonomy, instead wanting to establish an independent Islamic state. In 2016, Abu Sayyaf pledged allegiance to the Islamic State (Isis).
Gustaham said that, though the MNLF and Abu Sayyaf are separate entities, and MNLF has said it supports the Philippine government in the war against Abu Sayyaf, there are still strong family ties between members of the MNLF, civilians and Abu Sayyaf on Sulu.
But there are also concerns that people on Sulu and Basilan are not just staying quiet, but also being driven to join Abu Sayyaf's ranks.
"The civilian economy is affected," said Gustaham. "They are working agricultural land, but they cannot do it now [because of military operations]. It will even contribute to the violence, because if people have no jobs and, because of the ransoms, Abu Sayyaf has its own money, then they can [find it easier to] recruit."
The displacement is exacerbating what is already an insecure situation. The Autonomous Region in Muslim Mindanao, which includes Sulu and Basilan, is the poorest region in the Philippines, with 56% of the population living in poverty as of December 2015, according to the UN. And Sulu, in particular, is the second-poorest province across the whole of the Philippines, according to the Philippine Statistics Authority.
According to Bidder, there are concerns that such poverty is feeding into increasing support for Abu Sayyaf, especially among the youth of Sulu and Basilan.
"These are communities that have been frustrated, perhaps, by the lack of progress over the years, particularly in terms of dealing with the age-old issues: challenges of underdevelopment; lack of jobs; lack of opportunities," he said. "And there is some sense that with the youth, without a concrete hope for a better future, there would perhaps be a tendency of going towards more extreme ways of thinking and acting."
Many locals also perceive that their area and its people have historically been oppressed. Under the Philippines' former dictator Ferdinand Marcos, atrocities were allegedly committed against the Muslims of the southern Philippines, including the 'Jabidah massacre' – the killing of a number of Muslim army recruits – and the razing of Sulu's capital, Jolo, by the Philippine Army in 1973. Indeed, it was under Marcos' dictatorship that the MNLF emerged, and the organisation has fought the Philippine government since the 1970s for greater autonomy but is now engaged in peace negotiations.
Kalma Isnain, executive director at local NGO Integrated Resource Development for Tri-people, said the history of violence in Mindanao, and particularly on Sulu and Basilan, means that recruitment by Abu Sayyaf has become normalised.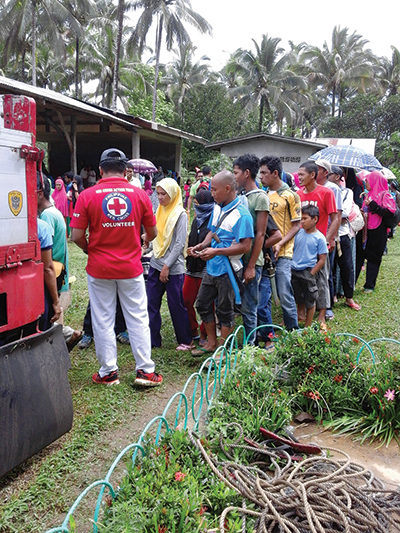 "The tension is already there, and the children are the ones most affected," she said. "For the locals it is normal because it is non-stop. These children, they have nothing to do with their lives, so they will join."
Gustaham agrees, but linked the situation to a general feeling of distrust toward the military in this Muslim region of an overwhelmingly Catholic country. "When you bring Christians to Muslim lands then some people will say it is a crusade," he said.
The Philippine government, however, maintains it is making progress against Abu Sayyaf. Former AFP chief General Ricardo Visayas – who stepped down in December – submitted a report in November which stated that in the first 100 days of Duterte's government 94 Abu Sayyaf militants had been killed, arrested or had surrendered. The AFP has also said that Abu Sayyaf currently has 350 active members.
"Key [Abu Sayyaf] leaders Nelson Muktadil, Braun Muktadil and sub-leader Mohammad Said were among the terrorists killed and bodies recovered in intense combat and ensuing search and retrieval operations," the report said.
But the military has also sustained losses. It has not released figures of the number of soldiers killed in the campaign against Abu Sayyaf, though media reports put the figure at at least 29.
Since his threats of cannibalism in September, Duterte has taken a more conciliatory tone. At the end of November, he said he would be willing to talk to the group, and in December he even wished them a "Merry Christmas".
In the same month, the Philippines' Department of Agriculture also said the government and some of the country's biggest companies were ready to pour investment into Sulu in a bid to alleviate poverty and counter extremism.
In 2017, the people of Sulu and Basilan will be hoping that negotiation and investment will succeed where bullets and shells have thus far failed.
---
Be a Part of the Story
---
Southeast Asia Globe is powered by members.

Membership programs will be available soon. Until then, sign up for our weekly summary of stories from the region.
Donate and support independent journalism.

Donations help us keep our journalism free and independent. Support stories from Southeast Asia that matter.
---
---
Read more articles