One of the crown jewels of Thailand's tourism sector, Koh Samui beckons visitors with high-end resorts, water-borne adventure, one very large Buddha and, of course, sublime views that soothe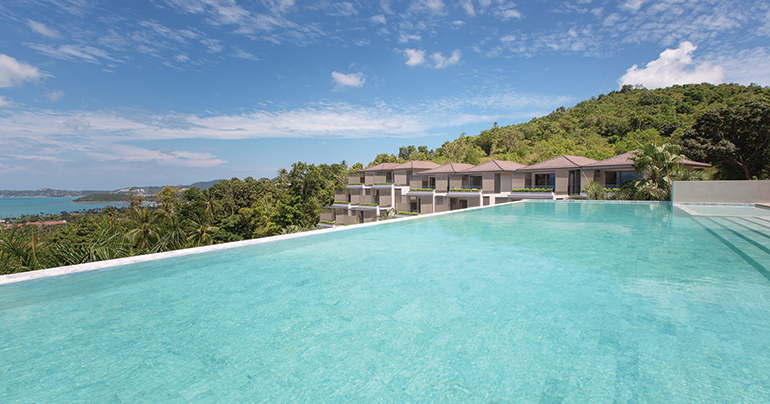 It takes a few seconds for it to register as you descend from the clouds to find scattered islands and coastline curled in a perfect blue-green drink: you're about to land inside a Thailand tourism brochure. Such images of the upscale outpost of Koh Samui lure over a million visitors to one of Thailand's most popular tourist destinations each year.
Koh Samui is Thailand's second biggest island next to Phuket, its much more developed neighbour to the southwest. Unlike Phuket, Koh Samui's hotels and resorts are smaller, less assuming. They are carved out of the jungle in a way that makes them feel part of the natural scenery, less grating to the senses than the towering high-rise resorts and construction cranes dotting competing coastlines.
The island has a reputation for covering the needs of travellers of all age groups and interests. Young backpackers have plenty of cheap lodging choices in the villages that dot the island. All-night party people have their pick of beach bars, nightlife and walking streets – or even an overnight jaunt to the island of Koh Phangan for its infamous full-moon parties.
For the betrothed, Koh Samui is a romantic wedding destination, with options from low-key beachy nuptials to the full-service five-star resort treatment that handles all the details. Couples with children will find nanny services and supervised kids' clubs at many hotels and resorts so that they can also enjoy spa services or a night out.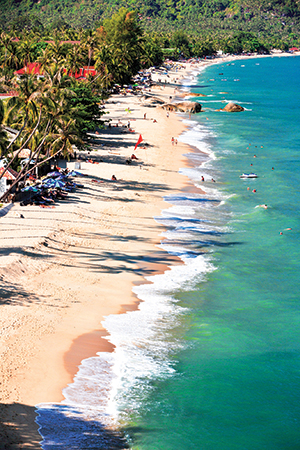 The friendly vibe and plethora of quiet, tucked-away accommodations make Koh Samui ideal for older travellers too. Whether it's grazing at a resort buffet, taking a yoga class, sailing or having an aperitif before dinner, retirement-age visitors have a full range of activities at their disposal, all in low-key settings of unpretentious luxury. This paradise offers something for all tastes.
Where
to stay
Visitors enjoy ample options for overnighting, from cut-rate bungalows to five-star luxury retreats. Mantra Samui Resort, an 11-minute drive from Fisherman's Village, is a couples-focused romantic getaway set in the side of a hill. Floating under the stars in a saltwater infinity pool perched on a hillside with a grand view of the Gulf of Thailand, we could hear the teensy trickle of an American rock'n'roll tune floating up from a bar far below. It was a world away, so faint as to barely register in our consciousness on our first night in the paradise that is Koh Samui. The all-day noodle bar, signature cocktails and other Thai comforts at the poolside restaurant and bar soothe the soul. The property's Jai Spa offers a range of exclusive Ayurvedic-style therapies in dark, calming rooms where reality recedes and rejuvenation becomes, well, the mantra.
Banyan Tree Samui is a stunning property on a private bay that enjoys pristine ocean views and which has Thailand's only "holistic hydrotherapy" experience, The Rainforest. Walking over smooth rocks through a tropical shower tunnel, you enter a sauna room where you are coated head to toe in mud. A sharp yank on a chain brings down a bucket of freezing water to scour you clean before you wend your way through a labyrinthine pool replete with water jets to stretch your muscles in the "lazy river". It's all in the details at this secluded hillside idyll, where guests receive a custom smartphone and their own personal villa host. Despite the private beach, one-of-a-kind spa and uber-swanky Saffron restaurant, you can easily spend your entire stay in your secluded villa, with its private infinity pool and romantic outdoor seating overlooking the sparkling bay.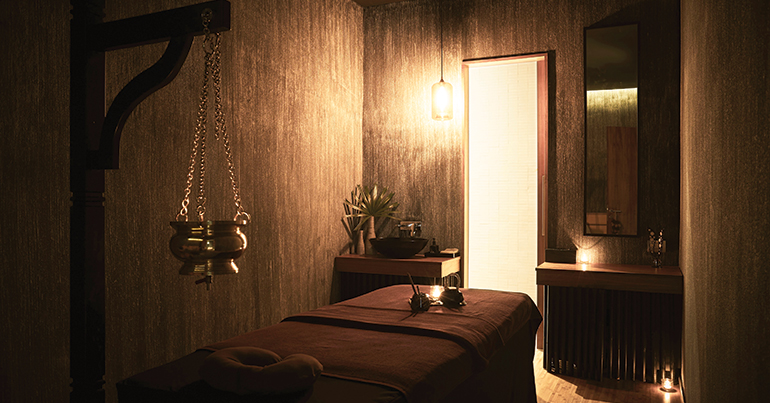 Other luxury stays include the Fair House Beach Resort & Hotel, a few minutes from the Samui Airport on Chaweng Noi beach. Like so many other green properties on Samui, this family-friendly destination is helping to protect the area's delicate ecosystem. Fair House replants dying coral in its own coral plantation, which guests can explore on free snorkelling excursions. The Fair House grounds look like they've been hewn out of the jungle canopy, and one of its two pools was actually built around an existing rock face that seems to have erupted from the bottom of the pool. A quick cab ride takes you to the Central Festival mall and Chaweng, Samui's downtown shopping and nightlife district.
Day on
the water
The day we spent on a speedboat with a friendly crew from Samui Boat Charter was the highlight of our Koh Samui adventure. We set off from Chaweng Beach in the morning and were snorkelling over a lively coral reef across a pristine patch of Angthong National Marine Park. Clear waters afforded us an underwater show as thousands of fish poked and played around the coral.
Our next stop was Mae Ko Island, where we hiked up several steep flights of stairs to find the ocean-fed saltwater Emerald Lagoon sunk hundreds of feet into the sultry jungle floor below. Then we were off to lunch at Phalauy Island, where we docked among fishermen's metal-roofed stilt homes and feasted on succulent fresh-caught fish and shrimp at the quaint Phalauy Seafood restaurant, the only sign of commercialism on that part of the tiny island. As the storm clouds gathered, we got back on the boat and headed back out to sea.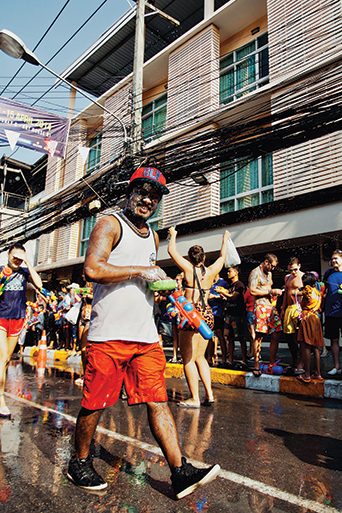 Eating,
drinking, markets, fire
We were lucky to land on Koh Samui on a Friday because that's when the Fisherman's Village Walking Street happens, a pedestrians-only avenue lined with stalls where locals and visitors alike can shop, stroll and eat in peace. We started our evening with some Thai classics at Krua Bophut on Bophut Beach, built in the fashion of a classical Thai house, all dark woods and steep gabled roofs. We chose a table right on the beach, with the gentle lapping of the water accompanying each course. Their prix fixe menus ensured we got a taste of several Thai classics plus local fare, including white snapper and prawns in various styles, and a roasted duck curry that we won't soon forget.
The thing about eating before you hit the night market is that you're full up and are missing the whole point of eating anything and everything along the walking street. Along with a dizzying array of low-priced street food, this market offers all the standard Thai tourist knickknacks, Muay Thai demos, live music and street performers. To top off our evening, we sat on beanbags with cocktails on the beach at the west end of the walking street where we'd begun, and watched eruptions of fire and sparks during the fiercest fire show we've ever seen.
If you can't make it to the Friday night market, head to downtown Koh Samui's Chaweng Walking Street for endless fresh seafood, beers and shopping every night of the week. Hopheads shouldn't miss The Beer Masons in the Chaweng district. This trendy beer snob mecca, opened in 2015 by a couple of guys from Sweden and the Czech Republic, offers over 130 brews from around the planet. For serious beer nerds and those who can't but love them.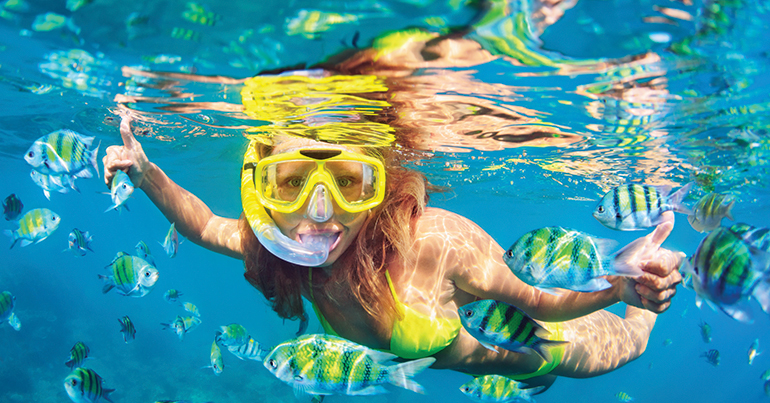 Out and
about
Adventurous visitors have several options for guided or self-guided treks for every fitness level. One of the easier treks that's popular among photographers takes hikers along a mountain rim up to Maenam Viewpoint for a panoramic view of the turquoise gulf and the Big Buddha. A more challenging trek is up the Nathon Mountain Ridge Trail, through a valley of coconut trees, an emerald forest and a lush, tight jungle to a perfect sunset summit.
On our last full day on Koh Samui, we hired a cab to take us around to the tourist must-sees for an easy breezy day of fun sights and people watching. Our first stop was at the Guan Yu Shrine to the historical Chinese general now revered as a god of war. After you've worked up an appetite getting your picture taken with the giant red deity, you can get a simple, quick bite at Hainanese Chicken Rice, steps from the big man.
[manual_related_posts]
From there, a 20-minute drive into the interior of the island takes you to the top of Pom Mountain (or Khun Nim Peak), the highest elevation on Samui, to a private sculpture park called Secret Buddha Garden. Durian farmer Khun Nim Thongsuk started building this mountain oasis in 1976 at age 77, and kept building it until his death at 91. There's a bit of an arduous incline hike to get there, but the climb is well worth the sight of waterfalls and statues depicting Buddhas, animals, angels, and the builder and his parents, plus Thongsuk's tomb and several spirit houses.
We headed back down the mountain to the main artery around the island, and headed north to the Hin Ta and Hin Yai (Grandpa and Grandma) Rocks, which somewhat resemble the male and female genitalia. When we were done watching tourists giggle, we had fun exploring the souvenir shops and coconut ice cream and caramel stalls before heading north to see the Big Buddha and Wat Plai Laem temple to round out another perfect day.
This article was published in the July 2018 edition of Southeast Asia Globe magazine. For full access, subscribe here.