A few months after the 2014 release of The Journey, now Malaysia's second-highest-grossing film, director Chiu Keng Guan was dubbed the '17 million ringgit man' by a local newspaper. Many filmmakers might have taken the financial accolade as a barometer of success, but Chiu reasoned that putting the box office ahead of the art could have meant an early end to his career.
"If you keep on thinking about how to make money, you won't," says the 44-year-old. "After you make a film, there has to be a reset; you have to go back to normal." However, Chiu was under no illusion that after the success of The Journey, his future oeuvre would avoid being stringently judged against it. And he readily admits that there was a great deal of pressure on him as he prepared for his next movie.
He didn't disappoint. On 26 January, Ola Bola opened to commercial and critical acclaim. Raking in just under $600,000 in its first four days, and $4 million by the end of February, the feature was warmly received by most Malaysian film critics.
Chiu's latest for the big screen – his fourth in six years – is a fictionalised account of the Malaysian national football team's qualification for the 1980 Olympic Games in Moscow, secured via a triumph over a bullish South Korean team in a 2-1 home win.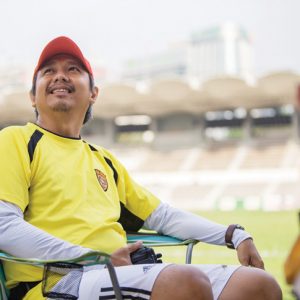 But the film is more than just a nostalgic tribute to an era when Malaysian football was respected across Asia. It also serves as an undisguised parable for a country often troubled by racial and religious enmity and currently immersed in an inglorious corruption scandal involving its prime minister.
"It's a story about Malaysia," Chiu says. "I wanted to talk about team spirit; how a team of young players went through difficulties, trained together, sweated together and how they worked as a team… I think nowadays it's too easy to give up when facing something difficult and people tend to blame each other."
Chiu's adjuration for national unity, exemplified by his film's celebration of Malaysia's legendary multiracial national football team, struck a chord with his countrymen. As one local newspaper eulogised: "Ola Bola [has] been able to do for Malaysia what many politicians cannot do – to remind us as a nation and as Malaysians, 'kita menang sama-sama, kita kalah sama-sama' (we win together, we lose together)".
It is, perhaps, fitting that Southeast Asia Globe met Chiu at Kuala Lumpur's Stadium Merdeka. It was here, in the early hours of 31 August 1957, that Abdul Rahman declared the country's independence from Britain. Abdul would go on to become the country's first prime minister, leading the multiracial political coalition, Alliance Party. Incidentally, he was also an avid football fan, serving as president of the Football Association of Malaysia for 20 years.
As we gaze out across the stadium, its worn green pitch being tended to by a handful of sun-weathered groundsmen, with its circular stands that have surely seen better days, Chiu reveals that, for all the messages and saccharine of Ola Bola, he had wanted to make a pure football film since he became a director.
"I'm a football fan," he says. "I used to play when I was young." His dreams of going professional were, however, short-lived. He never progressed beyond the high school stage and, today, he says he is rather estranged from the game. He hasn't played in years and doesn't watch as much football as he feels he should – "except Barcelona, who doesn't like Messi?"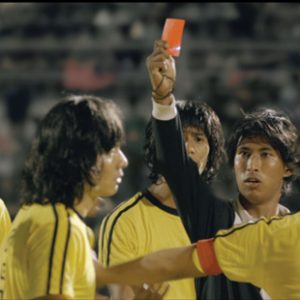 However, filming Ola Bola provided the former Liverpool fan – whose idol was the predatory Number 9, Ian Rush – with an opportunity to dust off his boots. It wasn't quite the same as he remembered it. "At my age," he jokes, "what your mind wants to do isn't always what your body does."
Getting the body to carry out the mind's orders was, in fact, a difficulty that Chiu faced on the sidelines as well. While the film was vaunted, the cast's footballing skills were called into question. "The cast need to be able to play football before they can act," one pundit was quoted as saying in a local newspaper.
No doubt such a criticism would aggrieve Chiu, who invested considerable time getting the actors match fit, so to speak. "Making a football movie was really tough," he admits. Aside from the actors, college-level footballers were used as extras on the pitch, and everyone involved went through four months of training. "We had to make them look like a team, because they didn't know each other and never played together. And their standards were different," he adds.
What's more, he found that the way football was played in the 1980s, when the film is set, was considerably different to today. "There was not so much skill. Now it's a lot of tiki-taka, so we needed to make it right. We didn't totally use the old-school way; something in between," he says.
When it finally came to filming, progress was slow. He allowed the actors to play in five-minute chunks and rarely cut scenes. "Everything was rehearsed but when you actually get on the pitch, it's different," he says. "Sometimes, someone doesn't control the ball when they're meant to, and when they pass the ball, sometimes someone tackles when he's not meant to. Even one or two goals took more than 40 takes, as we wanted to make it look real."
Pursuing authenticity has been pivotal in Chiu's career as a director. He is known for rebuffing the industry practice of casting stars in his films in order to augment box office figures. In his first two films, 2010's Woohoo! and Great Day a year later, radio DJs and television hosts played the main roles. Much of the cast of The Journey had never acted professionally before, and some were even plucked off the street by Chiu. For Ola Bola, a nationwide casting call was launched, with two of the leading roles going to an engineering student and a quantity surveyor.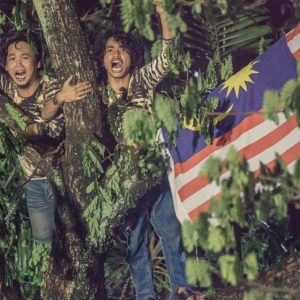 His down-to-earth ethos no doubt reflects his own personality. He casts a shy, humble persona, and often appears uncertain about his choice of words, speaking in short, crisp sentences that at times repeat themselves. On occasion, he is unjustly concerned about his command of English. Accompanying him is a communications executive from Astro Shaw – one of the production companies behind Ola Bola – who explains before the interview that she is on hand for translation purposes. She is never called upon.
Similar to many of the actors he casts, Chiu's path to directing was somewhat accidental. Born in 1972 in Batu Pahat, a district in southern Malaysia, in his early years he never aspired to be filmmaker. "I'm not like Stephen Spielberg, who knew he wanted to be a director as a child. I started quite late," he says.
Instead, he had two adolescent dreams: to be a footballer or an artist. The former never worked out but, as an artist, he studied graphic design at university, before his eureka moment struck: in his mid-20s he was sculpting a horse out of cement one day when a fragment of the adhesive fell onto a newspaper. Looking down, he saw an advert for positions at a local film production company.
He applied, and secured a job in quality assurance. Spending his days watching movies and checking for imperfections on the reels, he regularly skipped lunch breaks to learn how to use an editing console.
Before long, he had progressed to become an editor at the company and, realising that filmmaking was his calling, enrolled at the Beijing Film Academy in the Chinese capital.
A DIY ethos pervades Chiu's work ethic, right down to the fact that he will watch his films at the cinema several times. "I like to experience my films with crowds," he says. "Sometimes you might think they'll laugh or be sad at a certain point and, if they're not, you have to think why. Is there a reason, and are you going to change something? It's good to think about that."
Asked how much a filmmaker should take the audience's wishes into consideration, Chiu pauses and mulls it over. Eventually, he says he would never make a film simply to make the public happy or "fulfil their needs", but adds that, for him at least, he needs to know how an audience experiences a film.
Instead, the thing that separates good filmmakers from bad is drive and passion, he says, as well as a steely self-confidence. He speaks of his successes without a self-effacing pretence, duly proud of his achievements.
"If you really want to make a good movie… you have to really believe [in it]. If you put your love into it the audience can feel it," he says, before imparting some wisdom for younger Malaysian filmmakers: "Love what you do and tell the story you really want to tell."