Surrounded by fishnets, a boy sits on a hammock playing a game on his phone as a soft breeze passes by the wooden house, situated above an estuary that flows into the crystal blue waters of the Gulf of Thailand. His mother, a distributor for fishermen in the area, sorts through the catch of the day, delivered only moments before.
Today's assortment is a mix of flower crabs, crayfish and conch shells. Outside the house, villagers are starting off their day with a glass of black tea and condensed milk, exchanging the seafood they caught, while some are still resting after a long night fishing.
This is Sakom, a village in Chana district in Songkhla, a province in Thailand's Deep South. Close to Pattani, the heart of Southern Thailand's insurgency, Chana was placed under martial law in 2005 and has been under an emergency decree ever since – now managed by the Southern Border Provinces Administrative Centre (SBPAC), the devolved governing body for Thailand's restive southern states.
In the hope of reducing the unrest that has rocked the region for decades, the government has been seeking opportunities to improve the area's economy, and back in January, the Cabinet approved an investment plan for a Special Economic Zone (SEZ) in Chana district with a budget of 18.7 billion baht ($598 million).
Under Chana's industrial estate plan, Sakom village will be transformed into a 'model industrial city' to house industries such as robotics, renewable energy, and deep-sea ports. The development is part of the "Triangle of Security, Prosperity, and Sustainability" project, a larger vision to improve the Deep South's economy.
In Sakom, while investment is welcomed by some, this means that the village's generations-old artisanal fishery may be snagged on the hook of progress – transformed into a city that is part of the industrial estate, replacing traditional livelihoods of family-run fisheries in this tight-knit Muslim community. The proposed plan, whether that be a deep-sea port or an energy complex, also carries the potential to severely degrade what is currently a relative environmental oasis on Thailand's rapidly developing shoreline.
"Happiness of the people here is to have safe food, a clean ocean, and fresh air. That is real happiness," said Maimunao Chatbutdee, a fisherman in the village.
The contrasting visions held by the government and the villagers raise the question of how development in some of Thailand's poorest and conflict-affected states can be pushed forward without creating deeper divisions.
Amidst vastly different definitions of 'prosperity' between the central government and local communities, the development project is facing opposition as the villagers call for leaders in Bangkok to respect their way of life and stay away from their lifeline – the sea.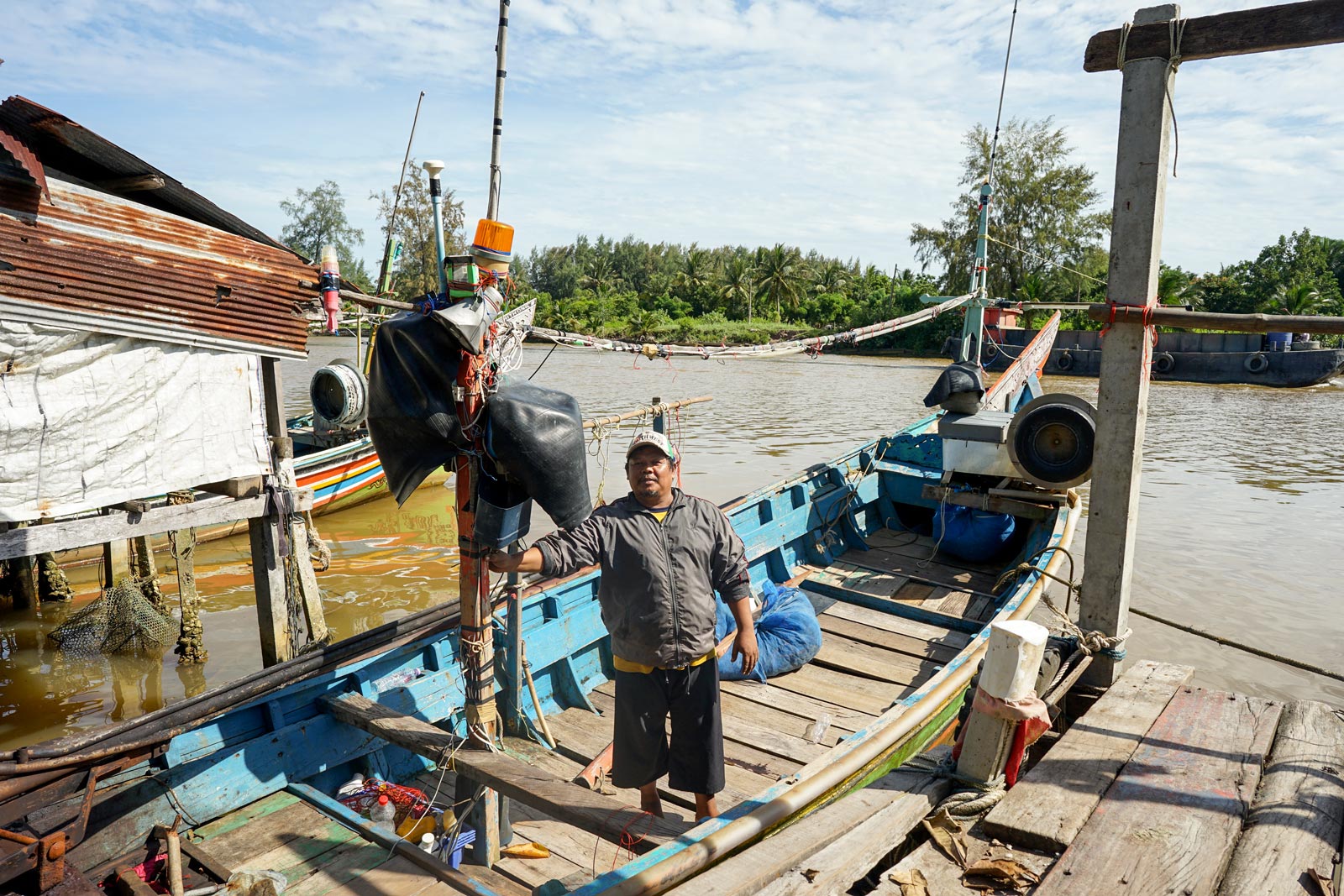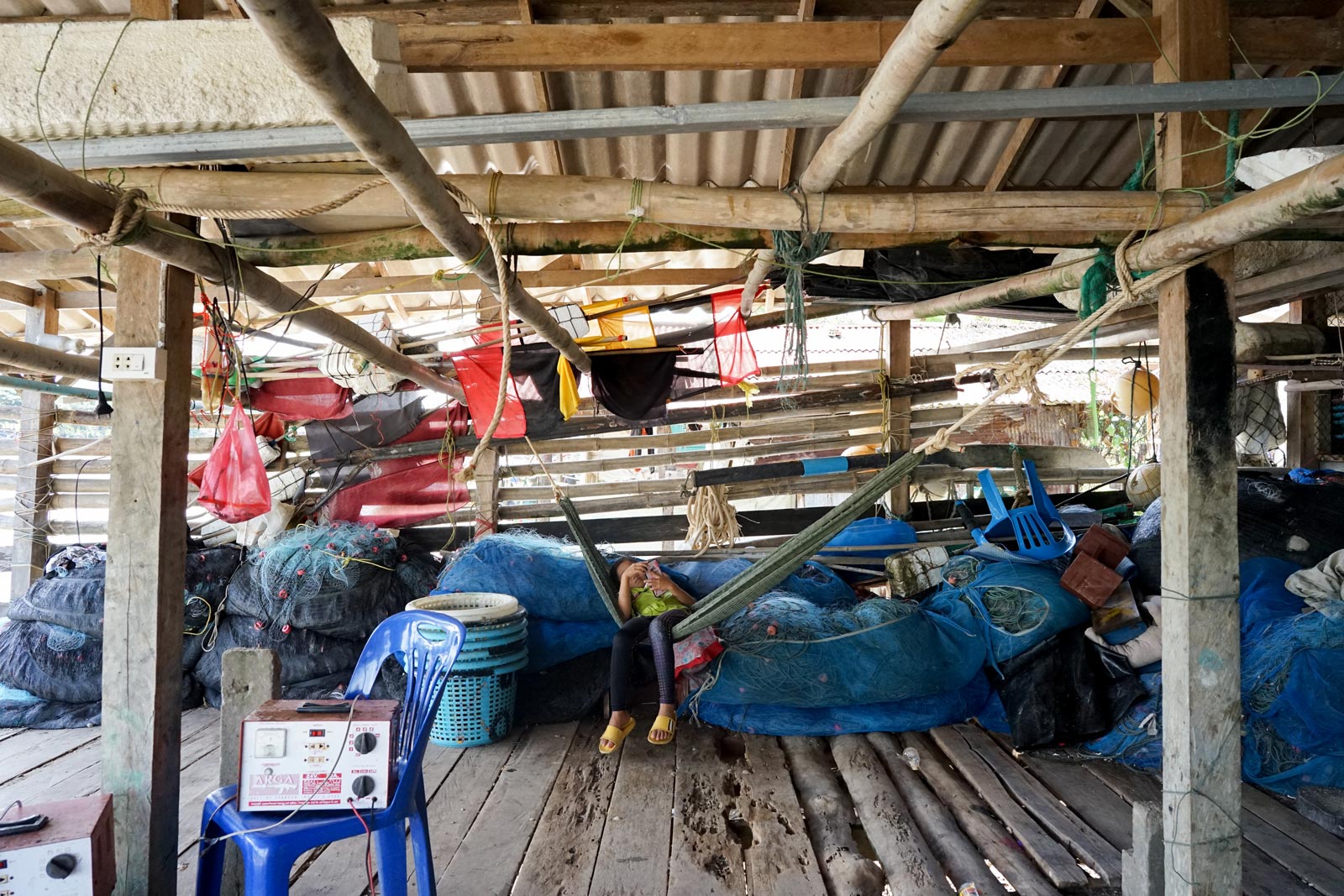 ---
There are over 300 families in Sakom, with nearly all involved in aquaculture. Most households are intergenerational and the whole family is involved in some form of fishery-related activity, from fishing to processing. The day-to-day catch is consumed within the household, sold to marketplaces, and exported abroad to countries such as China and South Korea.
"It's very plentiful," Kittiya Pakkkapet, a fisherman in the village, tells the Globe as she knits a fishing net. "We always have food. I don't want [the industrial estate] to take away our sea. It can be passed on to my children and grandchildren's generation, for them to provide for their families."
The people in Sakom have, for generations, enjoyed a simple lifestyle of hard work and subsisting on the riches of the ocean situated right outside their homes.
"It's like a bank. Where else can we find this kind of bank? We don't have to deposit a single baht, we can take money out all the time," said Kittiya. "But we have to conserve it, of course."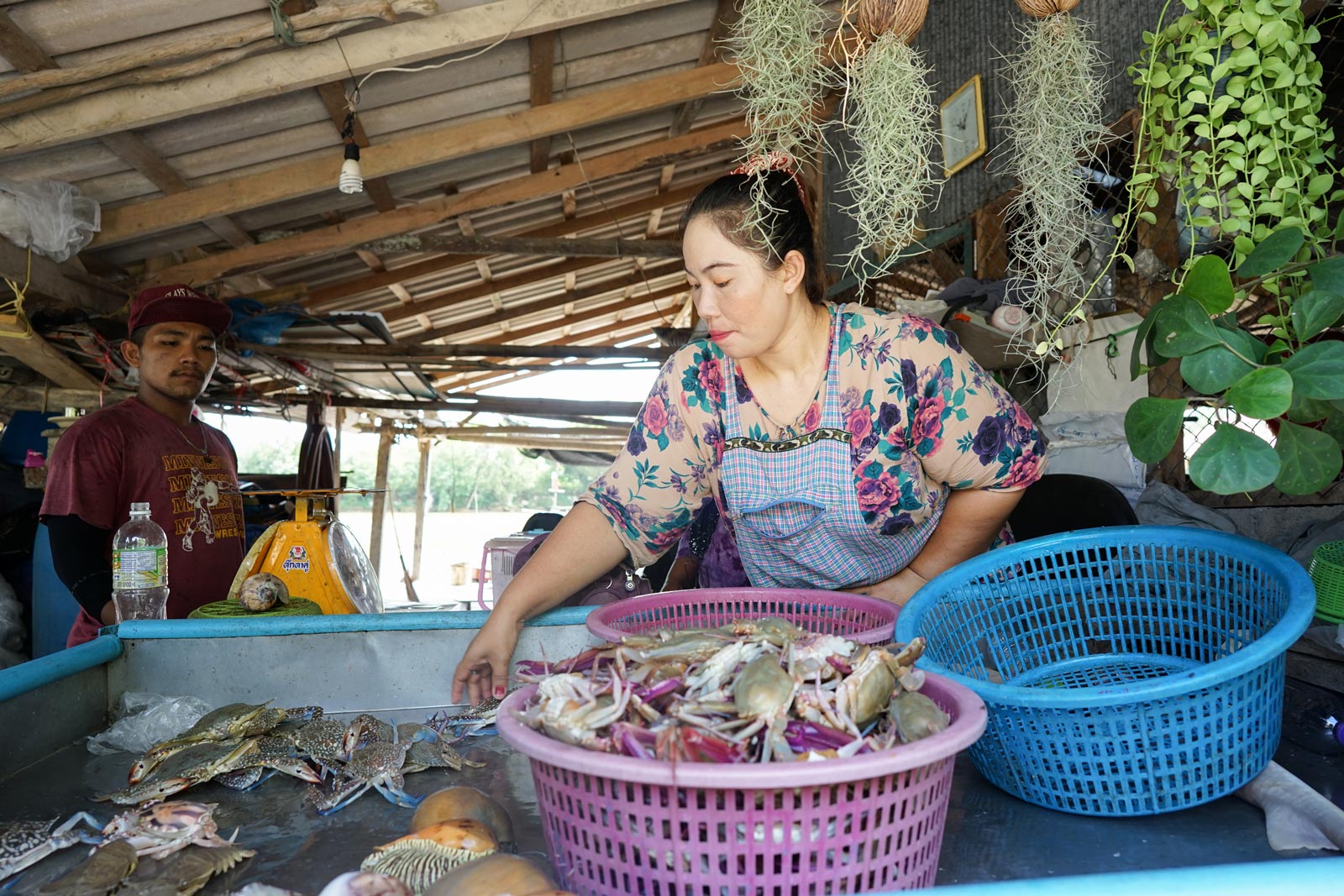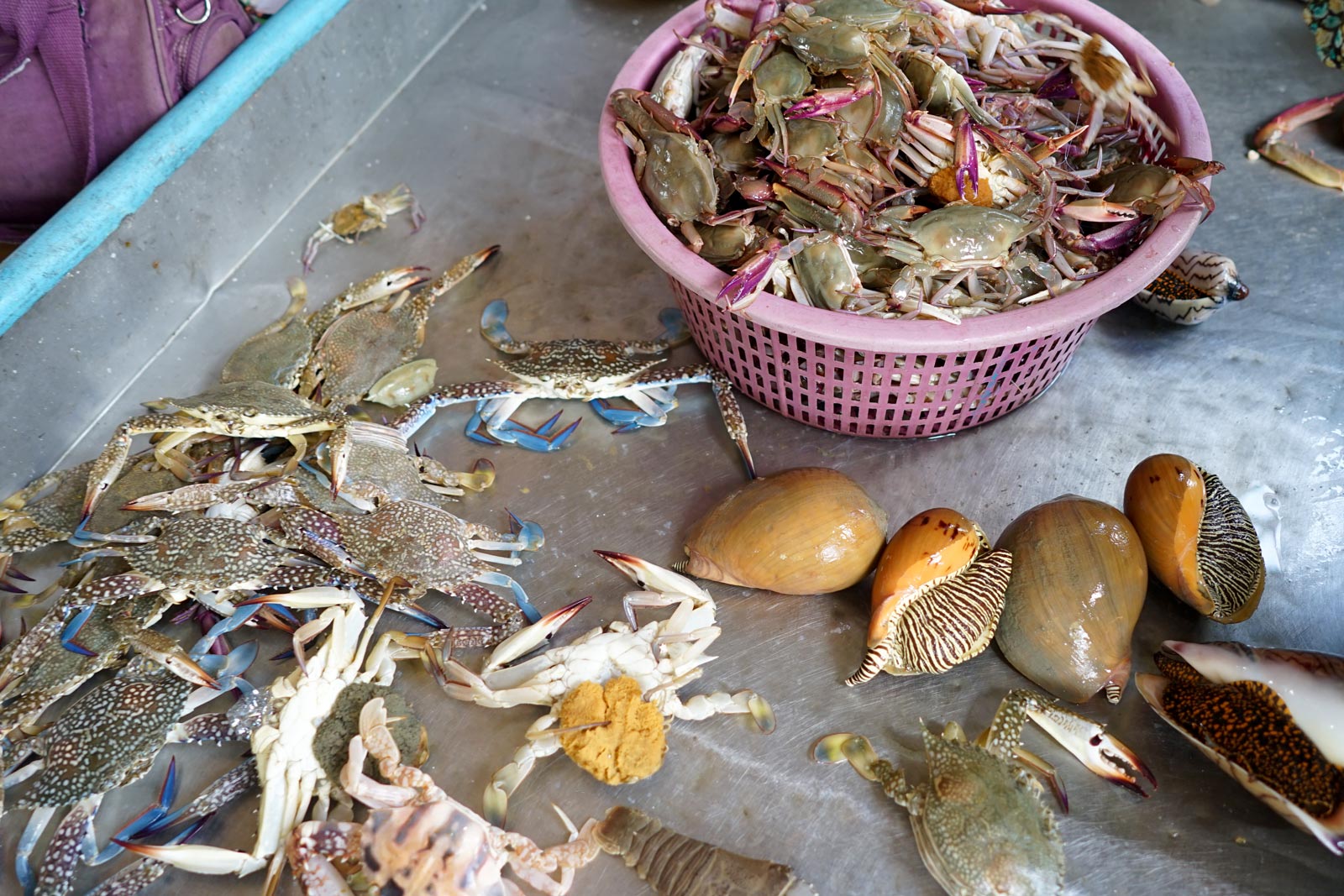 If development is for happiness, and we are very happy now – why do we need to change? Happiness is here
It is this final point, sustainability, that is central to life in the village.
To conserve the fruits of the sea, fishermen in Sakom have initiated a "crab bank" project in which pregnant female crabs are kept until they spawn, as well created an artificial reef project to help promote marine life in the area. The artisanal fishing method used by villagers at Sakom, with fishing nets with larger mesh holes, also leaves out marine life that has not fully matured.
Dependent on the ocean, villagers are concerned about the development of the SEZ and how it might impact their livelihoods.
"If development is for happiness, and we are very happy now – why do we need to change? Happiness is here," said Ya Nuthong, a girl working with her family to help sun-dry seafood.
---
First originating in 1948, but seeing a major uptick in violence in 2004, Thailand's Deep South conflict has ebbed and flowed for decades through an ethnic Malay separatist insurgency demanding autonomy from rule in Bangkok. In 2010, SBPAC was established as an administrative organisation to help mediate the conflict, restore stability and look over development projects for the area – currently one of Thailand's most vulnerable.
The Chana district SEZ is one such project that sets out its intention to bring its vision of development and prosperity to the region.
Sakom is one of the three villages, along with Natab and Talingchan, designated to be developed into the industrial estate, covering 16,753 rai (6,624 acres) of land. Though project details remain vague – with promotional material only describing intentions to build a "model industrial city for the future" – it is expected to be the equivalent of the Eastern Economic Corridor for southern Thailand, with the government predicting that the Chana industrial estate will create over 100,000 jobs.
Still, villagers are hesitant to support the rosy picture painted in glossy brochures and promotional materials.
With the recent change in Sakom's land-use zoning category from agricultural to industrial, Sakom's households are concerned they may have to move out to accommodate the area's redevelopment and will no longer be able to pursue artisanal fishery.
"Where are we going to place people that are professionals at artisanal fishery? The minimum wage is not important because the jobs that are being created do not fit with the landscape here," said Supawan Chanasongkram, an environmental conservationist at the Arhan Pun Rak, a local NGO that works with fishermen in the village.
Supawan said that over 70% of the workforce in the area is employed in the aquaculture sector and 20% in agriculture currently.
Although the SEZ intends to create jobs, dissenters have stated that the jobs would require retraining the locals and the minimum wage received would be less than current salaries earned from aquaculture. Earnings from fishing can range from a couple of hundred to a thousand baht per day ($6.50 to $32), depending on the catch.
The two main companies that are placed to be the main investors are TPI Polene Power and IRPC, both petro-chemical related companies. While the detail-light official statement for the SEZ currently makes no mention of any petrochemical activities being carried out, many are concerned about the environmental repercussions if they were to take place.
"The government has said that there will be no petrochemicals, but the main investors are TPI Polene Power and IRPC, which are known for petrochemicals. And they tell us no petrochemicals – maybe not today, but the future is uncertain," said Supawan. "We don't believe that the companies will not make petrochemicals."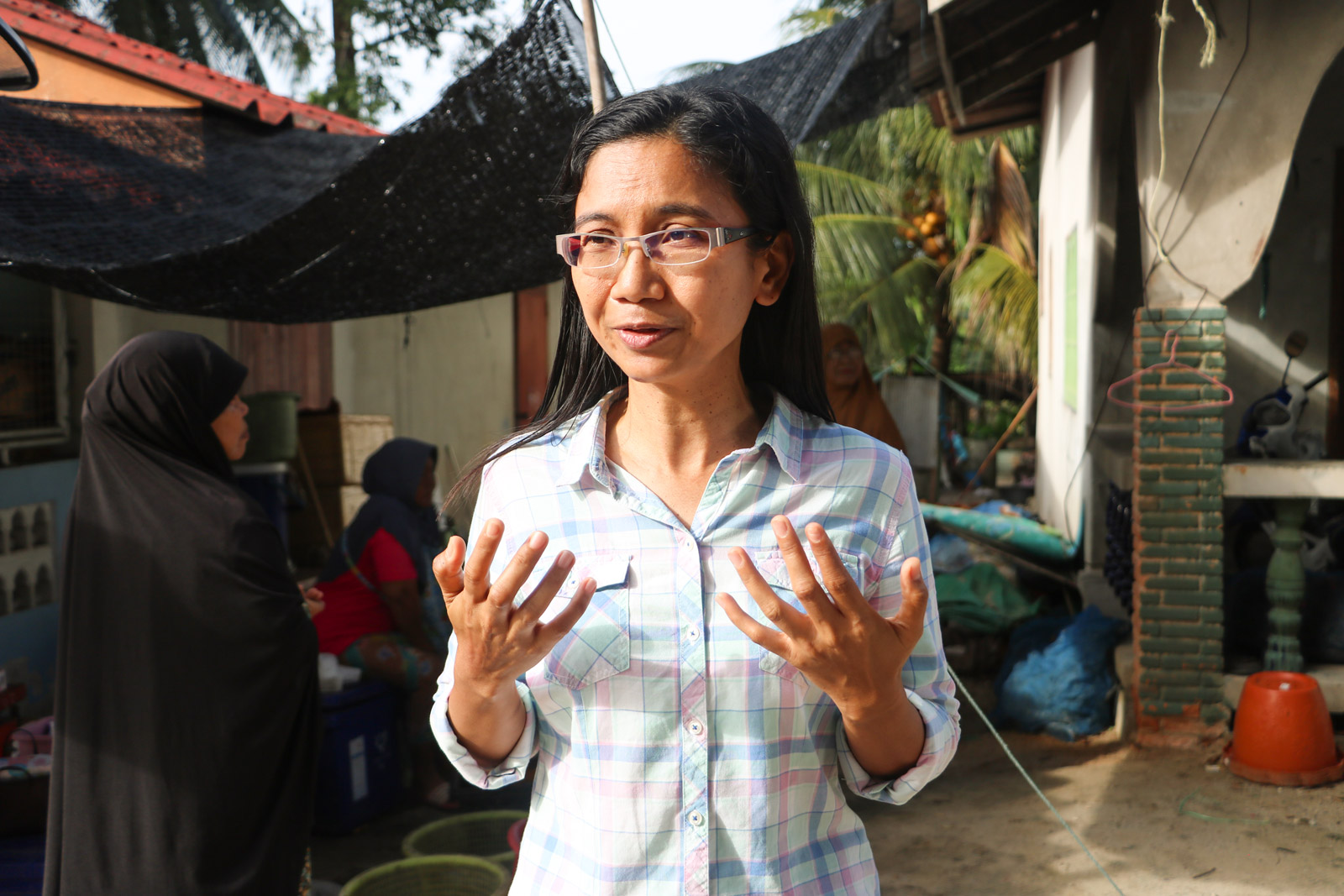 The government, so far, has said that Songkhla is an appropriate location for the SEZ because of its potential as a deep-sea port, facilitating a rapid rise in imports and exports in the region. But the Songkhla basin, where Sakom is located, is also the largest oil basin in the south-western area of the Gulf of Thailand, with an area of 8,500 km2, and 4.9 million barrels of oil reserves.
Previous SEZs in Thailand, the Map Ta Phut Industrial Estate in the Eastern Economic Corridor, received criticism for failing to follow health impact assessments and environmental regulations. Although further developments were halted, environmental and public health damage was already done, with incidents of illegal hazardous waste dumping and an explosion leading to pollution-related health impacts.
"It's a gift from Allah. That's why we're protective over the sea," shared fisherman Maimunao, as she held up a bright orange conch shell and purple-tinted crabs from the catch of the day basket in front of her.
Our lifestyle will change as well. As Muslims, we have traditions that influence our lifestyle. If more people come here – with alcohol, for example – the traditions might not remain the same
Beyond ecological considerations, villagers are concerned about how the industrial estate would impact their Islamic traditions, with factory life unlikely to accommodate their religious activities, such as fasting and prayer.
"Our lifestyle will change as well. As Muslims, we have traditions that influence our lifestyle. If more people come here – with alcohol, for example – the traditions might not remain the same," said Maimunao. "The mentality will change as well. We'll have to be more competitive. Right now, we help each other out, if someone is missing something, we lend a helping hand."
For the villagers at Sakom, their definitions of development and prosperity differ from those behind the industrial project.
"The way of development at each location does not need to be the same. The government should think about the advantages of each location. [At Chana] we have a plentiful sea as our advantage – it can provide food security. Then you should help to promote and encourage food security to align with the location's advantage," said Supawan.
When asked about how they want to develop the village, the villagers had different ideas. Eco-tourism was an option that they wanted to explore. Another option was expanding the market for seafood and increasing investment into food processing to add value to the day-to-day catch.
Somkiat Polprayoon, secretary at SBPAC, stated that changing the land-use zoning category from agriculture to industrial, or becoming an industrial estate, does not only result in economic value or business investment, but it will also benefit the future generations in the area.
"Everyone needs to live with quality and pride – have access to good education, a place to work in their hometown, a good quality of life, a warm family, and a voice in the development of their birthplace," Somkiat said.
As the project moves forward, the SBPAC has planned public gatherings with local residents to discuss plans, collaborate in setting the project's goals that respond to their needs, and take part in efforts to mitigate negative impacts.
The first one was organised on 11 July with 1,500 attendees. However, some villagers at Sakom said they could not enter and that opponents of the project were not included, rendering the consultation sessions unrepresentative, with some dismissing them as "illegitimate".
Opponents of the scheme point out that Chana SEZ was approved by the cabinet even before public hearings were held, with a statement by the Chana Rak Tin group labelling the consultation a "formality to legitimise the project".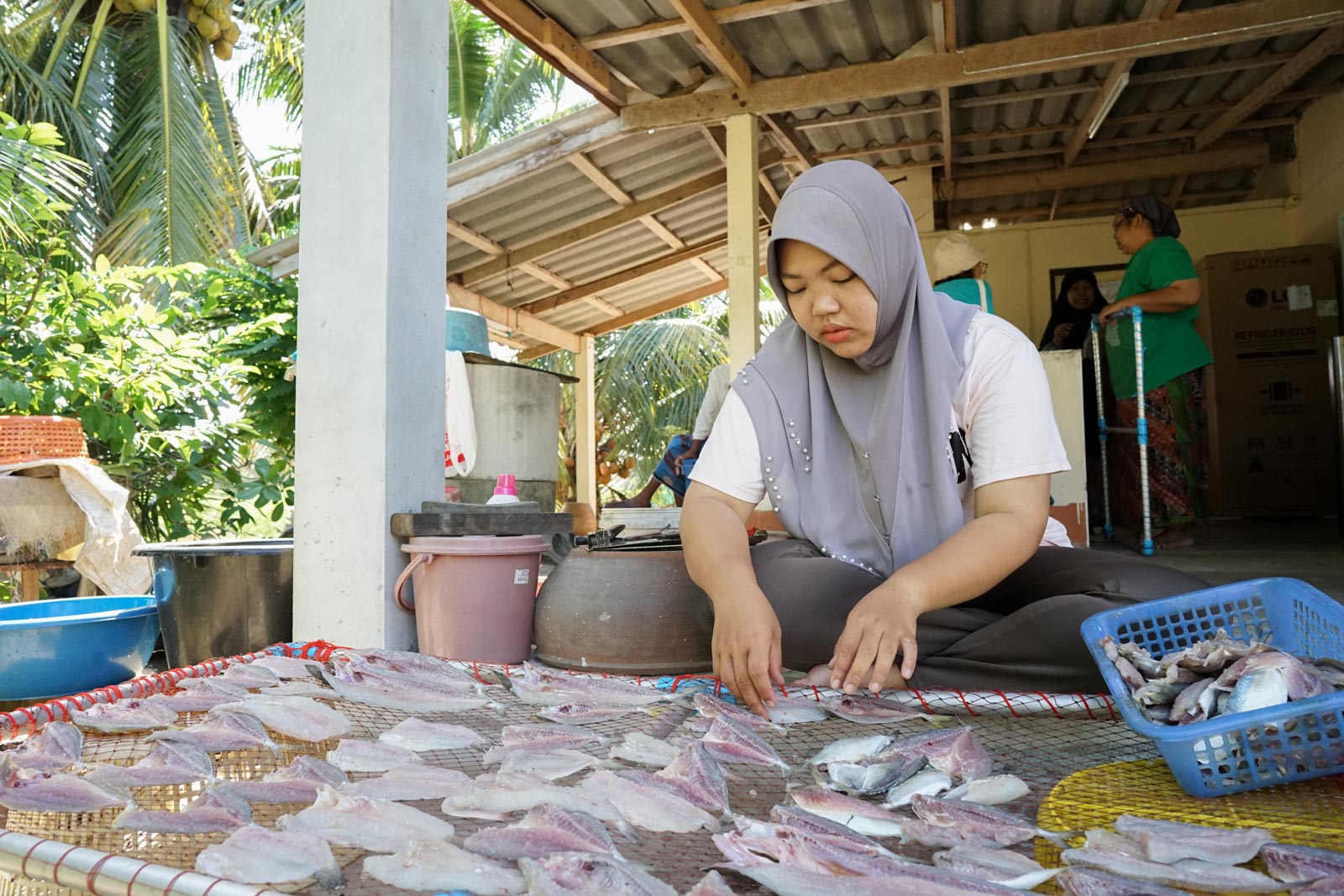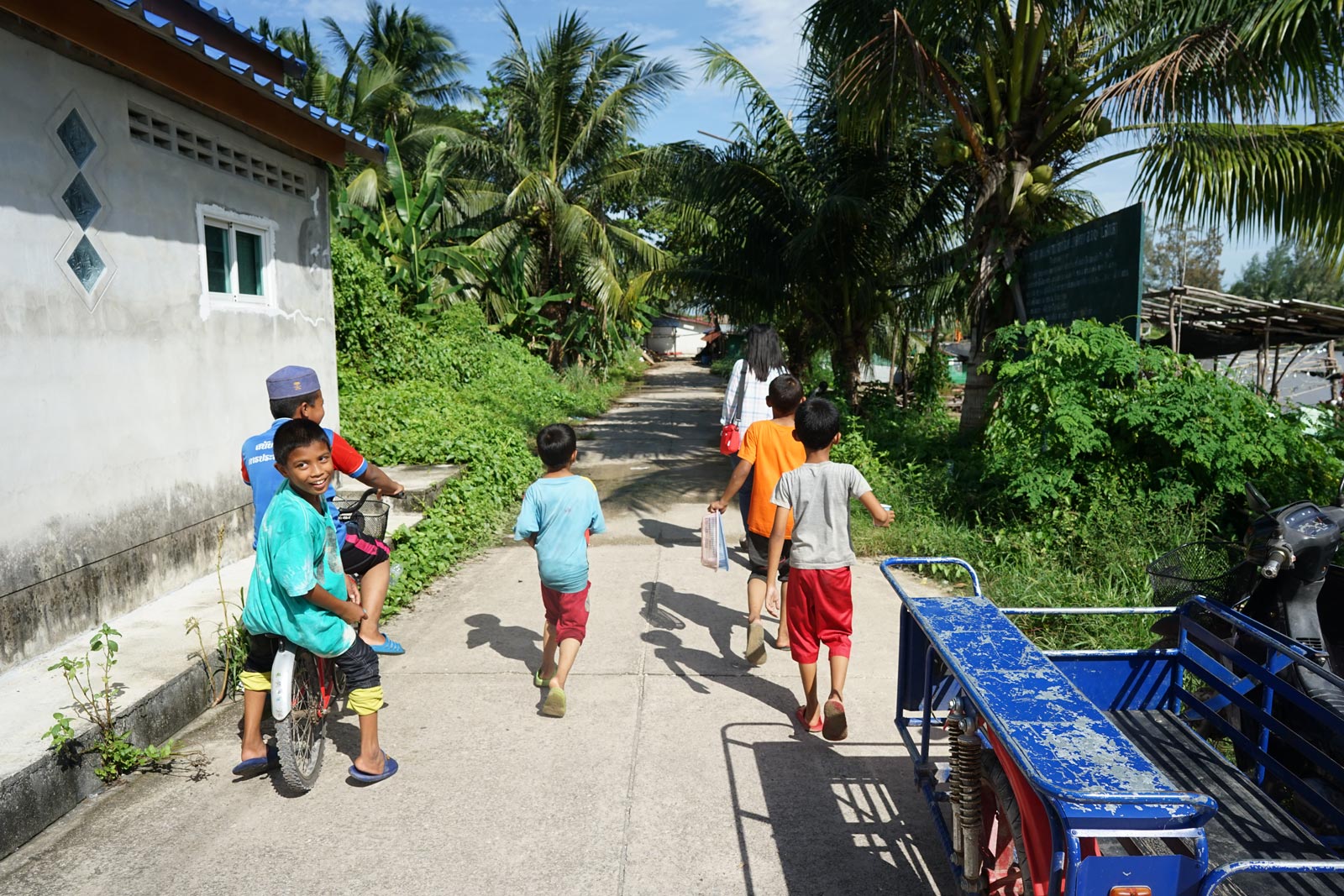 Society is misunderstood that 'prosperity' is to have roads, to change into a city
So far, the lack of genuine opportunity for locals to voice their concerns to the government administration has given the project an air of being led by a top-down approach.
"I don't want to be a tree that is cut according to their shapes, I want to be able to grow in my own way," said Maimunao.
With different perceptions of 'happiness' and 'prosperity', the visions for development between the SBPAC and villagers at Sakom are vastly different. The industrial estate project is on its way, but there's still a long way to go – if it will be built.
"We talked together that really, society is misunderstood that 'prosperity' is to have roads, to change into a city," said Supawan.
"However, 'prosperity' for the people here, or the happiness of the people here, is to have food from the ocean that is clean, to have fresh air – things which most places no longer have."