One protester has a Cambodian flag wrapped around his shoulders while a young boy stands next to him, waving another flag in solidarity. The crowd is largely male-dominated, but a handful of women stand on the edges, lending their support."We are side with USA," reads one sign. "But now you break our heart."
The protesters gathered outside of the US Embassy on 19 June to demand "justice" after being fired from their jobs as embassy security guards and clerical workers. According to the embassy, however, each of these protesters has committed a serious and fireable crime: disseminating child pornography.
Sources at the embassy have anonymously stated that up to 100 pornographic photos and videos of "very young children" were shared in the dismissed employees' messaging group, with some of the victims as young as three.
In Cambodia, it is illegal to distribute child pornography. Violators face up to five years in jail and a fine of up to $2,500. Despite this law, and despite the fact that embassy officials have said they've turned the matter over to local authorities, it seems that no charges have been filed against any of the embassy's former employees.
A long history
The unwillingness of authorities to prosecute the protesters for their crime is in keeping with Cambodia's long history of allowing incidents involving child trafficking, sex slavery and pornography to go unacknowledged or ineffectively punished.
Prior to widespread internet access, child porn used to be available in Cambodia's open-air shopping markets. In an investigation carried out by a local newspaper in 2007, several vendors unabashedly admitted to stocking child porn in their street market stalls, selling titles like "Luring Underage Child" and "70-Year-Old Grandfather Rapes 9-Year-Old Girl" for 50 cents per DVD. Despite numerous official crackdowns, the sales continued.
Porn is not real. It has nothing to do with work or family. It's not hurting to watch a video
Exact statistics on the current prevalence of child pornography and the total number of children in the sex industry in Cambodia do not exist, but studies conducted throughout the 1990s suggested that nearly a third of all sex workers in Phnom Penh were under 18 years old at the time.
While Cambodia developed a reputation as a popular site for travelers seeking sex with minors, the government attempted to crack down on this activity in the early 2000s, arresting over 180 foreigners between 2003 and 2012 for engaging in lewd activity with children.
But perpetrators of child abuse and creators of child porn have consistently been given only light sentences in the Kingdom. In 2015 an Australian teacher was sentenced to just five years in prison after sexually abusing six boys and taking pornographic photos of each of his victims.
Jail sentences for sexual crimes against children can be as light as two years, and pedophiles in Cambodia have historically been released back into the public despite high risks of re-offence.
And while pedophile tourists remain an issue, it is estimated that the majority of sexual crimes against children in Cambodia are committed by local men. According to the US State Department, "Cambodian men form the largest source of demand for child prostitution" in the country, with an especially rife local market for buying virgin girls. Several non-governmental organisations and United Nations agencies have consistently complained that Cambodian officials remain unwilling to effectively crack down on this abuse.
Local response
Local online news outlet Fresh News, which reportedly has close ties with the Cambodian government, has covered the protest of the former US embassy workers and the demands of its supporters nearly every day for the past week. Its stories highlight the protesters' arguments against the embassy and their calls for assistance from the Cambodian government, but do not make note of the criminal nature of the protesters' actions, nor do they condemn the practice of sharing underage pornography.
Despite the alleged illegality of the former embassy employees' actions, their protest was formally approved by Phnom Penh's City Hall, a government body renowned for its consistent denial of most applications for protest in the city. The protest was allowed to proceed because it didn't threaten to "affect public order and national security", a municipal spokesman told Voice of America.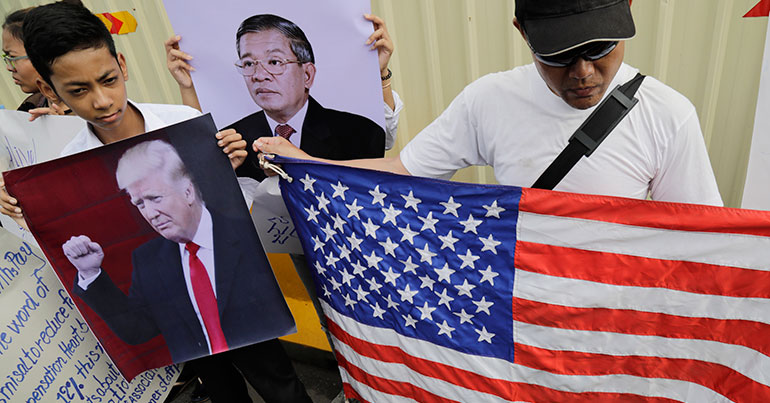 Southeast Asia Globe spoke with over a dozen Phnom Penh residents about the continued prevalence of child pornography and the protest outside the embassy. The response was mixed. While some said they believed the firings were warranted, others disagreed, with several expressing doubt about whether or not the charges against the former employees justified their dismissal.
"All those messages were private. America is not [to be] trusted," said one local man, a 43-year-old tuk tuk driver who gave his name as "Heng".
"They claim it was child pornography, but how can you tell? It's all the same," he added, laughing. "You just don't know, you don't know. It's not important."
When asked if he was aware of the laws against disseminating child pornography in Cambodia, he said simply that if a person wasn't personally making the child porn, they shouldn't be held responsible for it.
Another tuk tuk driver who went by "Pheap" looked abashedly down at his phone when he was asked about his opinion on Cambodians' overall viewership of child pornography.
"I never watch [child porn], I never do that," he said. "But I have seen a little."
When asked to explain, he said that he and his friends sometimes watch pornographic videos together, and his friends have at times put on videos that portray child victims.
"I know it's not right. But it's not illegal," he said, adding that he thought the disgruntled former embassy employees were warranted in their decision to protest.
Another man, "Saroeun", declined to comment on the protest, but shared his views on pornography in Cambodia.
"Porn is not real," he said, when asked why he thought child pornography was still being watched in the country. "It has nothing to do with work or family."
"It's not hurting to watch a video," he added.